As the world is well aware, Microsoft (NASDAQ:MSFT) has announced a new CEO - only the third in its history and the first non-founder CEO for Microsoft. This is huge!
The market isn't entirely sure what to do about this new CEO, there were all sorts of rumors about who the next CEO could/should be and the internal candidate was the wildcard. There was speculation about some of the other leaders (David Sacks and Tony Bates).
With an internal candidate, the potential for breakup is fairly slim - but there is room for some major changes. In fact Mary Jo Foley recently published some interesting insights from her investigations on LinkedIn about Microsoft's evolving Internet of Things team. This is a big step for Microsoft and a clear sign that Satya Nadella is moving the company to invest more deeply in bringing innovation to market.
As an investment, thinking about the potential for Microsoft to maintain their behemoth status in enterprise hinges on how enterprises will do business going forward. There is no question that Microsoft's products took over from the likes of IBM (NYSE:IBM) and Novell due to the evolution of enterprise computing and Microsoft's ability to stay at the forefront of that evolution.
Looking at consumer trends and the growing number of startups entering the enterprise space, it is clear that enterprise computing has moved outside of being a Microsoft ecosystem and now includes a much wider array of technologies that don't rely on Microsoft. Cloud technologies are enabling this despite Microsoft's attempts to keep customers who want cloud functionality in their own cloud.
Microsoft's revenue is highly dependent on enterprises with over 50% of revenue coming from commercial and most of the rest coming from consumer licensing and hardware. Given this revenue split, it is obvious why Microsoft is trying to strengthen their lead in the enterprise and their commitment to cloud technologies. Cloud and enterprise are areas that Satya Nadella knows very well and has spent a lot of his career on. Can Satya strengthen the enterprise lead?
The bulk of Satya's experience has been in this space. Given a choice of executives that understand existing enterprise customers, Satya is at the top of the list. The larger question is will he be able to evolve his understanding of enterprise computing as enterprise computing itself evolves? We are seeing consumer technologies encroach on the enterprise space and see enterprise computing going through a shift along the same size and scope as the shift that knocked IBM out of its leadership position.
The troubling part is that Satya doesn't have as much strength on the consumer side and that is there is a lot of pressure in the marketplace. Microsoft's Skype is under attack from WhatsApp and Viber. Viber was recently acquired by Rakuten for $900m and WhatsApp was recently acquired by Facebook (FB) for $19B. There is a clear shift in terms of how people are trying to connect with each other that is being driven by mobile communication. The fact that the world is becoming more mobile is one that is becoming more obvious every day. It is also one that will truly affect the destiny of many software platforms depending on whether they cater to a mobile computing customer or not.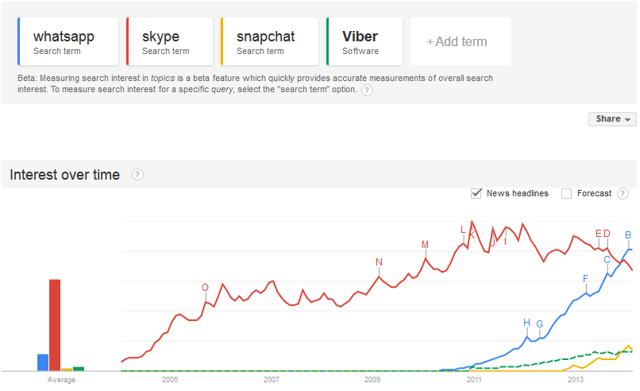 Apple (NASDAQ:AAPL) is also encroaching on Microsoft's hardware space in a serious way, whether PCs are dead or not is not what is important. What is important is that Apple device sales are beginning to trump Microsoft device sales. Even if the PC market lives for years to come, there is no question that consumers are more accepting of other computing devices in their daily lives and Microsoft will have a hard time turning the tide back in their favor.

Looking at this more thoroughly, Apple's revenue is primarily from hardware and most of that is iPhones and iPads. Their software business is actually a minimal portion of their revenue. They are clearly beating Microsoft at hardware sales execution and if they can extend into more hardware platforms that integrate into people's daily lives this lead will be hard to catch up with. Microsoft themselves have stated that they need to sell 50 million Lumia units a year to break even.
With the importance of holding onto the enterprise and their difficulty continuing to lead in the consumer space, Microsoft's new CEO has a lot of challenges ahead. His background within Microsoft and his interest in making investments more like Google will certainly set the tone going forward. The existing leadership (Qi Liu, Terry Myerson, Julie Larson-Green, Kirill Tatarinov, Scott Guthrie, Tony Bates, Eric Rudder, & Harry Shum) will also be critically important to executing in their respective areas.
Overlaying the future of Microsoft with the market reactions we see an interesting story playing out.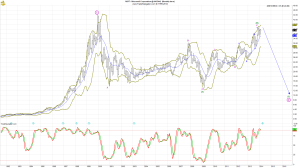 The market is pushing Microsoft to overbought territory on the daily and monthly degree of trend. With the stock price exiting the 35+ zone and targeting the low 20′s, the trend is nearly overbought on the weekly trend as well. The CEO reset is looming now that the market has gotten the relief of CEO selection out of the way. This chart shows the monthly bars, and the overbought stochastics at the largest degree of trend. Although approaching the 1999 price highs, the road to the current highs has been choppy, overlapping, and corrective (in Elliott Wave terms) compared to the path of the 1990′s when impulsive action was present. The Decision Support Engine (NYSE:DSE) warns that the counter trend bounce off the '09 low is ending and the bigger trend should be resuming at any time. If accurate, the next three years (+/-1 year) should be sub-optimal for buy-and-holders of Microsoft while Satya settles into his role and the effects of his position set in.
Disclosure: I have no positions in any stocks mentioned, and no plans to initiate any positions within the next 72 hours. I wrote this article myself, and it expresses my own opinions. I am not receiving compensation for it (other than from Seeking Alpha). I have no business relationship with any company whose stock is mentioned in this article.