The dividend growth investor in me loves to hold stocks for years, ideally decades, but sometimes Mr. Market makes an offer that cannot be refused. This week I sold my position in Harris Corporation (NYSE:HRS) as its price approached an all-time high, less than three weeks after it reported further revenue declines, and offered uninspiring guidance.
Last May, I purchased Harris as part of an ongoing strategy to expand my dividend growth portfolio beyond the traditional dividend payers. Based in Melbourne, FL, Harris services a global market with operations in over 125 countries. An intriguing company, specializing in satellite and tactical radio communications, it displayed the characteristics I coveted.
Well positioned as a market leader and innovator in a dynamic industry.
Favorably priced at 11x earnings, below its historic 14.4 P/E, providing a reasonable margin of safety.
Demonstrated the potential to develop into a future dividend champion, having raised distributions for 11 consecutive years.
Nine months ago, Harris was coming off a couple of mediocre years, reflected in the then, $50 stock price, but seemed poised for a rebound. In my research, I continually read analysts' and company commentary of 'improving prospects' for fiscal year 2014, which started July 1, 2013. With each passing quarter, I'd study the conference call transcripts, looking for the emergence of those much-anticipated 'prospects'.
Evidence was scarce of any real fundamental improvement while commentary lamenting the budget woes in Washington, D.C. was often cited as the main culprit. The program funding Harris is dependent upon suffered a real drag with political battles over continuing budget resolutions, leading ultimately to the sequester. Most of the positive news each quarter centered on cost-savings, reduction in capital spending, returning cash to shareholders, and incremental increases in international markets.
Most Current Earnings Report
On January 29th, Harris reported 2nd quarter earnings, which President and CEO, William M. Brown summed up as follows:
"Second quarter results were solid with earnings per share above prior year. Outstanding program execution and operational excellence improvements, including the benefit of prior-year restructuring, resulted in higher operating margin. Orders were higher than in the prior year, and both revenue and orders were particularly strong in international markets."
The positives included:
Operating margins were up 50 basis points year-over-year, and up in all 3 business segments: RF Communications, Integrated Network Solutions ("INS"), and Government Communication Systems
International tactical radio pipeline booked $234 million in orders from six customers. All are multi-year programs, offering follow-up opportunities over the next 12-18 months, and beyond.
INS booked a five-year deal with Carnival Cruise Line for broadband data and communications services. Coupled with the existing Royal Caribbean contract, Harris now has more than a third of the global passenger ship market.
Repurchased about 787,000 shares for $50 million, bringing first half repurchases to $150 million. Expects full-year repurchases to total $300 million, significantly higher than prior guidance of $200 million.
Raised 2014 EPS guidance from a range of $4.65 to $4.85, to $4.80 to $4.90.
While EPS guidance was raised, there is no mention of increases in either revenues or earnings. In reading the 2nd quarter conference call transcript (courtesy of SA) every nugget of positive news going forward seems to be offset with discouraging guidance for each of the 3 segments overall.
RF communications: Full year guidance is for flat revenue.
INS: In spite of the Carnival Cruise Line contract, revenue for the segment is expected to be down 5 to 6%.
Government Communication Systems: Revenue is expected to be stronger than previously anticipated, but still down 1 to 3%.
Once again, those 'improving prospects' seem to have eluded the quarter, but optimism abounds FY 2015 (begins July 1st) will bring progress.
'Hope' is Not a Method, 4 Years of Flat to Declining Revenues
When reviewing conference calls my interest is in the outlook for the quarter and year ahead. Unfortunately, nowhere within the transcript is mention of a catalyst that FY 2015 will produce an increase in earnings, or revenue. Much of the discussion echoes what many multi-national companies have reported: International revenues are picking up incrementally, but U.S. sales remain sluggish, and government budgets are restrained. With Harris historically dependent on U.S. government agencies for 70% of its revenues either directly or indirectly, the lethargic domestic outlook does not bode well for improvement in earnings any time soon.
Revenue by Business Segment, 2011 - 2014 (from Annual Reports)
| | | | | |
| --- | --- | --- | --- | --- |
| Business Segment | 2011 | 2012 | 2013 | 2014 Guidance |
| RF Communications | $2,289 | $2,144 | $1,849 | Flat |
| Integrated Network Solutions | $1,986 | $1,571 | $1,539 | - 5 to 6% |
| Government Communication Systems | $1,777 | $1,834 | $1,828 | - 1 to 3% |
In the technology intensive industry Harris is in, declining (or even flat) revenues over a 4-year period raises considerable doubt in the sustainability of the current stock valuation. Dividend investors understand earnings fluctuate from quarter to quarter, and year to year. However, four straight years constitute a trend, not a fluctuation, and a revenue decline of that duration does not justify a record high price.
Two Views from F.A.S.T. Graphs™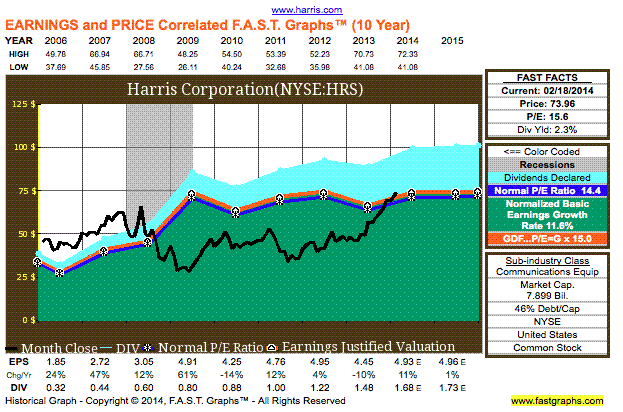 Top view references the historic P/E since 2005, while the view below zooms in on the historic P/E since 2009. In both graphs, the black line is the stock price, orange line is the earnings justified valuation, and the blue line is the historic P/E. The two graphs portray a dramatically different picture.
Above, stock appears to be just slightly above fair value currently, with a historic 14.4 P/E spanning the time frame. Note how the actual price (black line) rarely correlates to the average P/E (blue line) over the 10-year period. Price was either way above, or way below for the duration. (Did price overshoot to the upside and the downside?)
The graph below focuses more sharply on a tighter and more recent time frame, with the 9.1 P/E (blue line) over that 5-year period significantly lower than the 14.4 P/E during the 10-year period. In this view, actual stock price more closely correlates to the P/E, drifting above and below, until the past 12 months during which it has essentially gone straight up. Look closely at the green area, representing the normalized basic earnings growth rate. A very flat 0.2% over the 5 years. Go back to the top graph and that growth rate is double digits.
I am by no means a chart guru, but in the graph below there appears to be a significant disconnect in the stock price (trading at a 15.6 P/E) and what the earnings growth (paltry 0.2%) would justify.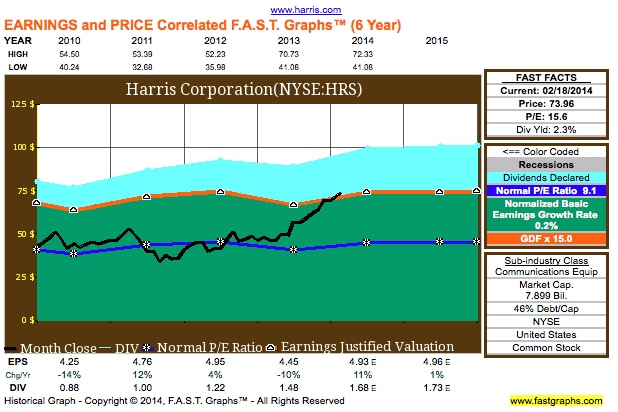 Generous Share Repurchases Propping Up EPS
Harris is a very shareholder-friendly company that has been aggressively buying back stock for seven years. The $300 million dedicated to repurchasing shares in the current fiscal year is enough to reduce the float by more than 4 million additional shares, from where it stood last July. Retiring large chunks of shares will offset the decline in revenue, lifting the EPS. This storyline is true of many companies, including a few in my portfolio, but none of those is selling at record valuations.
Outstanding shares 2007 - 2013, in millions (compiled from Annual Reports)
| | | | | | | |
| --- | --- | --- | --- | --- | --- | --- |
| 2007 | 2008 | 2009 | 2010 | 2011 | 2012 | 2013 |
| 141.1 | 136.5 | 133.0 | 130.0 | 126.3 | 114.8 | 111.2 |
Rising Free Cash Flows
Another strong positive for Harris is the achievement of increasing free cash flow, despite the declining revenue. It is a testament to the quality of the management team, and its ability to execute on the cost-cutting plan. Rising cash flow lends durability to future dividend growth, and capability to funding CapEx and R&D, essential to a technology company to stay ahead of the curve. I comprised the table below from the Annual Reports.
| | | | | |
| --- | --- | --- | --- | --- |
| | 2010 | 2011 | 2012 | 2013 |
| Free Cash Flow - in millions | $604.7 | $508.2 | $619.1 | $654.8 |
44% Profit is An Offer I Cannot Refuse
I am not bearish on the company, as much as I am simply bewildered by the unjustified stock price. Harris offers impressive cash flows, 12 consecutive years of dividend growth, relatively low 29% payout ratio, and a generous share buyback program. It is worth monitoring any progress on revenue and earnings, especially if the stock experiences about a 20% rollback- to provide a more reasonable entry point.
All that said, booking a 44% gain in stock appreciation in nine short months makes the most sense in my situation. I held the stock in my Roth IRA, so there are no tax issues. There are several dividend growth candidates on my watch list at more attractive valuations, offering higher dividend yields and delivering increases in earnings, to reinvest the 44% profit Mr. Market so generously offered me.
Disclaimer
Always perform your own due diligence, and respect there are two sides to every trade. My buy/sell decisions and low tolerance for risk may not be compatible with your investment philosophy.
Disclosure: I have no positions in any stocks mentioned, and no plans to initiate any positions within the next 72 hours. I wrote this article myself, and it expresses my own opinions. I am not receiving compensation for it (other than from Seeking Alpha). I have no business relationship with any company whose stock is mentioned in this article.