Some may have doubts about the strength of the U.S. housing market, but homebuilder D.R. Horton, Inc. (NYSE:DHI) continues to see sunny days ahead. This Zacks Rank #1 (Strong Buy) is expected to grow earnings by the double digits in both fiscal 2014 and fiscal 2015.
If any homebuilding company has its finger on what's going on across the country, it's D.R. Horton. It's the largest homebuilder in the United States with operations in 77 markets in every region of the country. Its price point also has a wide range, varying from $100,000 up to $1 million.
Pricing Power Returns
On Jan 28, D.R. Horton reported fiscal first quarter earnings and met the Zacks Consensus of $0.33.
All of its metrics improved. Homebuilding revenue jumped 33% to $1.6 billion from $1.2 billion in the fiscal fourth quarter of 2013.
Closings rose 19% to 6,188 from 5,182 a year ago. The sales order backlog of homes under contract as of Dec 31, 2013 rose 5% to 7,684 from 7,317 a year ago.
But most importantly, low inventory meant that D.R. Horton had pricing power. It was able to raise prices and still sell homes. The average sales price rose 10% to $275,600.
The company was optimistic heading into fiscal second quarter.
"Housing market conditions continue to improve across most of our operating markets, and our weekly sales pace has accelerated in January," said Donald R. Horton, Chairman of the Board.
"We are well-positioned to capture demand in the spring selling season with a solid balance sheet, an increased community count, a robust finished lot supply and a strong inventory of homes available for sale," he added.
Shares Are Cheap
Shares have been on a wild ride over the last year. After soaring to start 2013, rising mortgage rates in mid-2013 hit the housing stocks.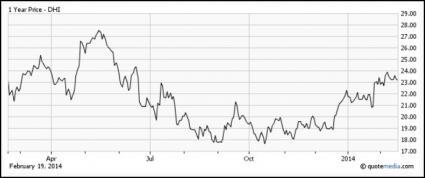 Despite a rebound off of recent lows, D.R. Horton shares are still cheap. It trades with a forward P/E of 14.3, while the S&P 500 averages 15.7x.
It also has a price-to-book ratio of just 1.8. A P/B ratio under 3.0 usually indicates value.
Earnings are expected to grow 24.3% in fiscal 2014 and another 22% in fiscal 2015.
D.R. Horton is a rare combination of both growth and value.
While shares are volatile, if you're interested in playing the housing recovery, D.R. Horton is one to keep on your short list.