2014 is shaping up to be a challenging one for Kansas City Southern (NYSE:KSU). This Zacks Rank #5 (Strong Sell) recently guided earnings growth for 2014 below consensus and now possible changes to Mexican rail regulations are also causing a stir.
Kansas City Southern operates railroads in central and south central U.S.. It also has international operations through Kansas City Southern de Mexico S.A. in northeastern and central Mexico to the port cities of Lazaro Cardenas, Tampico and Veracruz and has a 50% interest in Panama Canal Railway Company.
Its Mexican operations make up about 50% of company revenues.
New Mexican Rail Regulations?
Shares of Kansas City Southern recently sold off on news that lower house in Mexico's Congress passed legislation that would open up the Mexican rail system to more competition.
Currently, Kansas City Southern de Mexico and Ferromex are the only two companies that have exclusive concessions. The companies do not own the track but pay the Mexican government for use of the infrastructure. Kansas City Southern de Mexico has an exclusive concession through 2027.
The legislation must still pass the Senate.
Both Kansas City Southern and Ferromex have stated publicly that they will challenge any changes to the concessions. Kansas City Southern said it would have remedies under NAFTA.
Disappointing Fourth Quarter Earnings
The news on the Mexican legislation comes on the heels of a disappointing fourth quarter earnings report.
Kansas City Southern missed the Zacks Consensus for the second quarter in a row reporting earnings of $1.03 compared to the Consensus of $1.10.
In the quarter, there was a 30% increase in revenue growth in Agriculture & Minerals and an 18% jump in Intermodal. Energy continues to be weak due to the problems in the coal industry. It fell 17% but the decline wasn't as severe as it had been earlier in 2013.
For the year, revenue rose 6% to a record $2.4 billion.
So why all the angst?
The 2014 outlook wasn't as optimistic as analysts had expected. Analysts had expected earnings to grow about 25% in 2014 but instead the company guided to the mid-teens in growth.
As a result, the analysts lowered earnings estimates for 2014 and some lowered for 2015 as well. The 2014 Zacks Consensus Estimate fell to $4.71 from $5.08 just 30 days ago.
Shares Near New 52-Week Lows
Investors didn't like the news. Shares had been weak following a fourth quarter earnings miss but the latest news hit them again.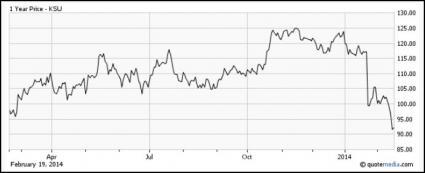 As shares have fallen, valuations have gotten more attractive. Kansas City Southern now trades with a forward P/E of 20. It also has a price-to-book ratio of 2.8, which is under the S&P 500 average of 3.6.
If you're interested in the railroad industry and don't want all the noise about the change in Mexico's regulations, you might want to consider Norfolk Southern (NYSE:NSC). It doesn't have any Mexico exposure. It beat the Zacks Consensus last quarter by 9%. Norfolk Southern is a Zacks Rank #2 (Buy).
(In full disclosure, the author of this article owns shares of KSU.)