Ever wonder who's really winning in the war of Apple (AAPL) vs. Google (GOOG)? If you look at the facts it is really quite confusing. Apple has a $221 Billion market cap, while Google's market cap is still impressive at $158 Billion. Google has stronger gross margins of 63% with a net income as a percentage of revenue at 29.6%, while Apple has lower gross margins of 41.67% with a net income as a percentage of revenue at 22.77%. Apple is trading at 82% of it 52 week trading range, while Google is trading at 47% of its 52 week trading range. Apple appears to have the edge, but Google's gross margin and net income remain very compelling.
To further cloud the issue, let's look at some very recent articles. Marketwatch reported yesterday that Google wins search share as Yahoo! (YHOO) and Microsoft (MSFT) decline, while Fortune reports that Apple ranks No. 4 in the e-retailing survey and finally, the New York Times delivers an article describing Apple as the new class bully with its handling of the Adobe (ADBE) Flash situation in Has Apple Lost Its Cool. Looking at the recent press, it's hard to pick a winner in the Apple vs. Google contest. Is Apple really a bully or is everyone just getting jealous of their product and earnings winning streak?
When the facts become blurred, I like to look at the comparative sentiment over time of both securities. In this case, I will analyze a Google Apple sentiment pair by comparing their sentiment over the last six months and analyzing whether the sentiment delta is increasing, decreasing, or even crossing between the two stocks. In this case, I will use sentiment from Piqqem to conduct the analysis.
I'm looking for moves or changes that clearly indicate who is winning the early battles. (piqqem leverages the 'wisdom of crowds' by allowing its users to vote on the price direction of a stock and then applies its own propriety factors to calculate sentiment for a security. In their model, -100 is the lowest and 100 is the highest sentiment).
Apple vs. Google – Sentiment Pair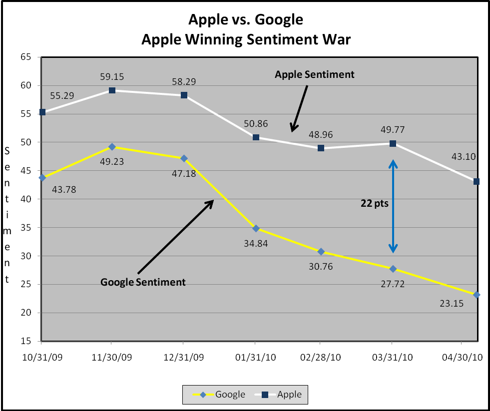 Source Piqqem
The above chart shows Apple's sentiment lead growing from 10 pts at the end of November to a dramatic 22 pt lead at the end of March. The delta has narrowed slightly, but Apple still maintains a 20 pt sentiment advantage over Google. We can assume that general market forces are already captured in both stocks, so there is no need to adjust for markets factors. Looking at this analysis, the scales are most certainly tipped in the favor of Apple. The war may be a long way from over, but based on current sentiment Apple is winning the early battles against Google.
Disclosure: No positions