By Sarfaraz A. Khan and Gohar Yousuf
This year, the shares of the Switzerland-based mid-cap oil and gas services company, Weatherford International Ltd (NYSE:WFT) have remained under pressure. The company has recently given a disappointing guidance, which came in well below analysts' estimates, for its quarterly results due next week. However, the company has been trying to improve its financial health as it increases its focus on its core business.
Disappointing Guidance
Weatherford has witnessed considerable growth on the back of the US. oil and gas boom. The company, however, started to struggle due to its sluggish growth in the international markets and several one-time charges related to accounting and legal issues that have shaken the confidence of investors.
For its fourth quarter, Weatherford announced that it is expecting earnings of $0.08 per share, which is significantly below analysts' estimate of $0.26 per share. This means that the company's earnings estimates are roughly $200 million lower than Wall Street's EBITDA estimates.
Due to the massive size of the difference in earnings expectations, the investors were clearly surprised. This lower than estimated earnings forecast is largely credited to the reduction in activity in Latin America, disruptions in Middle East and the severe weather conditions in North America and the North Sea.
Recurring "One-time" charges
Back in 2011, material inaccuracies were found in Weatherford's tax calculation. Although Weatherford took corrective measures, more errors and other bookkeeping mistakes were revealed again, just a year later in 2012.
More recently, in November last year, Weatherford announced that it would pay $253 million in penalties and fines to the U.S. government to settle several old charges, including those related to the company's operations in Iran and Syria, which were in violation of the U.S. sanctions.
The company has a history of disappointing investors with its one-time charges. This had an adverse impact on the Weatherford's reputation.
However, Weatherford has made significant changes in its senior management. Some of the highly reputable people in the industry, such as Krishna Shivram, have now joined its ranks. Therefore, hopefully, Weatherford will not make any more reporting blunders in the future. Shivram is an industry veteran with more than 2 decades of experience and was previously the Vice President and Treasurer of the oilfield services giant Schlumberger (NYSE:SLB).
High Debt Levels
Weatherford also suffers from high debt levels that are nearly twice as big as the industry's average. The company's debt-to-equity ratio is shown in the picture below. Under normal circumstances, the lower the ratio, the better the financial health.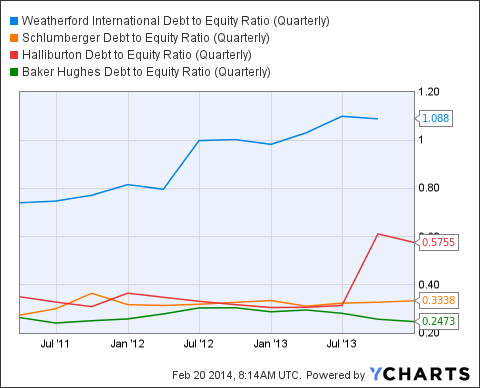 WFT Debt to Equity Ratio (Quarterly) data by YCharts
As compared to the industry leaders Schlumberger, Halliburton (NYSE:HAL) and Baker Hughes (NYSE:BHI), Weatherford's balance sheet is far from ideal.
Moreover, in its third quarter, Weatherford's net debt increased by $39 million from the same quarter a year ago. This increasing year-over-year trend is also shown in the picture above. The company's total debt now stands at $9.3 billion, which includes $7 billion of long term debt.
However, in the previous conference call, Weatherford's management predicted a massive $900 million reduction in net debt in the fourth quarter. This will come on the back of divestitures worth $400 million and positive cash flow of $500 million. Subsequently, in its earnings guidance mentioned earlier, Weatherford announced that it has reduced its net debt for the fourth quarter by $700 million.
Furthermore, through additional divestitures and strong cash flows, Weatherford believes that it can reduce its debt by between $3 billion and $5 billion by the end of 2015.
If Weatherford manages to touch this target, then it will significantly improve its financial health. If the company reduces its debt by $4 billion, which is the mid-point of its range, then that would bring down its debt by more than 40%. If, and when that happens, then Weatherford's debt-to-equity ratio will fall closer to Halliburton's current debt-to-equity ratio (given that Weatherford's equity remains constant).
Investors should note that even with a $4 billion reduction, Weatherford's debt-to-equity ratio will still be above the industry's average of 0.43. It will, however, be considerably better than before, which will give a boost to shareholder's confidence.
Cost Savings
Meanwhile, Weatherford has also planned for significant cost reductions. In the first half of the current year, Weatherford will cut around 7,000 jobs, which is more than 10% of its total workforce. Through this reduction, Weatherford aims to save nearly $250 million this year and $500 million per year from next year.
Conclusion
Despite reporting a disappointing guidance, Weatherford appears to be on the right track. With a new management team, Weatherford is less likely to report any more "one-time" charges that have tarnished its reputation. Due to positive cash flows and divestitures, Weatherford's net debt would fall significantly in the coming years. Meanwhile, its cost saving measures will provide the necessary support to its bottom line.
The company's shares are currently hovering around $14.80, which is just 0.7 times its trailing sales and just 13 times its 2014 earnings. This makes Weatherford considerably cheaper than most of the players in the oilfield services space, in terms of those metrics.
Notes:
Weatherford International's Q3 2013 Results - Earnings Call Transcript
Disclosure: I have no positions in any stocks mentioned, and no plans to initiate any positions within the next 72 hours. I wrote this article myself, and it expresses my own opinions. I am not receiving compensation for it (other than from Seeking Alpha). I have no business relationship with any company whose stock is mentioned in this article.
Additional disclosure: This article was written by Sarfaraz A. Khan, with valuable contribution from Gohar Yousuf, research assistant at Half Bridge Business Review. Neither Sarfaraz A. Khan, nor Gohar Yousuf have any positions in the stock(s) mentioned in this article.