Over the past several months I have made the case that, irrespective of what gold does, the money will be made in gold stocks.
So far YTD that has been a good call (not counting the returns towards the end of 2013). As the comparative chart below shows, YTD Goldcorp (NYSE:GG) has returned 27%, Barrick (NYSE:ABX) 18.5%, Silver Wheaton (NYSE:SLW) 27%, Yamana (NYSE:AUY) 21% and Newmont (NYSE:NEM) a disappointing 5%. Gold itself returned about 9.5%, which is not bad. And my favorite play, the Direxion Daily Gold Miners Bull 3X Shares (NYSEARCA:NUGT) has returned about 84%.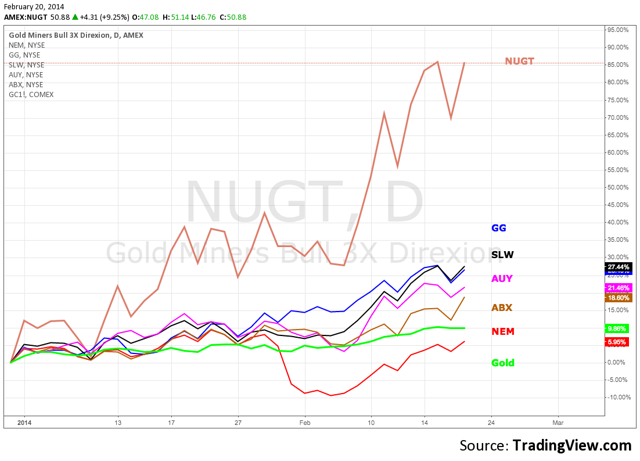 The question is, is there room for more? I think so.
To begin with, there are a host of gold-related entities breaking out above of their 200-DMA average, or in the process of doing so. Among them is the Gold Miners EFT (NYSEARCA:GLD) and gold itself. This is an important milestone because if gold and GLD could remain above their 200 DMA, then gold and all things gold will automatically find themselves on traders' radars, not to mention a host of program buying.
After about 2-3 years of gold either underperforming or losing money for investors, YTD it has finally given a decent return as an asset class (about 9%). In other words, the tiresome feeling of chronic underperformance is finally subsiding.
So why should you prefer gold stocks? Well to begin with, the fact that they have outperformed gold so far is a good indication of things to come. Another reason is that while gold corrected up to 40%, the gold stock space corrected up to 80%. In other words the space has been pounded more than it should have. And if gold even stabilizes, then gold stocks should - as they have done so far - outperform.
And while I think that gold stocks will perform independent of gold itself, that does not mean that if gold rises it will not be an added bonus. Gold has so far held steady after reaching the $1,200 mark and is above $1,300. To the extent that it holds, that is an additional bullish sign for the mining space.
Gold and silver have been supported recently amid concerns that the U.S. economic recovery has lost momentum. U.S. industrial production fell 0.3% from a month earlier in January, compared to expectations for a 0.3% gain. At the same time, the Commerce Department said that retail sales fell 0.4% in January, with expectations for an increase of 0.3%. Remember gold loves deflation and uncertainty, not inflation.
Finally there is another reason to buy gold stocks that is probably the most relevant. Many of the stocks in the space have been upgraded by analysts over the past several months. The most recent upgrade comes from RBC Capital for Barrick Gold, while Morgan Stanley makes a case for Yamana Gold.
As for Barrick, Stephen Walker says it has the ability to outperform peers as a result of increasing free cash flow, continued divestment of higher AISC assets, and advancement of its longer-term development projects.
Morgan Stanley's Brad Humphrey says he anticipates a "noisy quarter" for Yamana, but expects production growth and is satisfied with the company's cost cutting successes to date.
And if you want more proof gold stocks will outperform gold, as I write this article, gold is slightly down, but the Gold Miners ETF Market Vectors (NYSEARCA:GDX) is up by 3%, with my favorite speculation ETF, the NUGT up by about 9%.
Disclosure: I have no positions in any stocks mentioned, and no plans to initiate any positions within the next 72 hours. I wrote this article myself, and it expresses my own opinions. I am not receiving compensation for it (other than from Seeking Alpha). I have no business relationship with any company whose stock is mentioned in this article.