Consumer staples are considered relatively sticky in terms of consumer demand. By sticky, I mean that these products happen to perform well even in the face of inflation or poor economic performance. The demand for staples hardly ever changes. However, there are a number of brands dealing in this industry and consumers have generally low switching costs. It is a highly competitive and mature industry but it is also an industry that will perhaps never run out of consumers. This article is broadly focused on consumer packaged goods and specifically discusses Mondelez International Inc.'s (NASDAQ:MDLZ) expected performance.
Recent Performance
The following pie chart is a graphical representation of Mondelez's operating segments and the operating revenue contribution by each of its segments as per the figures reported in its 2012 annual report. Biscuits and chocolates combined contributed approximately 60% to the total revenues of the company.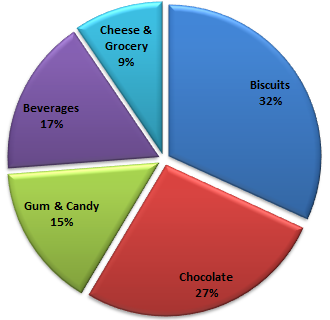 Source: Annual Reports
Over time the contribution of each of the reported segments has remained stable except the gum and candy segment. Gum and candy's contribution declined from 17% in 2010 to 15% in 2012. Biscuits, chocolates, and beverages increased by 100 basis points each. However, the revenue generated by each of these segments has grown during the period from 2010 till 2012. Total operating revenues of the company increased at a CAGR of 5% over this time span. With regard to the geographical distribution of the company's revenues, as of the recent earnings release we see that Europe is a major contributor to the total revenue base of the company.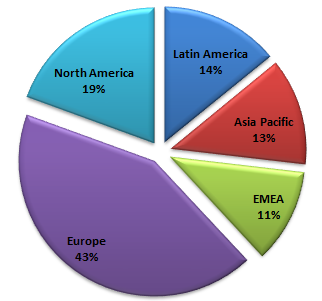 Source: Earnings Release Q4
As of fourth-quarter reported revenues, the operating revenues of the company remained rather flat on a YoY basis. Although total revenues generated by the EMEA, North America, and Europe regions grew in low to medium single digits, revenue generation in the Asia Pacific region slumped significantly by approximately 13%. The weaker growth in this region was the result of weaker demand for the company's cookies in China and its lower priced coffee. However, India, Brazil and Russia indicated positive performance. Latin America showed negative growth as well. That being said, revenues fell short of analysts' expectations by approximately 1.20%, equaling $9.49 billion compared to the consensus estimate of $9.60 billion. Still, the company's adjusted per share earnings for the quarter was $0.42 compared to analysts' estimates of $0.44. Higher EPS in the face of lower-than-expected revenues is a function of higher operating margins, lower interest encountered and a beneficial impact of share repurchases. The company repurchased $2.7 billion of its common stock in 2013. Thus EPS is likely to improve as per share earnings spread over a smaller number of shares.
Industry Outlook
The growth for the global confectionery industry is expected to show a decelerating trend from here onwards. The industry was previously projected to grow at a CAGR of 3% from 2011 to 2016. However, researchers have made a downward revision in the growth forecast as the industry and consumer trends showed a shift. The industry revenues have grown at a CAGR of 2.9% in a time span of 2008-2012. Going forward, the industry is expected to grow at a cumulative rate of 2.6%.
Another headwind for the major consumer packaged goods (CPG) producers is that brand loyalty is declining. There are more brands and local CPG producers than ever before meaning that there are more substitutes available to consumers. Moreover, switching costs for CPGs are relatively low. To add to the ado, coffee prices are on the hike, the impact of which will be passed on to the customers in the long term. Considering that brand loyalty is already a critical factor, a rise in price might result in lower customer retention. In an effort to retain its customers, the company has moved on to mobile marketing.
The ongoing research on current lifestyles and unhealthy foods has put CPGs in further turmoil. Researchers are excessively criticizing the harmful impact of high sugar intake. Sugar is a key component of CPGs that defines the taste, texture and formulation of these products. For these reasons further fall in CPG demand is expected. If companies respond and lower the amount of sugar in their products, taste will be affected. If they do not respond to the new health standards, their ethical image might get tarnished.
Future Outlook
For the first half of this year Mondelez is expected to meet a number of headwinds owing to continued weak cookie sales in China and rising coffee costs in the wake of lower promotional prices offered by the company. Thus, the operating margin of the company is expected to plunge. The company has made a downward revision by about fifty to hundred basis points compared to its previous revenue forecast. As of now, the company expects a growth of 4% in its topline while the earnings per share are projected to fall in the range of $1.73-$1.78. Per share earnings of the company forecasted by analysts are $1.71.
To strengthen its supply chain, Mondelez is making two large scale investments to boost growth from its Asia Pacific region and America. The company announced towards the end of last year that it is investing $190 million in India to establish one of the largest chocolate manufacturing facilities. The production plant will not only be the largest plant established in India but it will also be the company's largest manufacturing facility ever. The second million dollar plant will be established in the US. The company is investing $130 million in the region to improve its supply chain operations concerned with cookie manufacturing. It will utilize the latest biscuit manufacturing technology and will be best in its class as announced by the company. Both of these plants are expected to be completed by 2015.
Conclusion
The future of CPGs looks rather dim. The company is making large investments in key areas but the returns will eventually be lower in the future since the industry is now shrinking. Consumers are becoming increasingly conscious about their health, coffee prices are rising, switching costs are low, and global industry growth is decelerating. I do not believe that the company is a good candidate for investment.
Disclosure: I have no positions in any stocks mentioned, and no plans to initiate any positions within the next 72 hours. I wrote this article myself, and it expresses my own opinions. I am not receiving compensation for it (other than from Seeking Alpha). I have no business relationship with any company whose stock is mentioned in this article.