For those investors who are going to retire 20 or 30 years from now it is useful to purchase dividend-paying equity investments that benefit from higher long-term demand trends in senior healthcare. I think that investments in the US healthcare market provide one of the most attractive risk/reward trade-offs and best ways to accumulate long-term wealth. With increasing life expectancy and better medical care, senior housing facilities will face favorable demand especially from seniors aged 85 years and older. Companies that invest in a diversified skilled nursing property portfolio are highly attractive investments, both from a growth and from an income perspective.
Background
Healthcare spending is set to increase dramatically over the next 20 years and beyond. Growing demand for senior care/assisted living is a secular trend that has been repeatedly singled out by the Congressional Budget Office. The CBO estimates that federal spending on healthcare programs will almost double and account for an estimated 8% of GDP in 2037/2038.
(Source: Congressional Budget Office)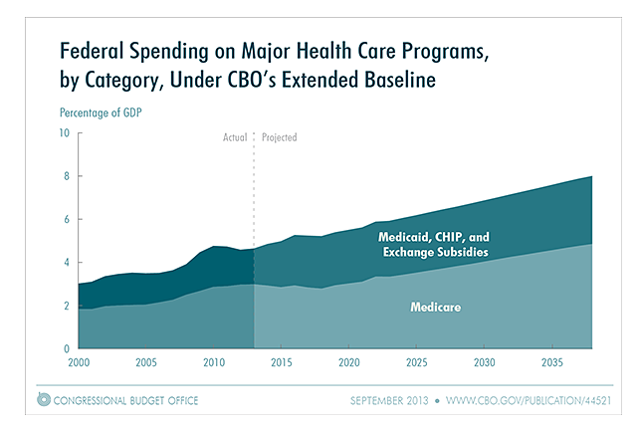 One company that positions itself to benefit from higher demand for senior care facilities is Omega Healthcare Investors (NYSE:OHI). At the end of 2013 the healthcare REIT owned or held mortgages on 538 skilled nursing- and/or assisted living facilities and specialty hospitals with roughly 61,178 licensed beds allocated over 37 states. The real estate investment trust has grown aggressively over the last decade shelling out about $3.4 billion in growth investments since 2004. Omega Healthcare Investors is one of the most aggressively growing healthcare REITs in the sector and, most importantly, lets investors participate in funds from operations growth.
Fourth-quarter results
Omega Healthcare Investors reported another quarter of strong financial results at the beginning of February:
Fourth-quarter net income grew to $47.2 million ($0.38 per diluted share) vs. $33.9 million ($0.30 per diluted share) in the fourth quarter of 2012 - an increase of 39% (27%).
Operating revenues increased 17% to $111.1 million compared to $95.0 million a year ago.
Fourth-quarter reported funds from operations (FFO) increased 30% (18%) to $79.9 million ($0.65 per common share) compared to $61.4 million ($0.55 per common share) for the same period last year.
Adjusted funds from operations came in at $79.9 million ($0.65 per common share) in the fourth-quarter 2013 vs. $64.9 million ($0.58 per common share) in the fourth-quarter 2012 - an increase of 23% (12%).
In fourth-quarter 2013 Omega Healthcare Investors completed new investments worth $561 million.
On January 15, 2014 Omega Healthcare Investors announced a quarterly dividend of $0.49 per share - its sixth consecutive dividend hike. OHI now pays an annualized dividend of $1.96 which translates into a healthy annualized forward dividend yield of 6.31%. Omega Healthcare Investors has a great dividend track record and increased its annual dividend stream for shareholders throughout the financial crisis - a respectable accomplishment. OHI's historic dividend stream increases the likelihood that the real estate investment trust will continue to grow its quarterly dividend in the coming years.
The REIT expects a 2014 full-year adjusted FFO of $2.69-2.72 per share which compares against a realized AFFO of $2.53 per share in 2013: OHI targets an estimated y-o-y AFFO growth rate of 6-8% which gives the REIT sufficient room to further grow its dividend.
Share performance
Omega Healthcare Investors' share price has barely moved since I last wrote about the REIT in December (original thesis: here). OHI consolidated quite substantially during the REIT sell-off in May 2013: A falling share price of a quality company with great remuneration policies is a great buying opportunity for long-term investors who don't mind short-term volatility. Omega Healthcare Investors currently trades at $31.07 - about 19% below its 52-week high at $38.41.
(Source: Yahoo Finance)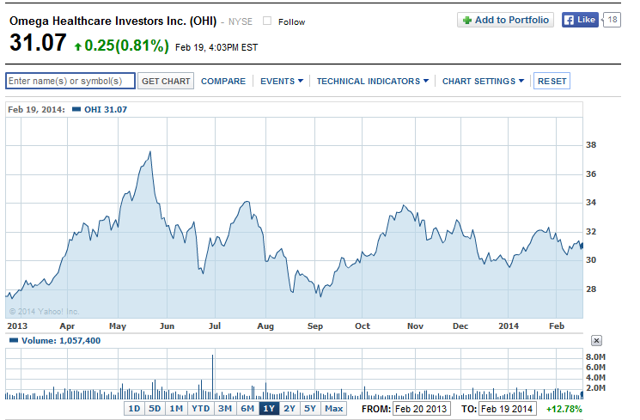 Conclusion
Omega Healthcare Investors plays a long-term trend in healthcare: Increased demand for and utilization of senior care- and nursing facilities in the United States. Advances in the medical field and safer workplace conditions have led to an increase in life expectancies that will benefit owners and operators of skilled nursing facilities. Omega Healthcare Investors is growing aggressively to build a long-term property portfolio to capitalize on those long-term trends in senior healthcare. The REIT has achieved outstanding FFO- and dividend growth in the past and management has shown that it can deliver value for shareholders throughout the financial crisis.
Omega Healthcare Investors is a suitable investment for long-term oriented investors who want to profit from one of the strongest, secular trends in healthcare but also have little desire for constant trading. I believe an investment in Omega Healthcare Investors provides investors with solid exposure to growing senior healthcare demand and allows them to benefit from a recurring cash flow stream and attractive dividend prospects stemming from the development of OHI's long-term property portfolio. Long-term buy.
Disclosure: I am long OHI. I wrote this article myself, and it expresses my own opinions. I am not receiving compensation for it (other than from Seeking Alpha). I have no business relationship with any company whose stock is mentioned in this article.