By Sumit Roy
Natural gas was last trading up by about 1 percent to $6.22/mmbtu after the Energy Information Administration reported that operators withdrew 250 billion cubic feet from storage last week, within the range of most analyst estimates. (The previous week's draw was revised slightly lower from 237 to 230.)
The latest withdrawal was well above last year's draw of 127 bcf, and the five-year average draw of 148.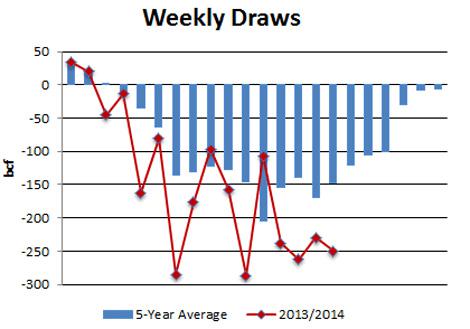 In turn, inventories now stand at 1,443 bcf, which is 957 bcf below the year-ago level and 742 bcf below the five-year average (calculated using a slightly different methodology than the EIA).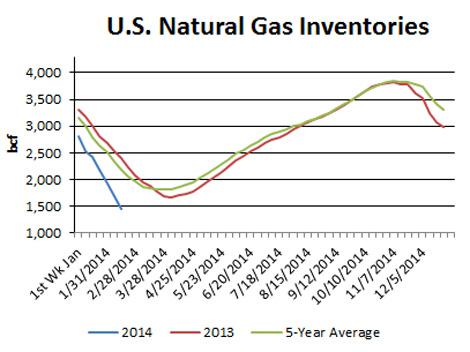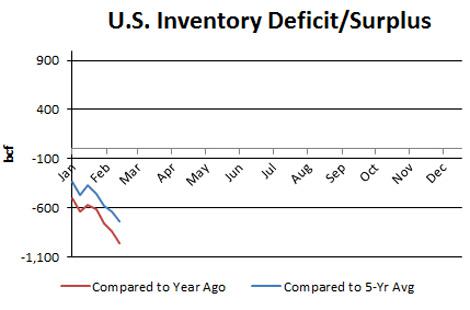 The weather last week was much colder than normal.
According to the Edison Electric Institute, utilities generated 83,345 GWh in the week ending Feb. 15, which was 10.3 percent above the same week a year ago.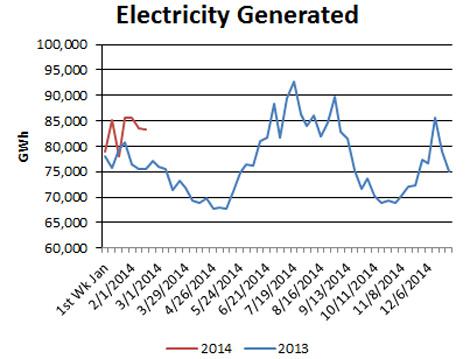 Looking forward, the NOAA's 6- to 10-day outlook calls for much colder-than-normal temperatures across the eastern half of the country.
NOAA 6- TO 10-DAY OUTLOOK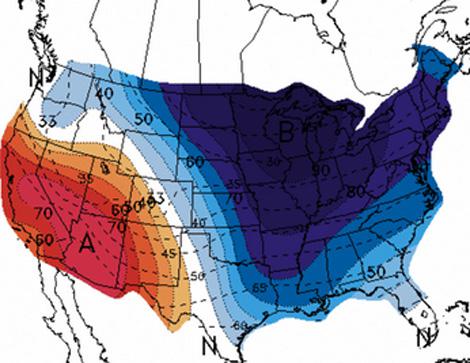 Meanwhile, the number of rigs drilling for natural gas in the U.S. fell by 14 to 337 last week, according to Baker Hughes. That's the lowest level since 1995.
Natural Gas Rig Count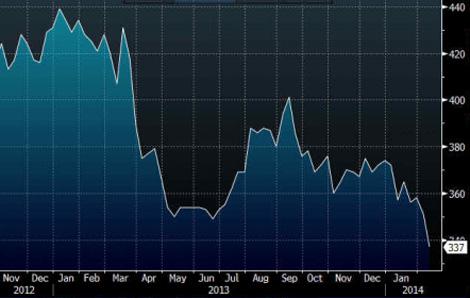 Natural Gas
The latest inventory data from the EIA were bullish, as the inventory deficit against the five-year average rose from 640 to 742 bcf.
In next week's report, the inventory deficit may fall slightly - a reflection of current mild temperatures across the country. However, the weather forecasts are now showing a strong likelihood of another blast of extremely frigid temperatures by the end of February, which may lead to at least one more 200 bcf+ withdrawal.
That will push the inventory deficit above 800 bcf - perhaps even 900 bcf - by March, translating into a projected inventory trough of below 1,000 bcf. If the weather at the end of the month turns out to be especially brutal and we see another pair of 250 bcf+ withdrawals, the inventory deficit could expand to 1,000 bcf, and inventories could trough around 800 bcf.
These dire expectations have led to a surge in the front month natural gas futures contract to as high as $6.40 - the best level since late-2008. However, longer-dated gas contracts haven't rallied nearly as much. The second month natural gas contract for delivery in April, for example, was last trading at $4.89. That's an extremely steep backwardation and reflects consumers' desire for immediate delivery of natural gas.
Looking even further out, the 2015 natural gas futures strip currently averages $4.25, with a couple months even trading below $4. Clearly, the market is suggesting that the high prices of the front month will not last and that inventories will normalize once winter ends and temperatures moderate.
In an interview with HAI earlier this week, Dennis Gartman told us that the low-deferred month natural gas prices are "disturbing" and prevent producers from hedging and increasing production (see Gartman: Natural Gas Could Easily Spike To $10 With Producers Unable To Hedge). Gartman attributed the market disconnect to regulation put in place by the CFTC. He also predicted that front natural gas prices would be extremely "spiky" as a result, with the potential for rallies as high as $10.
We are unsure to what extent the CFTC has impacted the futures strip for natural gas. However, it is clear that regardless of regulations, a large segment of the market truly believes that natural gas prices will fall sharply and soon. Today, Morgan Stanley said that "(an average price of $4.35) should be high enough to support adequate restocking by October" and that "prices should trend lower through summer )and may fall) below $4 in the third quarter."
The widespread belief that natural gas production will increase and allow inventories to refill by the start of next winter is likely why longer-dated natural gas prices haven't rallied significantly more. Indeed, if the bears are correct and natural gas production increases significantly, it will create an oversupply that will necessitate prices to eventually fall sharply below the marginal cost of production in order to get producers to cut back on their output. That is the bearish case.
On the other hand, in the bullish scenario, production may not increase as much as anticipated - a hot summer may dampen injections, and inventories may not be adequately filled ahead of next winter. Assuming a winter-ending inventory trough of 900 bcf, injections must average 94 bcf per week to refill inventories to 3,800 bcf by November. That is well above last year's average of 70 bcf per week, and the five-year average of 66 bcf per week.
Bottom Line: The outlook for natural gas prices is highly uncertain, with starkly contrasting potential outcomes.