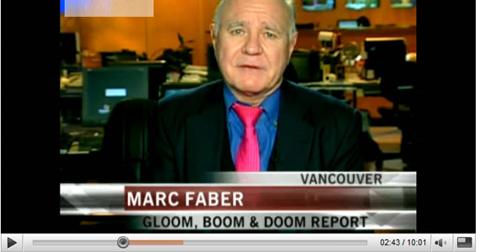 Dr. Doom has done it again. The notorious Marc Faber, author of the Gloom, Doom and Boom report, has predicted, once again, the demise of China's economy. I'll give Dr. Doom this much: He has predicted doom and gloom consistently for years, and has been right a few times, including the US-generated global financial crisis.
But a stopped clock also tells the right time twice a day. That doesn't make it a reliable timepiece.
Let's take a closer look at Dr. Doom's influence, his credibility and his words. In an interview with Bloomberg Television in Hong Kong he said the following:
The market is telling you that something is not quite right. The Chinese economy is going to slow down regardless. It is more likely that we will even have a crash sometime in the next nine to 12 months.
On the day he spoke there was a flurry among investors. A Hong Kong index of some Chinese stocks lost about two percent. The Shanghai market was closed. In New York the China ADR Index gained almost one percent.
But was it the influence of Dr. Doom which caused this minor volatility in Hong Kong? Many news sources pointed the finger elsewhere.
China's central bank raised reserve ratios for banks over the weekend. The current level is 16.5 percent for the biggest banks and 14.5 percent for smaller ones. The new requirement will increase bank reserves by another half percent. This raised some investor concerns about monetary tightening, but officials were quick to respond, saying that "moderately easy" policies would continue.
Unlike US authorities before the mortgage collapse, Chinese officials are working continually to prevent bubbles and overcapacity problems. A host of measures has been rolled out to quell property speculation and prevent a potential property bubble from bursting. The reserve rate rise, a safety measure and a liquidity reducer, is the third banks have faced this year.

China's banks appear to be in good health. ICBC, the country's biggest lender, reports that its net income climbed 18 percent to $6.1 billion for the first three months of 2010. China's Construction Bank recorded a 34 percent increase to $5.1 billion during the first quarter. Although non-performing loans are not currently a large problem, raising the reserve ratio will further increase the banks' ability to withstand shocks.
Dr. Doom suggests that China's stock markets are weak, even though the Shanghai Index is up about 12% over the past year. But Faber then contradicts himself. While commenting on China's clampdown on property speculation he says stocks are "fully valued" and therefore rules out a speculative bubble, saying Chinese investors may instead become "big buyers" of gold. It's had to make much sense of these conflicting observations.
A more credible source, Citigroup (NYSE:C), says that in a "worst case scenario," the non-performing loans of local-government investment vehicles, used to channel money to stimulus projects, could swell to $351 billion by 2011. The Chinese government has bailed out banks before and has far more than that amount, more than $2.4 trillion, in reserves.
BNP Paribas (OTCQX:BNPQY), warns that housing prices might fall as much as 20 percent in the second half of the year because of Beijing's concerted efforts to curb speculation. That could cause the number of delinquent mortgages to triple. As serious as this may sound, the numbers are miniscule and manageable in comparison to the US mortgage implosion.
China is not without economic challenges. Beijing's leaders candidly say so in every public statement, calling the transition from heavy monetary stimulus to normalization exceedingly complex.
Indeed it is. China's economic growth will slow somewhat from its current double-digit rate as stimulus is withdrawn. But Beijing has demonstrated the resources, the means and the power to manage problems as they appear. It is also demonstrating political will by clamping down on real estate speculation.
Betting against China hasn't been the right move, even during the height of the global financial crisis. It makes even less sense now as China's export customers worldwide are recovering from a real near-death experience.
Disclosure: No positions