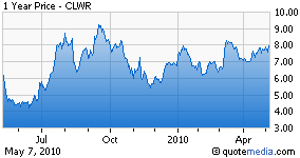 Clearwire's (CLWR) first quarter report repeated the same upbeat themes for the mobile broadband market. For the first time, though, management provided metrics on how new 4G markets are financially performing -- along with additional forecasts. The company is providing more dots for investors to connect, and they're pointing up. (See conference call transcript here.)
Clearwire's oldest 4G markets are in Portland, Atlanta and Las Vegas with an average age of 10 months as of the end of Q1; the Portland market was the first to launch in January 2009. For several quarters management had forecast that with mid-single digit market penetration, individual geographic markets would be EBITDA positive -- meaning, exclusive of corporate overhead and spectrum costs -- but to date had provided no metrics on the performance of early 4G markets. Yesterday management disclosed that these first 3 markets had achieved 2.7% penetration, and were on track to achieve the targeted market breakeven EBITDA results around 18 months after launch.
Can CLWR achieve EBITDA breakeven in other markets too? Considering that Clearwire holds about 120-150 MHz of spectrum in the top 100 US markets -- or roughly half of the incremental and still unavailable spectrum that the FCC says the wireless industry requires to accommodate burgeoning mobile broadband demand -- such a low mid single digit penetration level would appear eminently achievable. Note also that Clearwire expects to achieve the market EBITDA objective while delivering its current average of 7 GB of data per month to each subscriber, roughly 3-4 times the data consumed by a 3G mobile data user (served by competitors).
Customer acquisition momentum accelerated during Q1, as CLWR's customer base expanded 41% to 971,000. The company issued a projection of over 2 million customers by year end. For comparison, in Q1, Verizon (NYSE:VZ) added 1.6 million new wireless customers, and 1.3 million of them were prepaids, while AT&T (NYSE:T) added 1.9 million customers. The implication is that by yearend Clearwire will begin taking a significant portion of the US wireless industry's new customers.
Recently both Verizon and AT&T have been talking about a long term move to metered pricing for mobile broadband. For their business models, this is probably unavoidable, as voice pricing is deteriorating and they need to make up the difference with data, which is a lower margin business. For Clearwire's business model, metered pricing is not necessary. Today its most popular offering is the unlimited service. But if AT&T and Verizon Wireless migrate to metered mobile broadband pricing, Clearwire will benefit, either competitively via incremental market share gains or by operating under a higher pricing umbrella.
Clearwire only discloses ARPU for retail customers, and this metric rose to $41.55 (excluding one time benefits), versus $39.82 in Q4. Management also forecast that retail ARPU would average over $41 for the rest of the year, which I suspect indicates this conservative management team privately expect it to continue to rise. Clearwire has begun pulling back on discounting incentives which are no longer needed to acquire customers. Grab those cheap plans while you can. Bundled sales of both home and mobile services are also driving ARPU up.
The Perennial Question of Capital
Many investors have steered clear of the stock due to fears of dilution should the company raise additional equity. To this point, Clearwire reiterated that its business model is sustainable with just the 120 million POPs to be covered by yearend 2010 with the planned $2.8-$3.2 billion in capex. Management expects to achieve broader coverage either over a longer time frame using internally generated cash, or over a shorter time frame using capital from other sources.
One source of capital is likely to be the pending rights offering which if exercised will net the company roughly $300 million. For the first time, management discussed additional "other" sources of capital:
In Q1, two new vendor finance arrangements for the 2010 build were completed on favorable terms. Vendor financing often means debt with warrants but the terms were not disclosed.
Most interestingly, management referenced ongoing discussions with other companies that are interested in wholesale deals, and that additional capital infusions may be associated with those negotiations. Although management did not say so, these may involve other wireless carriers that are short of necessary spectrum.
Putting the Technology Question to Bed
Another much discussed topic that has concerned investors is the WiMAX vs. LTE technology issue, with investors fearing that the LTE standard favored by AT&T and Verizon is going to somehow overwhelm WiMAX and Clearwire. To date Clearwire has been bound by an agreement with Intel (NASDAQ:
INTC
) to restrict its 4G network deployments to WiMAX into 2012. Yesterday the company announced that Intel and Clearwire have agreed that either party may terminate their agreement without penalty with 30 days notice, giving Clearwire the flexibility to adopt LTE.
Having said that, Morrow made it clear that WiMAX remains the only viable option for the near term as LTE remains immature. Whether his vision of convergence between future versions of LTE (meaning TD-LTE) and WiMAX occurs remains to be seen. In the meantime, expect to hear more from semiconductor manufacturers that are developing multimode solutions to roam between WiMAX and LTE. Personally I expect semiconductor manufacturers to make RAN technology effectively invisible to the consumer, although Clearwire's wholesale prospects may be enhanced by formally supporting LTE.
In Conclusion: The Mobile Trend is Clearwire's Friend
There are plenty of skeptics on the CLWR story, but the big picture trends align with the company's strategy and execution:
US Mobile Data service revenues were $44 billion in 2009 and are expected to grow 20% to $53 billion in 2010. In contrast, wireless voice service revenue is flattening with subscriber saturation and falling pricing. Virtually all the wireless industry's growth from here on out will be in data, Clearwire's sole focus.
Clearwire's enterprise value is roughly $7-8 billion, giving it plenty of headroom in a fast growing market.
Unlike voice, the appeal of a data service is related to its speed: the more the better. More speed requires more spectrum. Clearwire has more spectrum than any other carrier and thus can deliver more speed to more customers.
In the longer term, data will disrupt voice services -- VOIP is good enough and drastically cheaper.
Clearwire has executed before, achieving market EBITDA profitability in pre-WiMAX markets in 18 months.
The pace of innovation in the wireless broadband ecosystem is enormous, widespread, and escalating. Furthermore, adoption of new mobile technologies is virtually frictionless with subsidized devices and free or cheap apps which can be deployed in seconds. Innovation feeds growth.
Clearwire continues to lose money while it remains in the early stages of 4G network rollout. Many investors find it tough to invest in such early stage companies. But others may find it mobile broadband juggernaut and Clearwire's position in it increasingly tough to pass up.
Disclosure: Author long CLWR