When Green Mountain Beverage Company (GMCR) reported earnings on February 5th the company also announced its new partnership with Coca-Cola (KO). Green Mountain's new partnership with Coca-Cola was outlined to state the following:
"The Coca-Cola Company and Green Mountain Coffee Roasters, Inc. announced that the companies have signed a 10-year agreement to collaborate on the development and introduction of The Coca-Cola Company's global brand portfolio for use in GMCR's forthcoming Keurig Cold™ at-home beverage system. Under the global strategic agreement, GMCR and The Coca-Cola Company will cooperate to bring the Keurig Cold™ beverage system to consumers around the world. In an effort to align long-term interests, the companies also entered into a Common Stock Purchase Agreement whereby The Coca-Cola Company will purchase a 10% minority equity position in GMCR." http://investor.gmcr.com/releases.cfm
News of this deal created a panic in shares of SodaStream after the market close with SODA shares diving by more than 16% at one point, before finishing the extended trading hours session down roughly 4 percent. Admittedly, this news came as a big surprise with the understanding of how small and youthful the at-home carbonated soft drink market is currently, the reality that Coca-Cola is betting on a product with no discernible product testing in the marketplace, no installed user base and little understanding of what the total demand potential is for the product category of at-home carbonation outside of the total carbonated soft drink category. Nonetheless, Coca-Cola is a formidable marketer of global products and the firm has put a good deal of capital behind this venture with Green Mountain to enhance its ability to succeed.
SodaStream has always faced competition in the marketplace and will likely face its toughest challenge yet when this joint-project development known as Keurig Cold finally arrives in stores (currently slated for fiscal 2015). With that in mind, some SodaStream analysts have already weighed in on SODA with their thoughts:
"Citigroup believes there are several things to consider when viewing the impact of the Coca-Cola , Green Mountain partnership on SodaStream (SODA). Citi believes the deal validates the home carbonation category, and expects SodaStream to benefit when Green Mountain and Coke start to advertise and market the cold platform. Citi said it "hopes" SodaStream quickly signs an agreement with PepsiCo (PEP) or Dr Pepper Snapple (DPS). The firm also expects SodaStream's marketing expenses to rise."
"While we thought Coke purchasing Green Mountain outright to enter the coffee category in the US was possible (especially given GMCR CEO Kelley KO relationship), we are surprised by the announcement and wonder how the Coke bottlers will be fit into this new initiative, with KO management suggesting the bottling partners will fit into the collaboration but wouldn't add any further details. In addition, many will view this announcement as negative for SodaStream, but there is a small possibility that PepsiCo follows Coke's lead and partners with SODA. It will be interesting to see if GMCR's product, which relies on a chemical reaction, gains traction relative to SODA's CO2-based solution," said Schmitz,

an analyst at Deutsche Bank AG

.
Keybanc downgraded Sodastream to "hold" from "buy" and cited, "Coca-Cola's deal with Green Mountain Coffee Roasters, which will likely increase competition," as reason for the downgrade.
Oppenheimer said, "Green Mountain's announced collaboration with Coca-Cola in our view creates a rather formidable competitor to SodaStream in the at-home beverage market. While the shares of SODA are already reacting to the news, we continue to suggest investors exercise caution on the name, at least until the full implications of this deal can be ascertained.
One can't blame the analysts for being cautious on SODA in light of this latest partnership between Coca-Cola and Green Mountain. But it shouldn't be overlooked as to the first mover advantage which SodaStream has created over the last decade globally and in the last 3 years in the Americas. SodaStream, like Coca-Cola, is a global brand while Green Mountain's Keurig line of products is generally only sold in North America. During Q1 2013, however, Green Mountain has scored some international sales in the away-from-home market for its Keurig Bolt products in the United Kingdom. SodaStream, Nespresso, Russell Hobbs, Krupps, Breville and others dominate the European small appliance landscape and it will be extremely difficult to find success in this region for Green Mountain's Keurig products, but the company must attempt this venture with Nespresso ever-encroaching on Green Mountain's North American single-serve marketplace.
Severe competition is developing for Green Mountain in North America at both the low and high-end of the coffee maker categories. Late last year, Hamilton Beach launched a single-serve coffee maker called "FlexBrew".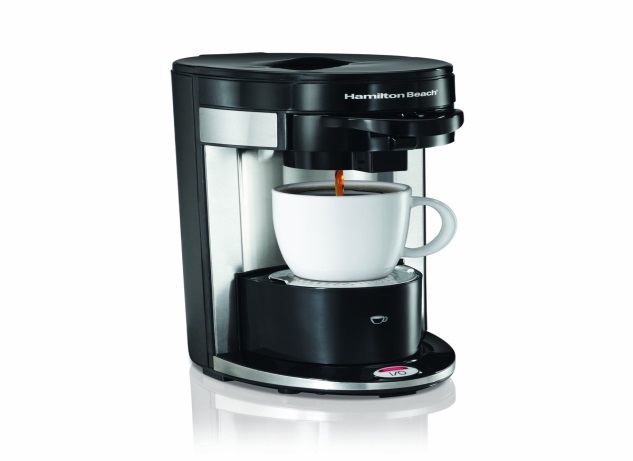 Reviews of the FlexBrew, no matter which e-commerce site one visits, are mixed at best, and slightly biased to the positive end of the ratings spectrum, but not by much. The biggest lure for consumers to buy the Hamilton Beach FlexBrew is the price tag which is $49.99. The product takes all K-cups or private label coffee pods and performs just as your basic Keurig coffee performs but at nearly half the cost. My personal opinion is that the product is fair and works as intended. What is evident about the product though is that it is seeing rapid retail placement and it is selling quite well at retailers with a faster run rate than the existing low-end Keurig brewers at Wal-Mart.
At the high-end of the single-serve coffee spectrum, not only has the Green Mountain Vue been displaced due to the upcoming (Q4 2014) launch of the Keurig 2.0 and the Vue's inability to gain sales traction, but Nespresso is taking its place at some retail locations such as Bed Bath & Beyond (BBBY) as well as Target (TGT). Target is now featuring the Nespresso line of single-serve coffee/espresso brewers on end caps throughout its chain of stores.
Taking a look again at the KO/GMCR partnership, on the 1st quarter conference call with analysts, GMCR denoted that the Keurig Cold product partnership with Coca-Cola would take some years to develop profitable sales in North America before the companies could expand distribution internationally. It will likely take several years for a product of this magnitude to develop a user base, then a profitable user base and ultimately a secure market position before any international distribution would be contemplated. It has taken Green Mountain 10 years to complete domestic dominance and create the foundation to venture out internationally with existing Keurig coffee makers. It will likely take even longer to venture out with a home carbonation Keurig platform for cold beverages, which faces steep competition and product category challenges which I will outline below.
Keurig Cold will not just compete with other small appliances, but it will compete with store bought, pre-packaged cold beverages. Yes, Coca-Cola and Green Mountain will be competing with Coca-Cola's existing beverages. Makes little sense, but if Coca-Cola believes its current business model can't co-exist with the current trend developing in the do-it-yourself cold beverage market, the company has to make a move for the security of the company's future.
How competitive Keurig Cold is with store bought cold beverages will depend largely on pricing. The company will have the heavy task of developing a pricing structure competitive with a single glass of Coke or other cold beverages.
Keurig Cold machine will likely be a premium machine as recently noted by Brian Kelley, Green Mountain's CEO. The product aims to be a single-serve platform. This means it will have a water tank, a cooling mechanism, several reservoirs or chambers for mixing ingredients, pumps, electrical components, steel and resin-based innards and more. I would not be surprised to see such a brewer priced in the $140-$200 range. This would be difficult to mass market, but only time will tell. Existing products in the cold beverage small appliance market place without single-serve functionality currently price in such a range and garner less than one unit of sales transaction weekly per retail door.
Convenience will not win this product any customer praise and/or meaningful sales. Let's face it, there's nothing more convenient than opening the fridge and pouring a cold beverage into a glass. One doesn't have any need to fumble around with a small appliance for such a beverage. With that in mind, Keurig Cold will have to offer other benefits to lure them into the product category. This isn't a coffee maker which Keurig easily found the ability to benefit from the convenience equation by adding single-serve technology, thus reducing brew time and total steps to achieving a cup of coffee.
Single-serve cold beverage pods for the category will need to show a benefit. Maybe the flavor offerings will have to be better-for-you flavors like those offered by its chief competition, SodaStream. Green Mountain will likely not only introduce Coca-Cola flavors but their own blend of cold beverage flavors which they have been trademarking for several quarters now.
On the carbonated drinks side of the Keurig Cold, the brewer will need to emit strong levels of carbonation, enough to be on par with what one expects out of traditional store bought sodas. The use of strong chemical reaction in combination with a constant electric current and cooling at a precise temperature leaves a great deal of room for error, but in time they will likely achieve what is neccessary to offer a viable product to consumers.
Lastly, and probably most importantly, Keurig Cold will have to compete with where the do-it-yourself carbonation category is heading and that is to on-demand, refrigeration integration for cold, carbonated beverages. Samsung (OTC:SSNLF) and SodaStream partnered and have been selling refrigerators with carbonation capability for nearly a year now. The two companies will likely have two more refrigerators with carbonation capability in the coming quarters. In the works are refrigerators that will carbonate and dispense flavored carbonated beverages. What this means to the future of the do-it-yourself, cold beverage category is that one day a counter-top appliance will not be necessary.
Let's not overlook the fact that this new partnership between Coca-Cola and Green Mountain is not Coca-Cola's first attempt at delivering a small appliance to the consumer by the firm. (photo below is of the BreakMate)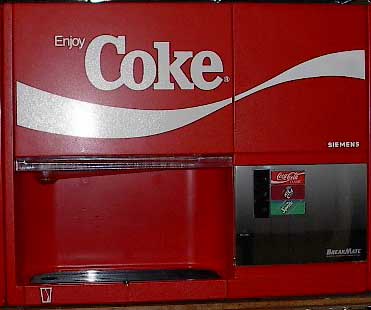 In the 90s, Coca-Cola tried to market the BreakMate to offices and other commercial locations with little to no success and sub sequentially discontinued manufacturing. Used machines can still be purchased in the marketplace.
One could add a great many more challenges the Keurig Cold platform will face, but with a strong backing from Coca-Cola, those challenges can be minimized and overcome in the long term. In the meantime, however, SodaStream will be addressing the cold, carbonated platform as it continues to roll out new and innovative products.
SodaStream shareholders should heed this future competition with Green Mountain, but understand that it may not necessarily be direct competition as SodaStream garners the mass market consumer and Keurig Cold will likely garner the specialty or premium consumer. Quite frankly, that is what this newer product category needs to develop on a grand scale. When given the choice of spending $99 for a cold beverage platform that has proven effective and a solid product line-up of beverage offerings or a $140-$200 cold beverage platform, more often than not, the consumer will choose to spend less money, proven product or not as is being evidenced by the strong sales in the Hamilton Beach FlexBrew product. Price does matter!
Now let's get to the grandiose speculation that has developed from the latest partnership announcement between Coca-Cola and Green Mountain. With this revelation, many now believe that Pepsico has to make a move into the do-it-yourself at-home category. Like I said before, I admittedly did not believe that the majors would enter this tiny category this early in the category's development. But, nonetheless here we are and it seems as though Coca-Cola was the first to blink. Maybe that is not the case though. Is it possible that deals have been in the works with SodaStream and Pepsico all along? Maybe the vagaries and finer points were not in-line back in June when a report from Calcalist, an Israeli media outlet, reported that Pepsico was in talks to purchase SodaStream. Such a buy-out was immediately negated by Pepsico's CEO, but maybe there were talks of some kind, possibly a partnership. This may have pushed Coca-Cola to initiate talks with Green Mountain or vice versa. It's all pure speculation of course, but what all the analysts seem to agree on presently is that SodaStream and Pespico may do something together in the near future.
Quite frankly, it would be imprudent for Pepsico or even Dr. Pepper Snapple Group to just sit on the sidelines and allow Coca Cola to develop yet another brand dominating marketplace without participating in such a marketplace themselves. Generally speaking, this is not the way the major beverage companies have competed in the past. If one major beverage company offered an energy drink, the others did. If one offered a diet drink, the others did and so on and so on. I would expect to hear something come out of the Pepsi or Dr. Pepper camp in the near future regarding the do-it-yourself cold beverage category and how they aim to compete in the category. With SodaStream's global distribution, upcoming launches into India and Mexico and 7.5mm user base, Pepsico and Dr. Pepper could gain a decisive advantage to that of Coca-Cola by joining ranks with SodaStream.
Pepsico has long since understood the power of allowing the consumer to make their own beverage at home without the use store bought packaged sodas and other beverages. In 2010, Pepsico partnered with Bevyz to introduce a line of commercial beverage makers in Europe.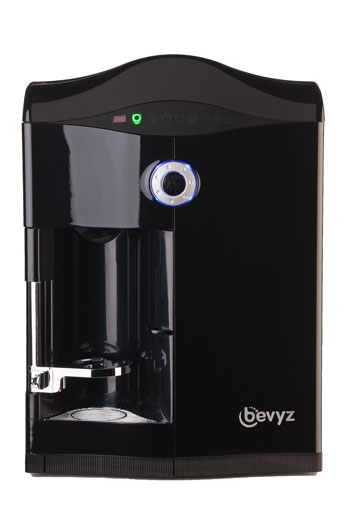 The products, while innovative and beneficial to the consumer, come with a hefty price tag and still don't offer the convenience of any basic refrigerator for which one can simply grab a bottle of Pepsi and pour it directly into a glass. What the Bevyz product clearly demonstrates and what may be important for investors to recognize is that Pepsico is definitely looking to get into the do-it-yourself beverage category.
Sometimes, manufactures forget that the fun-factor is a huge part of what makes a new "gadget" for the kitchen sell. One benefit of the growing do-it-yourself cold beverage category is the fun-factor. Mixing your own drink to suit your very own taste buds is a big benefit in this category. With that said, we hope to see this benefit in the Keurig Cold system. Just like the Bevyz brewer and pods, Keurig pods won't lend themselves to this benefit, but there is a lot of time to add such a benefit during the developmental stages.
For investors of KO, GMCR, SODA and PEP, the next several months will present the challenge of analyzing the future prospects for all participants in the beverage category. I wouldn't be jumping into the investment pool just because of the breaking headlines and how the news media colors them. Fundamental results are the most proven methodology for formulating investment strategies and usually yield the highest rate of return. I'm sure investors will hear a great deal more from the aforementioned companies and their plans to address the consumer going forward. So for now, sit back and choose your favorite beverage and carefully monitor the fundamentals for each company as they will likely depend on what the other company does. As they say, "For every action there is a reaction."
Disclosure: I am long SODA. I wrote this article myself, and it expresses my own opinions. I am not receiving compensation for it. I have no business relationship with any company whose stock is mentioned in this article.