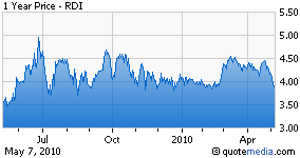 Reading International (NASDAQ:RDI) reported Q1 2010 results this morning. Our summary of salient points is below. We will analyze Reading's Q1 10-Q when it is filed in the near future.
The Q1 2010 results full press release may be found here.

Reading continued its growth in operating results in both revenues and cash flow. Revenues grew +23.5%, spurred by substantial growth in Reading's Australia and New Zealand cinema markets. While the results for Q1 enjoyed some benefit from YOY currency gains, in local currency, Reading's Australia and New Zealand cinema revenues enjoyed strong growth, up 14.4% in Australia and 29.5% in New Zealand, again besting US industry box office trends. Global box office releases for 2010 look appealing with an sizable increase in the number of 3D movies being released.
Sizable cash flow growth was fueled by both revenue growth and a 5.2% drop in G&A expense from prior year, mitigated by higher film rental costs associated with higher grossing films.
These operating results, aided by positive currency exchange movements, have propelled Reading's Book Value per Share +72% over the same period a year ago to around $5/share. We believe this book value still greatly understates the current fair value of Reading's Australian, New Zealand, New York and Chicago real estate, held for more than a decade that has since been upzoned and, in some cases, already developed into rent-generating parcels. Thus, we feel fair market book value is well more than $5/share.
Reading bought back 62,375 Class A (RDI) shares during the quarter at an avg cost of $4.02/share. While Reading's board last publicly authorized a stock repurchase in May 2004, when Reading's stock price was above $8/share, this is the first execution of a stock buyback by Reading that we can recall.
Reading maintains substantial liquidity and an interest in accretive acquisitions of cash-generating assets. March 31, 2010 cash and marketable securities balances were $30.1MM (up $2MM from Q409) and Reading has a combined $23.1MM of undrawn credit availability on its Australian and New Zealand Credit facilities. In addition, the company has an effective universal shelf registration for up to $100MM of debt and warrants for debt, "units," and other securities to enable Reading to act quickly to structure and finance growth transactions.

Other items of note in Reading's release:

On April 30, 2010, the company refinanced its Union Square, NYC property loan (classified as current liability on the 2009 year end balance sheet) with a new $7.5MM loan at a 5.92% rate with a year-five balloon payment of $6.4 million now due in 2015.
Reading has reached a verbal agreement (being documented) to pay down a portion of $14MM of debt, presently in current liabilities, while rolling the maturity date of the remainder to 2013.
The execution of the 2nd of three contingent purchase price reduction clauses in Reading's original purchase agreement for Consolidated Cinemas (181 screens in Hawaii and California), reduced Reading's seller note on this 2008 purchase by another $4.4MM. This resulted not only in debt reduction but also a reduction in goodwill and interest paid on this debt,

retroactive to the original 2008 purchase date.
Subsequent to quarter end, previously disclosed litigation involving a contractor for a terminated ETRC development was adjudicated unfavorably towards Reading which should result in Reading recognizing an incremental $500-750K loss above what Reading had previously reserved and a cash payout of around $1.4 to 1.7MM. Reading is evaluating whether to appeal.
Also subsequent to quarter end, an escrow reserve against the some gains from a 1996 sale of coal assets (originating from the Reading's railroad predecessor), was released by 3rd party settlement of certain claims against the buyer of the assets. $525k of these gains will be recognized by Reading in Q2 ended June.

Other items of note during Q1 not in Reading's release:

On April 23, 2010, Costco (NASDAQ:COST) received government approval for a $60MM development constructing Costco's Australian Headquarters and a Costco Wholesale Store to be located directly across an intersection from Reading's developable land parcel and existing Redyard shoppng center and 10-plex in Auburn (Sydney, Australia). The Costco development is expected to enroll an estimated 60,000 "members" from all parts of Sydney in its first year alone. This Costco development is part of a proposed "Parramatta Road Retail Precinct" up-zoning proposal that includes Reading's properties. A link to the current upzoning proposal can be found here.

On March 10, 2010, the Moonee Valley Council (Melbourne, Australia) gave formal approval to its "Moonee Ponds Activity Centre Structure Plan," as amended. The Plan and its recent amendments now have increased the height allowances on portions of Reading's 3.3 acre Moonee Ponds parcel (previously already the highest in the entire Activity Centre) up to 16 stories. Information on the Council approved plan can be found here.

Disclosure: Author long RDI