Since being established in 1955, McDonald's (NYSE:MCD) has grown into the world's leading global foodservice retailer with more than 35,000 local restaurants serving approximately 70 million people in more than 100 countries each day. More than 80% of McDonald's restaurants worldwide are owned and operated by independent local men and women.
Its products are well-known, constituting everything from French Fries to Big Mac, Quarter Pounder and Chicken McNuggets.
The Fundamentals
The brand name of McDonald's is undoubtedly very strong and has helped the company grow in both existing and new markets. Every now and then, though, the company has had to contend with quite vocal criticism of everything from its menu allegedly being unhealthy, labor practices and the environment.
The height of these criticisms were probably reached with the 2004 movie Super Size Me. The company has always managed to come back, though, and today the company is bigger and stronger than ever as shown by the revenue and net income development in the chart below.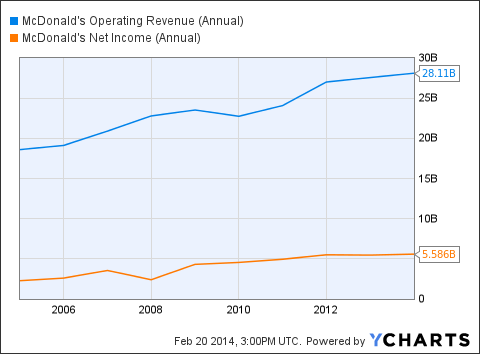 MCD Operating Revenue (Annual) data by YCharts
The company's revenue and net income have steadily increased over the last couple of years. Margins have expanded slightly too, from a net income margin of 18.3% in fiscal year 2008 to the 2013 margin of 19.9%. Not a lot of negative items to hang your hat on when it comes to their historical performance.
McDonald's is operating in a very competitive environment with strong worldwide competition from Burger King (BKW) and the various different restaurant-chains managed and owned by Yum! Brands (NYSE:YUM). In addition to these, most countries also have local well-established restaurant chains that McDonald's has to compete with.
In order to grow and thrive in this environment, the company has devised a strategy of having a strong alignment among the company, its franchisees and suppliers so as to offer consistent, locally-relevant restaurant experiences to customers and be an integral part of the communities it serves. An added benefit to this strategy is that it facilitates innovation by more easily identifying, implementing and scaling innovative ideas.
The company seeks to have a common framework for its business yet offer local adaptation so as to increase customer satisfaction. Through the company's five elements in their Plan to Win -- People, Products, Place, Price and Promotion it has grown comparable sales and customer visits in each of the last eight years.
The company seems to be in a good trend both in developed and in emerging markets. I would therefore expect it to continue growing over the long term even though it will certainly experience minor hiccups every now and then.
Risk Factors
Macroeconomic risk is not a big concern in my view when it comes to McDonald's. After all, its products are fairly cheap and would therefore benefit from customers downshifting from pricier restaurants in an economic slowdown. An increasing focus both in the developed and developing world regarding healthy food is an obvious risk, though the company has recognized this and increasingly offer salads and other healthy alternatives for their customers. The biggest risk going forward is likely to be the intense competition from both local and global competitors. Constant marketing and innovation will be necessary in order to keep existing customers and gain new ones.
Valuation
As mentioned, the company has an impressive long-term record of growth and looks set to continue that growth into the future. Sometimes, though, such performance leads to high valuation metrics, decreasing future expected returns for shareholders. In order to see if this is true or not for McDonald's, I'll compare it to some of its closest rivals below.
| | | | |
| --- | --- | --- | --- |
| | McDonald's | Burger King | Yum! Brands |
| Price/Sales | 3.4x | 7.2x | 2.6x |
| Price/Earnings | 17.3x | 43.1x | 30.8x |
| Yield | 3.3% | 0.9% | 1.9% |
Source: Morningstar
We see that McDonald's is cheaper than its rivals on both the Price/Earnings multiple and the dividend yield. Yum! Brands is slightly cheaper on Price/Sales while Burger King is hands down the most expensive of them all on all metrics.
By comparison, the S&P 500 trades at a P/E of 17.9x. For being the global leader that it is, McDonald's looks quite attractive at these multiples. Especially if you are going to invest within the restaurant or specialty-eateries business, the decision as to what stock to buy should be an easy one.
The Dividend
McDonald's has not only paid but raised its dividend every year since its first dividend in 1976. Increasing dividends every year for 38 years certainly qualifies the company as a solid dividend growth company.
Today the quarterly dividend is $0.81 which translates into an annual dividend of $3.24. In 2000 the company paid an annual dividend of $0.215 meaning that the dividend has increased by a multiple of 15x or a CAGR of 21.3%.
But is the dividend safe or has the company increased the payout ratio so much that there is little room left for further increases? With the current annual dividend of $3.24 and the EPS for 2013 which according to Morningstar came in at $5.55, this translates into a payout ratio of 58%. Hardly a level to be concerned about.
Regarding future growth, the analyst community expects the company to deliver an annual EPS growth rate of 8.4% over the next five years. Assuming the company trades at today's modest multiples five years from now and using today's dividend yield of 3.3%, total expected shareholder return for the next five years is 11.7%. For a defensive company with a beta of 0.37 that is solid and above what investors can expect from the broad market over the long term.
Conclusion
With a solid history of growth, profitability, massive dividend growth, promising future and modest valuation metrics McDonald's is a juicy alternative for any investor with a defensive dividend growth portfolio.
Disclosure: I have no positions in any stocks mentioned, and no plans to initiate any positions within the next 72 hours. I wrote this article myself, and it expresses my own opinions. I am not receiving compensation for it (other than from Seeking Alpha). I have no business relationship with any company whose stock is mentioned in this article.