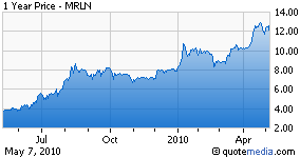 While the Marlin Business Service (NASDAQ:MRLN) Securities Exchange Commission 8K filing is not as complete as a year-end filing, it certainly shows a remarkable turnaround. It reveals a change in direction with a net income of $1.2 million the first quarter, after a revamping of adding more salesmen, their training and expenses, starting up the independent broker division and its expenses and efforts.
Marlin was perhaps the first small ticket leasing company to see the change in the marketplace over almost three years ago, cutting back, downsizing, even getting out of the broker program (now starting back in it), plus starting an industrial bank, getting out of programs that weren't working, but the efforts now seem to be paying off.
Again, it should be pointed out that the actual changes started late in the first quarter, and considering it, the trend is back in momentum at Marlin:
(Click to enlarge)
The keys to look here are the "Average Monthly Sources" as well as the "Approval Percentages." More sources, higher quality submissions meaning more efficiency and less cost, and sales reps are up as well as brokers starting on board: a very impressive start.
As far as the balance sheet goes, no short term borrowing, cash is up, net equity is up, and certainly better than the first quarter 2009 loss of $879,000. This company is positioned to grow. Their CEO saw the downturn first, maybe he is also first to see the up-turn in business in the United States.
Daniel P. Dyer, Marlin's CEO, said:
Despite the headwinds of a weak economy, we're encouraged by the favorable performance trends in our business. In 2010, our priorities will focus on growth and investing in the sales side of the business as we serve the credit needs of small businesses across the U.S. In doing so, we will continue to operate with the same discipline that has allowed us to navigate successfully through the current economic downturn.
First quarter 2010 lease production was $23.6 million, based on initial equipment cost, up 18% from $20 0 million for the fourth quarter of 2009. Approval rates on lease originations improved to 46% for the first quarter of 2010, versus 44% for the fourth quarter of 2009. The average implicit yield on new lease production was 15.32% in the first quarter of 2010. Net interest and fee margin is 11.12% for the first quarter 2010 compared to 10.08% in first quarter 2009. The Company increased its sales force 39% in first quarter 2010 to 53 full time equivalents.
At March 31, 2010, the Company has outstanding $97 8 million of leases and loans funded through its banking subsidiary, Marlin Business Bank, and has $85.1 million in FDIC-insured deposits outstanding at an average borrowing rate of 3.02% with a weighted average term to maturity of 2.6 years. First quarter 2010 average deposits outstanding were $81 4 million at a weighted average interest rate of 3.09%. (See full SEC report.)
Disclosure: No positions