Salesforce.com (NYSE:CRM) is a great example of a company that is an excellent company with great products. Yet, we see the company as a sub-par investment with just under 10% upside in 2014. To examine any investment, one must first examine the company -- obviously. Yet, what many investors do not realize is that great companies do not always make great investments, while some companies that have significant flaws or current issues are great investments. It is all about the balance of valuations to growth, risks, and projections.
In this article, we will focus on the positive catalysts for the business in transaction growth as well as the main catalyst of Salesforce1. Yet, we will also price the company based on five-year projections. We came into the day with a Hold-rating, and we see still see the company as a Hold-rating with $72 price target for the year.
Business Overview
Salesforce is a global cloud computing company. It is best known for its customer relationship management products. Salesforce has also entered into social enterprise arena through acquisition. Salesforce.com is focused on platform-as-a-service (PAAS) with five main businesses - Sales Cloud, the Service Cloud, the ExactTarget Marketing Cloud, and Salesforce1. PAAS is the growing part of the cloud computing industry as platforms continue to become an interesting part of the business experience over infrastructures and software. PAAS is expected to be the largest part of the industry moving forward.
Salesforce has built a great platform that allows for customers to build social front offices that use both social and mobile cloud-based technologies. CRM's revenue is made from subscriptions as well as support. These two parts of the business make up 93% of total revenue. CRM's "customer" approach as a platform is a very unique competitive advantage.
Main Catalyst
At Salesforce.com, the best-selling and top product for the company has long been the Salescloud. Moving forward, though, CRM is redefining its business, and we believe that one new development is going to take CRM into the future. As we have seen with Facebook (NASDAQ:FB) and Google (NASDAQ:GOOG) before them, mobile and tablets are the way of the future for the tech world. CRM has built themselves as a platform-as-a-service that combines software, infrastructure, and customer service into one product. Yet, as the world moves away from desktops and notebooks to phones and tablets, it is important that CRM be able to maintain its perch as the top customer service cloud company.
Salesforce1 is the platform for mobile that can link the CRM business across its sales cloud, service cloud, chatter, etc. It's nearly a platform within a platform, and we believe it reinvigorates the company. Here is Salesforce's CEO Marc Benioff talking about the launch of Salesforce1:
At my keynote, we will demonstrate how Salesforce1 connects everything, all of apps, all of your devices, all of your customer data to completely transform the way customers sell, service, market and innovate. And you know what, in today's world, everything has changed. One of the key tenets of Salesforce1 is that was built API first. It was built mobile first. It was built first for the phone. It was billed first for the tablet.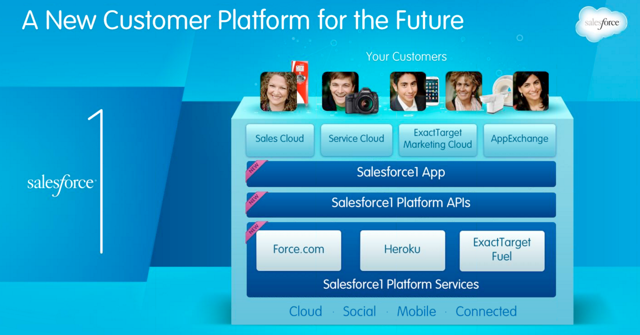 Most businesses realize that mobile, table, and the "internet of everything" are coming strong, and we believe that this move is excellent for the company moving forward. One of the neatest features is the multi-channel experience. For example, agents on Chatter can escalate a case to experts. The Chatter feed is integrated with the Service Cloud through Salesforce1, which could be on your desktop or mobile platform. Other features of Salesforce1 include the building of mobile apps, employment apps, and connect devices. As Cisco pushes for the "Internet of Everything," CRM is building the customer-service experience for companies to link your fridge to the company or your watch to the watchmaker.
The results, thus far, have been very solid, according to the company. We are quite very bullish on this strategy as well, and we believe it really is the future of both the company and CRM. Not only has Salesforce built unique products on its cloud platform, but it is now integrating them on multiple channels, which is very attractive. The potential for the product, and the company moving forward are very enticing. According to The Street:
Salesforce has found itself in the interesting position of being a cloud computing service leader that's also far from saturating the market. In some ways, the company has barely scratched the surface of the cloud computing market. Management recently revealed at the 2013 annual Dreamforce conference that about half of the Global 500 have yet to contract any salesforce.com product and less than 700 customers have been generating more than $1 million in annual recurring revenue for the company. This underscores further potential in the enterprise space. As Salesforce's investments play out, the company estimates it will deliver its first $5 billion revenue year during fiscal 2015.
Salesforce1 is at the core of this. Businesses are starting to realize that the mobile revolution is something they will have to be a part of as that market continues to grow, and CRM appears to have crafted another top-notch product that can leverage their other products further.
One of the difficulties in the cloud is forming an economic moat. In SaaS, there are obvious software differences, but it's less difficult to build alike software. In IaaS, the economic moats are very small as we are seeing a price war commoditizing servers and cloud storage. Yet, CRM has taken the cloud and build an appealing platform that links software with storage with customer service, building some insulation around their business, which is only furthered by this product.
We will cover more of direct numbers in our price target analysis section below.
Secondary Catalyst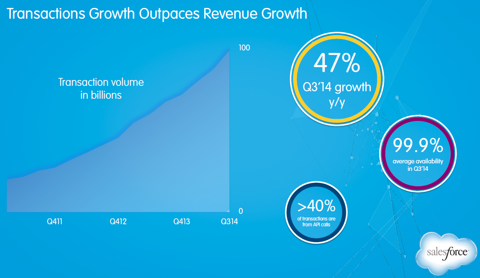 One of the best aspects of CRM is that in addition to their attractive Salesforce1 product, the company has other attractive features that we believe can lead to future growth as well. One of the biggest benefits to the company is the type of transactions and the value of the product that we are seeing from customers using the product. John Mylant did a great job of describing this catalyst:
The most important figure to see here is that just fewer than 40% of those transactions are API calls. A transaction to Salesforce is defined as a page view or an API call. And API call is when the company's service is talking to another application or service. This is a deep integration into the company's business/service and as the company becomes more enterprise, API growth should take place even more. What is so significant about these figures? There is no better show of success than through customer actions. When an investor can see transactions growing faster than revenue, it is a really good sign. Customers are getting more and more value out of the service that Salesforce provides and is using the company more and more. The total objects inside the service that Salesforce provides to its clients have also grown 64% year-over-year. This is customization that clients are bringing to the service, and this is also significant. Of the total objects inside the service, 66% of that is customized for clients.
Basically, Mylant is discussing that the rate of transactions is growing for CRM, but that the rate of API calls is also growing, meaning that customers that use the service are using it often and that rate is also growing. As customers become more dependent on the platform, they will want to use it longer as well as use more features. At the same time, CRM is not satisfied. They continue to develop more services for these clients, and that brings them more customization, API calls, and revenue!
This success can also be seen an attrition rate that continues to decline every quarter and is expected to drop to less than 10% in 2014.
Loyalty as well as building an economic moat is building a business that can be successful for the long-term, and that is what CRM appears to be doing right now, which attracts us to them fundamentally. Yet, every great investor knows a great business is not always a great investment if the market is not correctly pricing the company. Therefore, in our next section we need to determine the appropriate pricing.
Projections/Price Target
Coming into today, we had a price tag for CRM at $42, but we last presented that price tag in mid-2013. We are now forecasting on a five-year projection through 2018 in our Oxen Group Pricing Model. Here are the numbers we are using in our projection:
Revenue - The company has predicted around $4B-$4.1B in revenue for 2014. Revenue growth has been strong, and we obviously believe that it will remain that way. In constant currency in the latest quarter, Americas revenue grew 41%, Europe grew 39%, and Asia grew 17%. We expect them to be able to grow to $5.2B in 2015 as we believe the company is just scratching the surface to their potential as we highlighted earlier in the article. From there, we will use a conservative 22% CAGR growth rate through 2018 to reach about $9.5B in revenue in 2018. Comps grow harder each year, thus the decline in CAGR. Yet, the company has about $6B of deferred revenues and revenues that are to be invoiced, giving us a lot of confidence in their ability to grow revenues moving forward.
Margins - The company has had negative operating margins for the most part due to high SG&A mostly due to acquisitions and lots of spending to develop their business through R&D and hiring a lot of the best names in the business. Yet, we believe that the company will start to see positive operating margins exist in 2015. On a non-GAAP basis, though, the company has been operating around a 9% operating margin. We use GAAP rates in our model, and we expect the company to see a flat operating margin this year before moving to around 4-5% margins before getting to the 8-10% range by 2016-2018. Stock-based compensation will fall as a % of sales over time as well as large SG&A upfront expenses.
Capital Expenditures - We believe these numbers will remain large around 6-7% for the next couple years as a part of revenue. The company is in a high-acquisition-based business that requires buying both vertically and horizontally to keep pace. Yet, the company may seem some slow down as a percentage of sales as the rate of sales increases in comparison to CapEx. We have never seen CapEx over $350B even in high acquisition years. We estimate fluctuations, and therefore used a flat rate of $275B moving forward.
Taxes - Since 2008, the tax rate is around 30% to 40%, so we assume 32% over the next several years.
Shares Outstanding - The company has 603M shares outstanding.
Using our cash flow model and these numbers, we have come up with a 2014 price target of $72. We were disappointed to see this number as we believe this is a great company, but we used the best case in nearly every scenario. Profitability increases, CapEx levels off, taxes are low, and the company grows at outstanding rates. While we are confident in this, what this means to us is that as an investment at this time, CRM is a Hold. Hold onto it if you have it, but we should wait for a pullback to add new positions. For those that believe that you can't value a growth name, we used a 1.5% cap rate in our model, which is nearly not even discounting all future growth in the company.
Conclusion
As we look closely at CRM, we see a fascinating business that is glowing with opportunity. A company we fundamentally like very much. As we look at valuing the company's equity worth, we see a limited upside picture. Momentum can continue to carry this name for some time, but at some point, CRM will have to work off its more than 10x price/sales and over 100x future PE ratios. We like buying on a dip to below $60 to start a new position.
Disclosure: I have no positions in any stocks mentioned, and no plans to initiate any positions within the next 72 hours.
Business relationship disclosure: Business relationship disclosure: I have no business relationship with any company whose stock is mentioned in this article. The Oxen Group is a team of analysts. This article was written by David Ristau, one of our writers. We did not receive compensation for this article (other than from Seeking Alpha), and we have no business relationship with any company whose stock is mentioned in this article.