PepsiCo Inc. (NYSE:PEP) reported its earnings for the 4th quarter and full year of 2013 on February 13th, 2014. PepsiCo managed to beat analysts' expectations as it reported EPS of $1.05 for Q4 2013 while analysts were expecting an EPS of $1.01. On the other hand, total revenues for the quarter fell short of analysts' expectations by $0.09 billion. Leveraged on premium prices and improved volumes, the 4th quarter net income increased by 5%. Overall the company managed to report positive growth in various metrics as demonstrated in the figure below.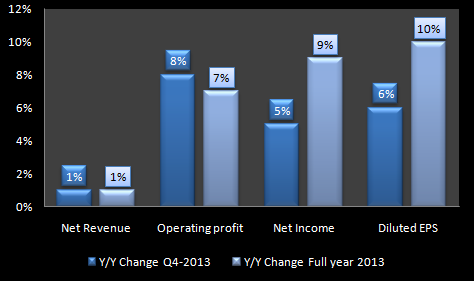 Source: Press release
North America's Food Industry Backed by Snacks
PepsiCo generates 69% of its revenues from America. The company's North American soft drink business is facing problems as revenues went down 2% in 2013. However, Pepsi's diversified portfolio in North America that contains products like Frito Lay and Quaker Foods supported the company's profits and even uplifted it. Frito Lay North America increased revenues by 4% and that supported the company as it faced declining volumes in terms of its beverage business in the region. Profits of Frito Lay rose by 6% while the beverage segment in America raised its profits by just 1%. One thing that is worth noting is the highly competitive nature of the beverage industry where sales are normally driven by promotions. PepsiCo dealt with the weak volume conditions in North America by heavy advertisement spending and price cuts. After an exhaustive review, the company finally decided not to spin off its North American beverage business. Free cash flows generated by this segment came to the rescue, and also the company is optimistic about the unit's performance once its planned innovation initiatives come into play. For several months, PepsiCo was forced to spin off some of its snack and soft drink businesses or merge with Mondelez International (NASDAQ:MDLZ).

Source: Press Release
Guidance for 2014
PepsiCo has given its expectations for 2014 according to which the constant currency core EPS will grow by 7% in 2014 in contrast to its fiscal year 2013 core EPS of $4.37. This implies the company will continue to grow its EPS by more than 5%, in line with its long-term targets. Organic revenue growth will be in the range of 4-5% that will be carrying a 3% unfavorable impact of foreign currency translations. The company announced a 5 year, $5 billion productivity program that will save $1 billion annually through to 2019. These cost savings will be a result of the company's extended investment in manufacturing automation, re-engineering distribution systems, and move towards simplified organization structures that will improve efficiency. This plan is an extension of a previously announced plan covering 2012-2014. Approximately $2 billion has been realized by the end of 2013, while the remaining $1 billion is targeted to be saved in 2014. These plans are a form of making money internally by operational efficiency and will enable the company to defend its margins even if faced with price cuts due to competition.
Shareholders' Return
PepsiCo's stock experienced an 11.45% price appreciation over the previous year and managed to outperform its primary competitor Coca-Cola Company (NYSE:KO) whose share rose by just 3.87%. Apart from that, PepsiCo pays its investors a dividend yield of 2.85% and repurchased shares of $3 billion. These all sum up to a total shareholder return of 14.5%.

Click to enlarge
Source: Y-Charts
PepsiCo aims to enhance its cash return to shareholders in 2014 elevating it to a level of $8.7 billion payable in the form of cash dividends and share repurchases. At this level, cash return to shareholders incorporates a growth rate of 35%. The company increased its annualized dividend by 15% from $2.27 to $2.62 per share payable in June. Around $5 billion will be invested by the company in repurchasing its own shares in 2014. This gives investors confidence that the company has firm belief in its ability to continue performing well.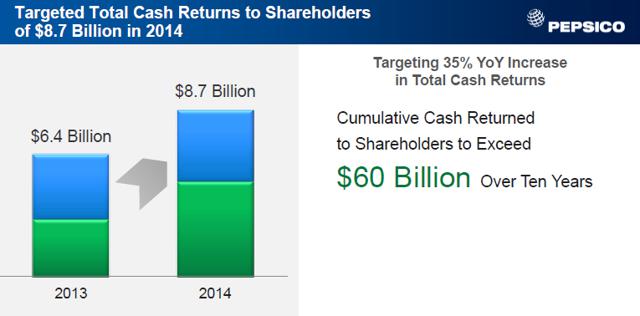 Click to enlarge
Source: Management's presentation
The Road Ahead
PepsiCo is striving to widen its footprint in emerging and developing markets in order to capitalize on the enormous growth potential in these markets. PepsiCo derived 35% of its revenue in 2012 from emerging markets. Moreover, PepsiCo enjoyed 57% Y/Y profit growth in the EMEA region during the year 2013.The growing middle class population and rising income levels are also bolstering demand for convenience food and beverages. By 2020 the middle class will boom and be comprised of 700 million people worldwide that will double the drink sales over 10 to 15 years.
PepsiCo is also seeking to expand in one of the most populated nations: China. PepsiCo has collaborated with Tingyi Cayman Islands Holding Corp. and opened new factories and expanded its distribution network in China. This is a direct response to Coca-Cola Company's plan to invest more than $4 billion in China from 2015 to 2017. However, the company is expanding in China and it is likely to encounter declining consumer sentiment in the region since the Chinese are increasingly switching from sodas towards healthier options like milk shakes and fresh juices. The company's robust product portfolio will help it to flourish in China's still untapped market with a wide scope for expansion. Moreover, the company is actively putting efforts into developing sweeteners from Stevia, a natural product. Therefore, we can assume an organic version of the cola drink or other beverages to hit the market in the future that will address consumers' heath concerns arising from the current line of carbonated beverages.
Moreover, earlier this year PepsiCo announced its plans to expand in Mexico by allocating a massive $5 billion for the region over the next five years. This investment is aimed at building the company's brand, its product portfolio and selling/delivery infrastructure in the Mexican state. Expanding the range of products will help the company cater to the evolving needs of Mexican consumers. Building additional distribution infrastructure will help it achieve a cost effective and efficient go-to-market system. PepsiCo is currently the largest consumer product company in Mexico with net revenue of $4 billion in 2012 and it is ready to grow further. However, Mexico consumes more soft drinks per person than the USA, but currently regulators are hindering the growth of beverage companies in the form of a tax of one peso (8 cents) per liter on beverages containing sugar. With the help of the 'stevia' innovation, PepsiCo will be able to defend itself from such regulations. Until then, the company's volume will be affected by the regulation but the higher prices for its products will make up for it.
PepsiCo's Finances
PepsiCo has various plans in store regarding expansion into emerging markets as well as share buyback programs. These plans will require a lot of cash resources in order to be pursued; therefore, it is important to determine whether or not the company has the ability to keep up with its strategy. The company's cash reserves and cash generation from its operations will give us insight into the matter.

Click to enlarge
Source: Press release
The graph above leads us to the conclusion that the company is generating earnings of high quality. A cash conversion ratio greater than 1 suggests that the company is translating its earnings into cash flows and the trend is increasing. This implies that the company's earnings, when converted to cash flows, are robust enough to finance the company's needs out of its operations. Other than this, the company's CFO is also increasing year over year. Moreover, the company has set a target to generate $10 billion cash from its operations which, after a capital expenditure of $3 billion, will result in a free cash flow level of $7 billion in 2014. This indicates the fact that the company will not find it difficult to finance its CAPEX, dividends, and share repurchase programs. Despite all of this, the company carries alarming debt levels on its balance sheet as reflected in the company's total debt to equity ratio of 122.08 vs. the industry benchmark of 56.31. The company's CFO to debt ratio is demonstrating an increasing trend, apart from 2012, but is still below the 50% threshold meaning the company is overleveraged. Therefore, the company should focus on reducing its heavy debt levels and utilizing its cash flows in order to give its balance sheet a healthy look.
Final Take
Currently, PepsiCo is offering an enviable dividend yield of 2.85 in an industry that has set a benchmark of 0.82. The company has managed to offer return on equity of 28.77 that is 5.6 times better than the industry. However, any astute investor will focus on the long-term picture. PepsiCo carries bright long-term prospects that warrant the stock price to appreciate accordingly. The company's efforts to penetrate in key markets around the world will fuel its success and make it well positioned to deliver sustainable growth over a long period of time. In midterm the company's $5 billion cost savings program will continue bolstering the company's bottom line. This scenario makes me believe that the company has the potential to continue paying attractive dividends and pave the way for price appreciation. I will recommend buying this stock for the long term.
Disclosure: I have no positions in any stocks mentioned, and no plans to initiate any positions within the next 72 hours.
Business relationship disclosure: The article has been written by a Blackstone Equity Research research analyst. Blackstone Equity Research is not receiving compensation for it (other than from Seeking Alpha). Blackstone Equity Research has no business relationship with any company whose stock is mentioned in this article