Overview
There has been a lot of talk recently about the Coca-Cola Company (NYSE:KO) with several analysts and articles taking different sides. I've seen a lot of negative articles about Coke discussing issues ranging from struggling sales, increased competition, a demographic that no longer wants carbonated beverages (high calorie or diet), to a stagnant stock price. I've also seen many positive articles discussing Coke, most of them discussing the company's recent deal with Green Mountain Coffee Roasters (NASDAQ:GMCR). While I don't think the deal is quite the "knocked it out of the park" arrangement that many seem to think it is, I do believe that the future outlook of the company remains positive.
Reason #1: PE Ratio
One of the main criticisms I've seen related to Coca-Cola is that the stock hasn't done much of anything the past 15 years in terms of price appreciation. While, I can't argue with that fact, I can look at why that may be. If you look at the chart below, you can see that the price of Coca-Cola stock hasn't increased and is actually below price levels seen in 1998.
But if you look at this 2nd chart, you can see that around that same time, PE ratio of Coke was between 40 and 60 even climbed close to 100 in the early 2000's. In my opinion, that was a very poor time to buy stocks of Coca-Cola. I believe the perfect buying opportunity for this stock is when the PE ratio falls below 20 and in the chart you can see that there has only been short amounts of time when that's possible. Now is that time.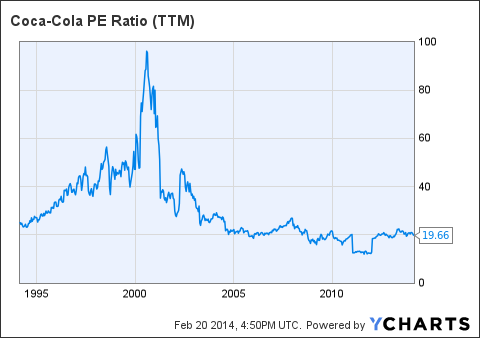 KO PE Ratio (TTM) data by YCharts
Reason #2: Dividend
Today, Coca-Cola announced an 8.9% increase to its quarterly dividend from $0.28 per share to $0.305 per share. This brings its forward yield to 3.27%. While the yield might not seem that outstanding, it does become significant when looking at Coke's historical dividend yield and the fact that during the majority of the stock's history its yield has been below 3%. Combine this with the company's strong history of dividend growth and this suggests to me another sense of why now is a perfect time to add shares of Coca-Cola.
Reason #3: Earnings
Earnings haven't been as bad as many think when it comes to Coca-Cola. Looking at the chart below, you can see that the company's long-term trend of increased earnings remains intact. While there has been a very recent trend of stagnant to declining earnings, this has been minimal. The company saw a much steeper decline in earnings in late 90's, early 2000 and recovered to see its long-term earnings trend keep rising.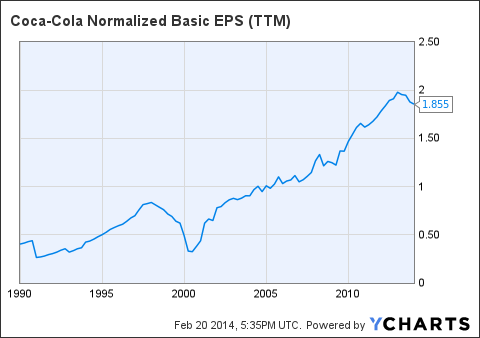 KO Normalized Basic EPS (TTM) data by YCharts
I believe this earnings "pause" will be temporary, lasting no more than another year, and has created a great opportunity for long-term buyers.
Reason #4: Innovation
Coca-Cola's strong history of improving its brand and product line is a strong reason I believe the company's earnings troubles will be very short lived. I think most readers have already read about the recent deal with GMCR so I'm not going to go over the details of that. I mentioned in the overview, that I'm not as thrilled with the deal as some others have been, I am thrilled with the fact that Coke keeps improving. Whether or not, this deal turns into gold remains to be seen, but it will have somewhat of a positive impact I believe. Just as I think the company's new Life product will have a positive impact when it is introduced in the United States. Speculation is that this could occur at some point this year, and I believe it will have a significant impact on the declining sales of diet sodas Coca-Cola has faced. From new containers, to new dispensers, to new products, Coca-Cola is a company that continues to evolve. I don't see any signs that this is going to change anytime soon.
Reason #5: Current Bull Market
Current prices of the overall stock market are pretty close to all-time highs. How much higher prices will go remains to be seen and I'm not going to attempt to guess. I do believe that relatively soon (next year or two) the market will see a correction or drop of at least ten percent. If this happens, Coca-Cola has a pretty good history of being a good defensive stock to hold during a market downturn.
Looking at the chart below, you can see how well the stock held up during a large drop in the S&P 500 back in 07/08.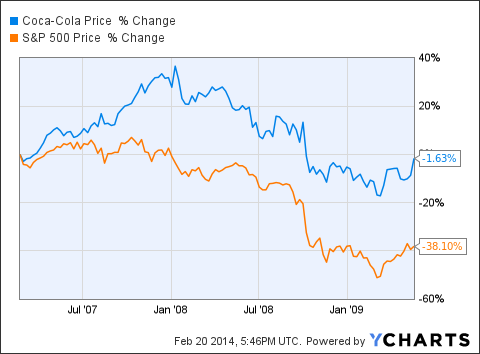 Conclusion
While Coca-Cola continues to face difficulties from a variety of sources, I still believe the company will reward long-term investors who are able to add shares at the right time. With a dividend yield over 3% and a P/E ratio under 20x, I think now is that perfect opportunity to add this company with a long history of rewarding shareholders to your portfolio. I believe new products and partnerships will help to alleviate some of the sales and earnings issues the company has recently faced. Whether the market continues to rise or turns sour, I think the stock is positioned well currently to be valuable to patient owners.
As always, I recommend individual investors perform their own research before making any investment decisions.
Disclosure: I have no positions in any stocks mentioned, and no plans to initiate any positions within the next 72 hours. I wrote this article myself, and it expresses my own opinions. I am not receiving compensation for it (other than from Seeking Alpha). I have no business relationship with any company whose stock is mentioned in this article.