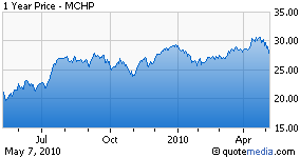 Click to enlargeMicrochip Technology Incorporated (NASDAQ:MCHP) reported net sales of $278.0 million in the fourth quarter 2010, up 12% sequentially and 60.5% year over year.
Growth was seen across the board in the quarter, across all geographies as well as the three product lines – Microcontrollers, Analog and Serial EEPROMs.
Geographically, revenue in the Americas was up 12.5%, Europe was up 22% and Asia was up 5.6%. In particular, growth was strongest in Asia (accounting for 49.6% of total sales) due to the Chinese Lunar Year.
Strength in the Microcontroller business continues to drive revenue growth. Revenues were up 10.3% sequentially and 58.2% year over year. In particular, the 16-bit microcontroller business achieved record quarterly revenues, which were up 22.9% sequentially and 133.3% year over year. The 32-bit microcontroller product line registered a 36% sequential growth although from a small base.
The Analog business was up 92% year over year and 19.3% sequentially. Growth was especially strong in the linear, interface, mixed-signal, safety and security product lines.
Serial EEPROMs recorded a sequential growth of 9.3%.
We believe the topline has gained momentum at Microchip after taking a hit in the second half of calendar 2008 and first half of calendar 2009. This was the fourth consecutive quarter of sequential growth.
Excluding stock-based compensation expense and one-time items, gross margins came in at 61.6%, up from 59% in the December quarter driven by higher production activity in factories and continued cost reduction efforts undertaken by management. Operating expenses came in at 25.8% of total sales compared with 26.2% in the prior quarter.
Net income came in at $75.7 million or 40 cents per share, compared with a net income of $69.4 million or 37 cents in the previous quarter and a net income of $22.0 million or 12 cents per share in the fourth quarter. Excluding one-time items, net income came in at 41 cents per share, easily beating the Zacks Consensus estimate of 37 cents.
Management expects solid cash generation in the next quarter, excluding the cash used to fund the Storage Technology Inc. ("SST") acquisition. Microchip generated $94.9 million of cash from operations prior to the payment of dividends of $62.9 million. Capital expenditures were approximately $19.2 million for the March quarter. Microchip ended the quarter with cash and cash equivalents of $1.2 billion.
Microchip reported net sales of $947.7 million in fiscal 2010, up 4.9% from the prior year. Net income came in at $217.0 million or $1.16 per share, down from $245.6 million or $1.31 per share in the previous year.
Meanwhile, Microchip closed the acquisition of Storage Technology Inc. on April 8, 2010, and is currently integrating the businesses of both the companies. Management has identified the core and non-core assets of SST.
The licensing business and 8051 microcontroller business have been identified as the core assets of the company, and the results from these operations are reported under continuing operations. NANDrive, NAN controllers, smart card business, and wi-fi PA businesses of SST have all been identified as non-core assets and are being held for sale.
The guidance provided by management is strong as well. Including operations from SST, Microchip expects to report revenues of $318 million in the first quarter of 2011. SST operations are expected to contribute about $18 million to the topline in the June quarter. Gross margin is projected at 63.3% – 63.6%. Earnings per share are projected at 52 cents.
The company continues to use its strong cash balance to generate return for its shareholders. Microchip increased its quarterly dividend to 34.2 cents per share in this quarter from the previous level of 34 cents.
We remain positive on Microchip and expect solid growth in the coming quarters.
Disclosure: No positions