Executive summary:
It had bad Q4 figures and an overall bad 2013.
Terrible outlook and guidance for 2014, EPS between $1.30-$1.60.
Despite the 27% drop, it's still not 100% buy-worthy.
I remain on the sideline and will publish a follow-up article in the coming months.
_________________________________
In today's article, I will be taking a closer look at Weight Watchers (NYSE:WTW), as one of the most skilled asset managers I know, Michael Nowacki (one of our Facebook group members), had mentioned the company as being almost investment-worthy after its 27% drop last Friday.
Weight Watchers' business model and brand value
Before we go any further, I'd like to point out Weight Watchers' strong brand, as I cannot imagine many people who haven't heard its name.
I believe Weight Watchers' strength is coming from multiple angles.
First of all, the company gained massive credibility, as its diets have been tested numerous times and have been proven to work.
Secondly, because of the reliability of its products, Weight Watchers has been able to attract millions of customers who are very similar to the loyal fan base of a popular rock band.
On top of this, I believe that much of Weight Watchers' strengths lies in the fact that it backs its diets and plans up with scientific information, which again builds to its credibility.
And finally, I admire the fact that Weight Watchers is not presenting itself as a "magic pill" manufacturer.
A "magic pill" manufacturer is a company that promises extreme results without any effort. Weight Watchers is nothing like this. The company gives very realistic expectations to its customers. F.e.:"People following the Weight Watchers plan can expect to lose 1-2 pounds per week". While this might not be such a good strategy to boost earnings in the short term, not disappointing its customers remains the better strategy in the long term.
Revenue
Weight Watchers has two main revenue streams.
Its first major source of income is coming from physical products that can be found at your local supermarket or on Weight Watchers' online marketplace. These products range from chocolate bars to cookery books and pre-packed foods.
Second-most important are its personal services, which are offered through its website and its smartphone application. "Weight Watchers Online", for example, costs $18.95 per month and the initial sign-up fee is $29.95.
These online services are, in my opinion, most important for the company and I firmly think it would be best for the company to improve its online and mobile experience even more. The "Weight Watchers Online" plan can be sold to an infinite amount of people and costs "little" effort to make. A huge part (if not all) of the initial sign-up fee of $29.95 is probably going straight to the bottom line.
Competitiveness
Unfortunately, Weight Watchers is operating in a highly competitive environment. Many new online diet gurus are easily taking a piece of the pie. A few years ago, these people were mostly just blogging and creating revenue from ads. Today, many start their own businesses and launch their own products.
On top of this, many developers started noticing the huge "health and diet" market that can be reached through mobile devices. The app-store is currently flooded with free or cheap fitness/diet applications, which are being downloaded numerous times.
Right now, Weight Watchers' biggest challenge is convincing people they really need Weight Watchers and that Weight Watchers is better than most of the other free or cheap products and services out there. Regrettably, considering its latest quarter figures, the company hasn't been very successful at this.
Profit for 2014 will -optimistically- be as much as $1.60, while the average expectation of 7 analysts was $2.73. Revenue in Q4 of 2013 declined 11% to $366.1 million and Internet revenue fell 5.2% to $111.4 million.
Source: Yahoo
As one can see, the stock is almost quoting at an all-time low due to its recent dividend cut and disappointing results. The question to be asked right now is if this is becoming a nice investment opportunity or a deceiving value trap.
When investing, I believe it is way more important to look ahead than looking at the past, as the future valuation of the company will, of course, also be based on its future earnings.
However, Michael pointed out to me that Weight Watchers used to report a net profit of around $200 million on average during the past 10 years.
If Weight Watchers would again be able to report $200 million in net profit by 2015, it would report EPS of 3.54 and be valued at a forwarded P/E ratio of 6.21. Which is indeed extremely cheap.
While this might seem like a nice opportunity, I'm not really convinced that Weight Watchers will be able to earn $200 million anytime soon. As seen in the graph below, Weight Watchers hasn't been able to really grow its earnings during the past ten years.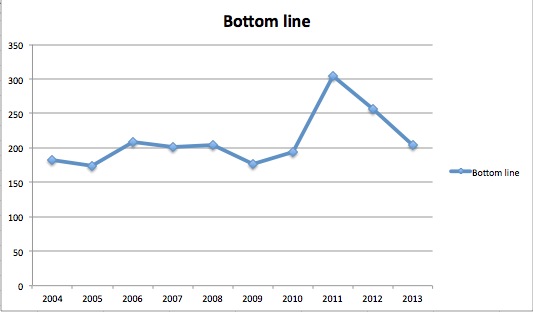 Net profit clearly remained flat over the most part and never showed a real upward trend.
Source: Annual reports
Weight Watchers "synthetically" increased its EPS, not because its business was doing great, but because of its large share buybacks, which lowered its shares outstanding by almost 50%.
While buybacks are not a bad thing, I want the reader to notice that these buybacks were mainly financed with debts. Every time the company did a large buyback, like in 2007 and 2012, debts increased considerably.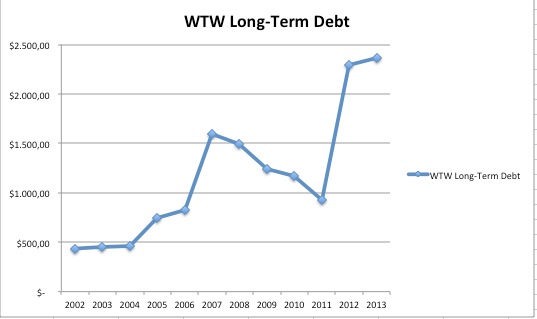 Source: Wikinvest and Annual reports
So while the company is cutting its dividend and cutting jobs, I have doubts about how effectively the company will be able to stop its current downfall and attract customers from the competition.
I firmly believe that Weight Watchers' latest Q4 figures, combined with its guidance for fiscal 2014, should be taken as a severe warning that coming results aren't likely to improve and will probably become worse.
Let's not forget -and this might be a minor point- that Weight Watchers' latest quarter probably included some sales from people who traditionally pre-ordered a subscription in December to start their New Year's resolutions in January.
"The Company provided full year 2014 earnings guidance of between $1.30 and $1.60 per fully diluted share. This guidance incorporates the fact that fiscal 2014 includes a 53rd week, which bridges the last week of December 2014 and the first week of January 2015 and has an expected negative $0.04 impact on the full year EPS. During the first quarter of fiscal 2014, the Company intends to finalize plans to resize its organization. The costs associated with this plan are not included in the above earnings guidance."
Finally, I want the reader to notice that the costs associated with the reorganization of the company in 2014 are not included in the (terrible) forecast of $1.3-$1.6 EPS. The real results could end up being even worse.
Conclusion
I suggest investors to stay away from the stock as long as it continues to fall. I wouldn't be surprised to see the stock go below $20 the coming months, as management seems to be lacking a real clear vision on how it will counter the harsh competitive environment it currently operates in.
While this might disappoint you, I feel that this is all to conclude for now and that I'll probably have to come up with a follow-up article within a few months.
Disclosure: I have no positions in any stocks mentioned, and no plans to initiate any positions within the next 72 hours. I wrote this article myself, and it expresses my own opinions. I am not receiving compensation for it (other than from Seeking Alpha). I have no business relationship with any company whose stock is mentioned in this article.