Chipotle Mexican Grill (NYSE:CMG) is one stock that just keeps increasing. In one year the company's worth has accelerated nearly 75% to a present value of $554. It is widely known by big investment gurus that whenever stock increases at an abnormal rate it falls just as fast but Chipotle operates within a complex structure that makes it hard to see the multifaceted issues that could harm the future stock price of the company. It's a restaurant business that is gaining popularity through its food and what the company calls "fast dining."
In this article I will analyse the company's performance during its latest period. I will also discuss some important points that I believe will help readers and potential investors enjoy the stock price appreciation in the future.
The Last Period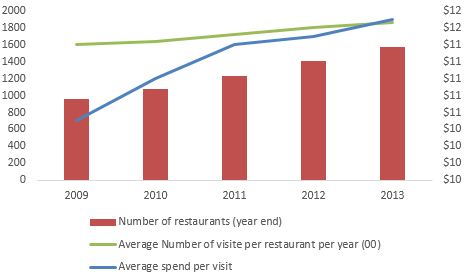 Source: Trefis
Chipotle just recently ended its fiscal year with its comparable restaurant sale increasing 5.6% to $2.16 million per restaurant from last year's level. New restaurant openings as well as growing visits owing to the restaurant's increasing popularity is the dominant reason behind the revenue increase. The spending trend the company has observed over the past several years (see graph above) of its operations also contributed to the revenue hike.
Inflationary pressures on food, beverage, and packaging increased costs by 80 bps as a percentage of revenue to 33.4%. The prices of many food items including salsa ingredients and chicken increased but since Chipotle is transferring these costs to customers on a regular basis with another menu price change anticipated in the second half of 2014, I believe there should be minimal effect to net income and such pressures shouldn't significantly affect Chipotle in the long term. This is because Chipotle is different from other fast food giants and uses premium ingredients that it advertises heavily pushing customers to happily accept modest price increases.
Higher average restaurant sales helped reduce labour costs that made up 23% of total revenue by 50 bps from last year's figures. Bigger marketing expenses which I believe will continue rising also slightly increased other operating costs to $347 million. All in all, operational performance went well with the company opening 185 more restaurants in the US and enjoying growing spending trends and visits on a per restaurant basis.
Diluted EPS grew 20% to $10.5 and partially benefited from a buyback of $110 million. The company gave no dividend which was the norm owing to cash needed for expansion plans.
The Future
Shifting towards Non GMO Food Will Complement Expansion Plans
One of the company's main selling points is its shift towards organic ingredients. The company has already made all of its cooking oil organics and by the end of this year it will eliminate harmful ingredients from its flour and tortillas making all of its menu items organic. In the coming year this will be a milestone that will decide what level of growth will be sustained for Chipotle. The company has also put special emphasis on the disadvantages of GMO food through its advertising campaigns.
The "Food with Integrity" mission which rolled out as part of Chipotle's "scarecrow" marketing program last year included a three-minute video and a game for Apple iPads and iPhones. The scarecrow program covered issues in industrial food production that included the overuse of antibiotics in livestock farming. This year, the company has introduced "Farmed and Dangerous" a television series that is an extension of that awareness program designed to pull more customers into the expanding base of the company.
Sofritas has Some Unexpected Response
The company also introduced its tofu menu in 2013 directed towards vegans but to their surprise Sofritas are liked by non-vegans as well. What's appealing is the fact the company has only introduced the product to 40% of its locations, so that leaves a lot of new top line since the company is in a phase to introduce it to uncovered locations as well. Add to that the expanding customer base I believe this offering will be another successful addition to the menu.
Together with appealing and organic food and heavy advertising, Chipotle will be able to sustain top line growth at least in the near term. As for the costs associated with all of this, each restaurant takes nearly $800,000 to build. Putting in 5% for inflation this year and calculating the cost for 180-195 restaurants the company plans to construct for 2014, the figure should be somewhere around $160 million. The company has a short and long term cash and security balance of $578 million and $314 million respectively. This should effortlessly satisfy the resources required to fund Chipotle's CAPEX.
Conclusion
While Chipotle saw its sales rising last year, competitors such as McDonald's (NYSE:MCD) saw their sales declining by 1.4%. Though Chipotle is smaller in size, it is doing well in snatching away market share from "unhealthy" alternatives. Small changes such as preventing waiting lines, a big issue for McDonald's, and keeping their traditional menu is allowing the company to gain more visits per restaurant.
The company has a net income and revenue growth that are above the industry average. When it becomes fully organic by the end of this year consumers will flock to the restaurants and leave its competitors by the wayside. Therefore, I rate this stock as a strong buy.
Disclosure: I have no positions in any stocks mentioned, and no plans to initiate any positions within the next 72 hours. I wrote this article myself, and it expresses my own opinions. I am not receiving compensation for it (other than from Seeking Alpha). I have no business relationship with any company whose stock is mentioned in this article.