A shift in macro-economic events has led PepsiCo Inc. (NYSE:PEP) to alter its strategy and increase its focus towards value generation in emerging markets and healthy product offerings. This strategy may transform into higher returns in the future. The results have already started being incorporated into stock price with PepsiCo beating Coca-Cola (NYSE:KO) by almost doubling its price appreciation (9.22%) year to date. In this article, we will go through the year that just ended and some of those undertakings that may be the base for substantial shareholder return in the future.
Fiscal Year 2013

Source: 10K
For 2013, Pepsi's revenue remained in line with its 2012 results increasing by a slight 1.4% to $66.4 billion. On a reported basis, a majority of the growth came from Frito Lays in North America that benefited from higher volume (3%) and price increase of 2%. What came to my attention was the favourable response the company has received from its Asian division (AMEA). Had there not been negative translation gains and some charges related to ongoing acquisitions and divestitures, this segment would have reported a growth of 12% instead of negative 2% with revenue jumping nearly $800 million. The company's strategy seems to work in the area where it is focusing a big part of its investment. We will discuss this point later in detail.
Operating profit grew by more than 7% helping the bottom line through effective net pricing and planned cost reductions across several expense categories partially offset by operating cost increases that included strategic initiatives related to enhancing capacity and capability, higher advertising and marketing, and higher commodity costs. Nonetheless, the productivity initiatives the company introduced delivered more than $900 million in cost savings. These programs helped deliver dividends when the operations were affected by volatile markets. They also allow companies to sustain volatile markets while they experiment expanding abroad.
The cumulative result was a 10% increase in diluted EPS that was $4.32 by the end of 2013. All in all, the year went ahead promising future returns through the company's cost reduction initiatives, expansion within the AMEA region and providing a portfolio of products not offered by Coca-Cola.
The Future
The International Market Offers Tremendous Top Line Potential'
PepsiCo has pushed itself to integrate more high growth areas and focus less on less profitable regions especially Japan and Southern Europe. While focusing on emerging economies such as India and China, the company has been able to report a 15% operating profit growth excluding issues that distort comparability. The D&E markets offered 10% organic revenue growth last year with double-digit growth in China and Pakistan as well as high-single-digit growth in Saudi Arabia, Brazil, Mexico, and Turkey.
My belief is that these markets will continue offering value for the company in the future since they have a long take-off strip for growth driven by increasing demand for convenient and affordable products additionally supported by a rapidly growing middle class. The investments that PepsiCo is making in these markets puts the company in an advantageous position.
Let us discuss a few of these investments. India currently represents one of PepsiCo's largest global markets. It generated more than $6.6 billion in revenues in 2012. The company is now going to invest nearly $5.5 billion in the market by 2020. By doubling its production capacity from the present level, PepsiCo will convert the strong demand in India into revenue and return for shareholders. Similar strategies in other regions are likely to bring similar results if the company satisfactorily hedges its currency risk.
New productivity Enhancing Plans will add Growth from Bottom
PepsiCo has already been successfully achieving the cost reduction target it announced as part of its 3-year program that is supposed to end this year. The company realized nearly $2 billion in savings in 2013 and $1 billion is expected to be realized in 2014.
The company has now announced an additional 5-year, $5 billion productivity program (2015-2019) that will continue bringing one billion in annual savings throughout the specified period. The savings are expected to come from accelerating investments in manufacturing automation, further optimizing the global manufacturing footprint including the closing of certain manufacturing facilities, re-engineering go-to-market systems in developed markets, expanding shared services, and implementing simplified organization structures to drive efficiency.
These savings will draw bottom line growth as the company expands and incurs additional exposure to emerging markets.
Greater Product Offering also Substantially Expands PepsiCo's Margin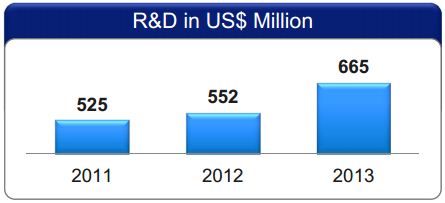 Source: Presentation
Apart from initiatives that will drive top and bottom line growth, another advantage for PepsiCo is the fact that it has a vast portfolio of product offerings that are considered healthy by consumers. The company has invested an increasing amount of R&D into products (see graph above). Improvements such as lowering sodium count and calories puts PepsiCo in a relatively better position when consumers opt for healthy choices. So what is lost through beverages is regained through other products allowing the company to keep its margin stable in the future.
Conclusion
GDP growth in emerging markets is forecasted to be between 4.5-5.5% this year and that is higher than the advanced G-20 economies' figure of 1.5-2.5%. This complements PepsiCo's integration into rising markets that are already proving successful as seen in the revenues derived through organic growth. With bottom line savings, the net return available for investors should multiple to an even bigger figure. Also, with the security of healthy offerings not offered by competitors PepsiCo seems to have a fail proof plan to survive what is yet to come. The numbers give me a strong belief in the return generating ability of this company. Therefore, I recommend a buy rating for PepsiCo.
Disclosure: I have no positions in any stocks mentioned, and no plans to initiate any positions within the next 72 hours. I wrote this article myself, and it expresses my own opinions. I am not receiving compensation for it (other than from Seeking Alpha). I have no business relationship with any company whose stock is mentioned in this article.