Share price of Chevron (NYSE:CVX) has recently rebounded by almost 5% since reaching its 52-week low of $109.27 in early February. I expect the price recovery to continue building as I view that market's concern on the company's 2014 production guidance and cash flow outlook is shortsighted, which has driven down the valuation to an attractive level.
Owing to longer-than-expected ramp-up of Angola LNG and Papa-Terra projects, management recently provided a production guidance of 2.6K BOE per day for 2014, which is below consensus estimate. Despite the underperformance, the 2014 guidance suggests the first year of production growth since 2010, reflecting a solid production base. With the expectations that a few major projects are slated to start up in the next few years (including Gorgon LNG and Wheatstone LNG projects that are currently 75% and 25% completed, respectively), which is estimated to have total production of 0.5K BOE per day, it is believed that production growth is likely to accelerate beyond 2014.
On the liquidity front, Chevron's capital spend totaled at $39.2B in 2013, which exceeded total operating cash flow of $35.0B, indicating that the company borrowed funds to finance dividend payment and share buyback in 2013. However, given the fact that Chevron's major projects are approaching their late stages starting in late 2014, I believe the year of 2014 will be an inflection point for the company's free cash flow generation as capital spending in the current cycle is approaching the peak and is expected to diminish after 2014.
In terms of market's concern on Chevron's ability to sustain its dividend and share repurchase, I believe it is overdone as well. As at December 31, 2013, the company carries $18.6B debt, representing an 11.3% total debt to capitalization ratio, which is significantly below the comps average leverage at 21.4% (see chart below).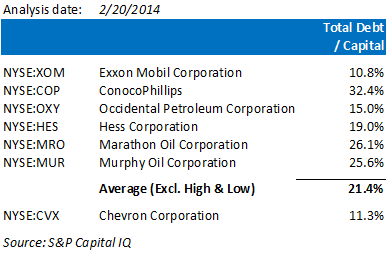 Factoring in the company's $18.6B cash position, Chevron has almost no net debt. This indicates that Chevron has sufficient capacity to increase leverage in order to fund to its dividend and share repurchase while capital spending spikes. Given that the total dividend and share repurchase requirement for 2014 is estimated to be approximately $12-$13B and capex requirement is going to decline beyond 2014, I would not expect any interruption on dividend and share buyback in the near term as the company's leverage ratio would be in line with industry average even if it doubles its debt borrowings. Further, management's commitment to raising dividend and maintaining steady share repurchase plan also supports my belief.
Comparing to Exxon Mobil (NYSE:XOM), Chevron's closes mega-cap peer, the stock appears to offer better risk reward. Both companies are facing near-term headwinds, but Chevron trades at 10.1x 2015 forward P/E and 4.1x forward EBITDA multiples, which are at 17% and 26% discounts, respectively, to the same multiples of Exxon. This is despite the facts that Chevron's consensus long-term earnings growth estimate is above Exxon's and the stock offers a notably higher dividend yield (see chart below). As such, I believe Chevron shares are well positioned to generate more interests from investors over Exxon.

In summary, I believe Chevron's price has bottomed as market has been focusing too heavily on near-term headwinds and the company's medium-term prospects have been overly discounted. Looking forward, price upside is expected to be driven by rising production as a result of startup of the major projects and management's continued effort to sustain capital return plans.
All charts are created by the author, and data used in the article and the charts is sourced from S&P Capital IQ, unless otherwise specified.
Disclosure: I am long CVX. I wrote this article myself, and it expresses my own opinions. I am not receiving compensation for it (other than from Seeking Alpha). I have no business relationship with any company whose stock is mentioned in this article.