I have been looking at the ugliness in the Indian economy for the last few years as GDP growth declined from 9.4% in March 2010, to a meager 4.8% in September 2013. And I have noticed a tapering off in interest in the iShares India 50 ETF (NASDAQ:INDY).
Since December 2012, when GDP growth fell below 5%, about 1.3 standard deviations below six year average growth of 6.94% and 1.6 standard deviations below ten year average growth of 7.8%, I have been watching out for the time when the ugly duckling will grow into a beautiful swan. And it has been a long wait so far.
GDP Growth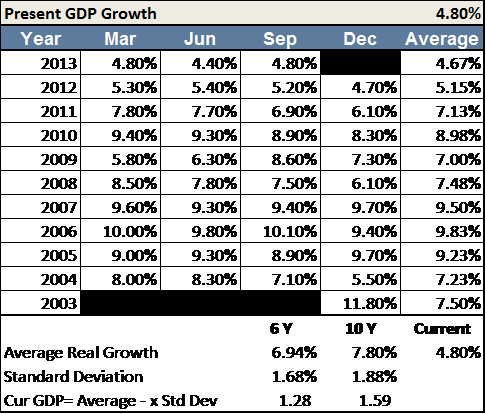 Source: My analysis of data over the years using a combination of data from Trading Economics, Reserve Bank of India data and the Ministry of Finance websites.
The swan is ready to spread her wings, but for political risk ahead.
With elections due in April and May 2014, the politics of India is incredibly important at this time. It is the principal force driving expectations and markets today. Goldman Sachs upgraded India during November as a result of its expectations, and later in the month, Nomura concurred. In my view, based on my political outlook which you can read on my Instablog, dips on the inevitable election volatility should be bought, because the risk of an adverse political outcome is low.
Leaving aside political risk, we know from GDP growth that the economic cycle is going through a phase of weakness. Yet statistical probability points to potential for a turn and a return to the virtuous cycle of growth. To make the turn requires a catalyst. And the two most powerful catalysts are fiscal and monetary policy.
Fiscal Policy
Since Mr. Chidambaram returned as Finance Minister, fiscal policy has been supportive. The current account deficit has gone from being scary and wide, to being well in control. At the same time, the fiscal deficit is expected to come in below target levels. Even the recently announced interim budget was positive on balance.
Yet all is not well. We still saw a huge increase in recurring subsidies, which are financed at least in part by one-off gains such as spectrum auctions and sale of stakes in the public sector enterprises. Much of this can be financed with a return to high growth, but high growth is not a birthright. And big, huge, massive, and unproductive government spending hurts growth like nothing else. What is the point of a subsidy where the cheapness of the subsidized goods is eaten away manifold by rising inflation caused by an overspending government? What is the point of offering employment, without jobs?
But it is not all bad. We did see petrol shifting out of the subsidy regime, we do see some efforts to de-control sugar (though without co-operation from States, it can be seen to have failed), we do see some efforts to lower and ultimately eliminate subsidies on diesel, we do see a move towards more sensible (though still government controlled) pricing of natural gas.
What we did not see was any meaningful means testing for subsidies: for example, the cooking gas I receive is subsidized - it should not be subsidized for me, it should be subsidized for those too poor to pay. In my view, subsidies and jobs for the poor in India are essential. But means testing and elimination of corruption in benefit distribution will make the subsidies affordable. And investment in education, training and job creation will go a long way in making the guaranteed employment productive and ultimately non-recurring.
All in all, on the fiscal policy, we are not there yet, but we are headed in the right direction. And being directionally positive does provide a catalyst to help turn the economic cycle. There is beauty in the ugly Indian economy.
Monetary Policy
Monetary policy is well managed. The currency was successfully defended. And interest rates are high, because inflation has been high. But I suspect that as inflation eases, we will see interest rates move downwards.
The response of inflation to monetary policy has been quite weak, because much of the inflation does not come from pent up demand. It comes from supply constraints and supply chain bottlenecks caused by poor infrastructure, and through wage pressure caused by a small workforce (despite a large population) caused by inadequate investment in education and training. But none of this changes the fact that inflation is high. And it hurts the weakest sections of society most.
With a weak inflation response to monetary policy, nothing is more important than managing inflation expectations. And in this area, the Central Bank has excelled by expressing an aggressive position which will ultimately drive inflation and inflation expectations down.
Perhaps rates will be seen as unduly tight, if not eased in the coming months. But ultimately, assuming that the Central Bank privately accepts that it has a mandate to maintain a balance between inflation, growth and financial stability, we are more likely to see a rate cut than a rate hike next. What happens in the coming months depends on what happens with inflation, and I expect a cut.
And because I see the Central Bank succeeding in the war against inflation, I see beauty in the ugly Indian economy.
Let's have a look at inflation and the interest rate cycle.
Wholesale Price Index
I will continue to use wholesale price inflation (WPI) as the primary basis of my review despite the Central Bank stating that it will start using Consumer Price Inflation (CPI) as a basis for its policy decisions going ahead. I find the basket composition of the CPI Index a fair reflection of spending patterns on average. However, I believe the basket composition of WPI Index represents the economy better. In addition, the new CPI Index is young. And without adequacy of history, I suspect the Central Bank will find itself playing a balancing act between looking at the CPI and WPI indices for many years.
Below is a table showing the WPI Index over the years.
WPI Index

Source: My analysis of data over the years using data from Office of the Economic Advisor to the Ministry of Commerce & Industry. March 2004 and prior data are from the 1993-94 base year series, which I adjusted to 2004-05 base year.
The most interesting thing on this table, other than the fact that I use it to calculate year-on-year inflation and WPI adjusted real interest rates, is the base effect. We know that WPI has been trending down of late, and the rapid escalation in WPI that we saw during June to September last year suggests that we have the advantage of a high base, which should keep WPI Inflation contained at least until October. There is beauty in the ugly Indian economy.
Let's see what inflation has been doing over the past several years.
Wholesale Price Inflation

Source: My calculations using data from the WPI Index Table.
Since 2010 it's been a terrifying time with a short period of respite during March to July 2013. What is even more disconcerting is that inflation stayed elevated even as growth slowed during much of 2012 and 2013. They call it stagflation: I call it painful.
WPI Inflation is presently running at 5.05%, compared with a ten and six year average of 6.51% and 7.63%, respectively. Being below average suggests that there is potential for mean reversion, but because of the base effect, I am inclined to believe that we shall continue to see a downtrend in inflation until rates hit 4.5% to 4.75%.
Given the aggressive position adopted by the Central Bank, I doubt we will see any easing of the reverse repo as long as WPI inflation is at or over average decade levels. But there is some room for easing as long as the Central Bank is successful in containing inflation expectations and rates stay at least 50 basis points below the decade average. Since present inflation is about 150 basis points below the decade average, and I expect it to stay stable to trend lower, there is beauty in the ugly Indian economy.
Until the Central Bank eases the reverse repo rate, the best indicator of success in containing inflation expectations is to see the response of 10 year interest rates on the government securities. If these rates decline, the markets are doing the Central Bank's work, allowing them scope to defer a cut to the reverse repo.
Let's see what the ten year government securities have been doing these past several years.
10 Year Government Securities
Look at real interest rates during 2010 and 2011, while the economy was firing on all cylinders. Then look at the escalation in real interest rates in 2012 and 2013 as the economy collapsed. When interest rates are used with lagging or coincident indicators, they lose the ability to guide the flight path of the economy. And it occurred mainly as a result of poor fiscal policy, combined with the Central Bank's inability to manage inflation expectations. In my view, directionally positive fiscal policy and a more forward looking and transparent Central Bank is rapidly correcting the economic path.
Also notice the low 6 year average real interest rates. Going ahead, expect to see this to reset to a real interest rate of about 2%. This suggests that as long as inflation expectations stay contained, and inflation maintains a stable to downward trajectory, we have likely seen an interest rate peak. There is reason to expect lower 10 year government security real rates. A decline of 1.5% would take real rates to 2%, compared with the present 3.55% level, which makes little sense given the state of the economy. And given that real rates on the reverse repo are 1.86%, compared with (0.87%) and (1.2%) ten and six year averages, respectively, we can expect a 75 basis point cut in the real reverse repo rate too.
Ultimately growth and inflation are running well below average, while nominal interest rates and real interest rates are running well above average. This suggests that we will likely see nominal and real interest rates decline, and growth rising as a consequence. There is beauty in the ugly Indian economy.
10 Year Government Securities Nominal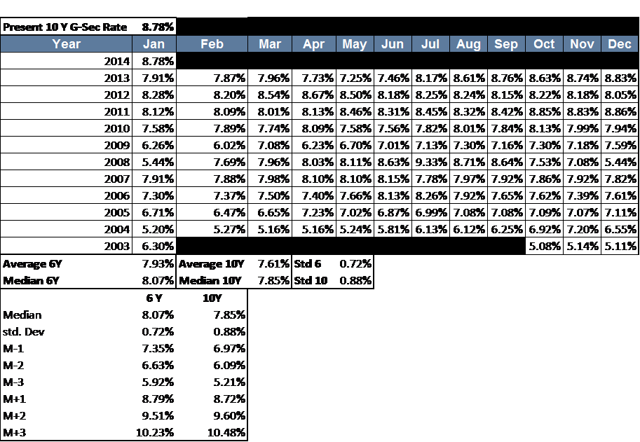 Source: My analysis of data over the years using data from Bloomberg recently, and Business Standard newspapers in older years.
10 Year Government Securities Real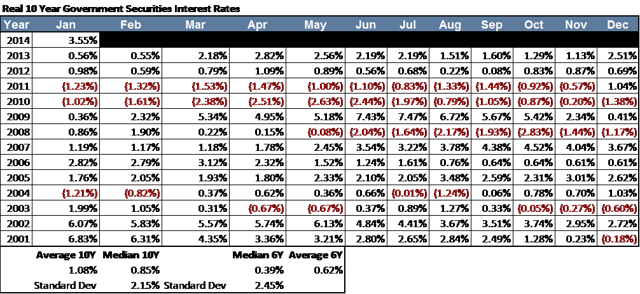 Source: My calculations adjusting nominal interest rates for WPI.
The next thing to look at is how the market and earnings responded to stagflation.
Markets and Earnings
When we look at earnings growth, over the past six years through December 2013, we see annualized growth of 7.3%. And we have seen annualized growth in six year median earnings per share of 14.32%. During the same period, we have seen the market deliver a meager six year annualized return of 0.79%. Odds are that the market will respond with better forward returns, slightly ahead of a return of the earnings growth cycle. And the earnings growth cycle is likely to return with a turn in the GDP growth cycle.
Many have pondered why the market has performed so poorly over the past six years despite the nominal growth. In my view, there are two reasons. Firstly, the markets were expensive six years ago. A time-wise correction has made the market cheaper. Secondly, while the earnings growth looks reasonable in nominal terms, we have seen near zero growth in real earnings. With zero growth in real earnings, where is the justification of a higher market return? During the past six years, the market has delivered an annualized negative 6.23% in real return.
Nominal Terms Data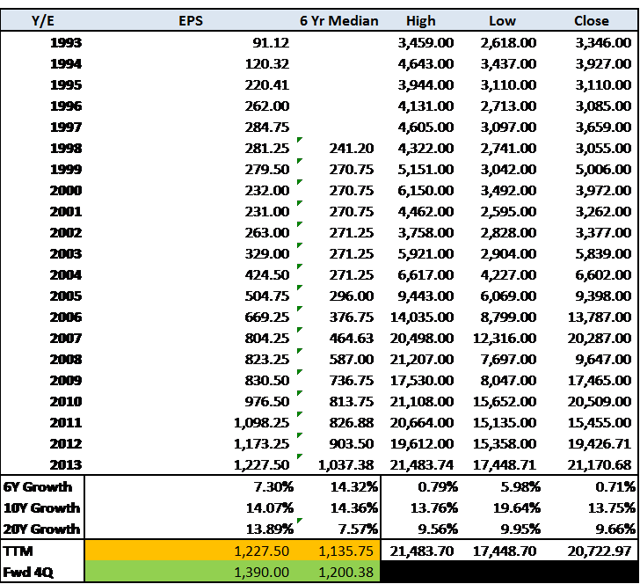 Source: My calculation of actual normalized earnings and median six year earnings. Historic index levels are from Yahoo Finance. Fwd 4Q earnings are my estimates for the calendar year 2014.
With markets having delivered negative real returns over the past six years, it is no longer expensive. But market is not cheap either. It is trading at a multiple 16.88 times 2013 earnings. This level is in line with average multiples seen over the past six years, but below average multiples of just over 18 seen during the past 10 and 20 years. Thus there are potential gains from an expansion of the market multiple. And there is gain potential from earnings growth. Again, there is beauty in the ugly Indian economy.
Real Terms Data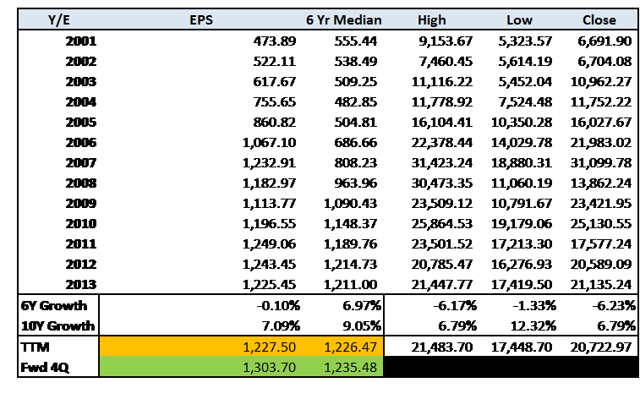 Source: My calculations adjusting nominal data for inflation. Forward 4Q real earnings are adjusted based on my estimate of inflation expectations, conservatively set at 6.62%.
Where are earnings expectations for the fiscal year 2015 (year ended 31 March 2015)?
Earnings expectations
In the chart below, you will find consensus earnings expectations for each of the Sensex constituents for the year ending 31 March 2015. These consensus earnings expectations come from the Reuters website. The index EPS calculated based on free float market capitalization comes in at 1,519. The consensus estimate for the year ending 31 March 2014 calculated in the same manner is 1,297. This implies 17% earnings growth. My own estimates are lower at 1,240 for the year ending 31 March 2014 and 1,440 for the year ending 31 March 2015. There are reasonable odds that I need to raise my estimates for 31 March 2014 to 1,275 because of a stronger than expected performance led by exporters of goods and services during the December 2013 quarter.
What is the downside? Assuming an unlikely worst case scenario of earnings of 1,300 for the year ending 31 March 2015, and multiple contraction to 13.22 (one standard deviation below the multiples seen in the past six years), we could see the Sensex trading at about 17,200. Down about 17%.
But what is the upside? If my estimates are correct, earnings of 1,440 priced at average 6 year multiples would indicate Sensex levels of 24,400 in twelve to fifteen months. If multiples expand to 18 times as we saw during the past two decades, we could see Sensex at 26,000 in twelve to fifteen months. The Sensex closed on Feb 19th at 20,772. Gain potential of 17% to 24% is pretty neat. And these targets are based on my more conservative earnings estimates, which are about 5% below consensus Reuters estimates. If these expectations are correct, one year gain potential would rise to between 22% and 30%. There is beauty in the ugly Indian economy.
31 March 2015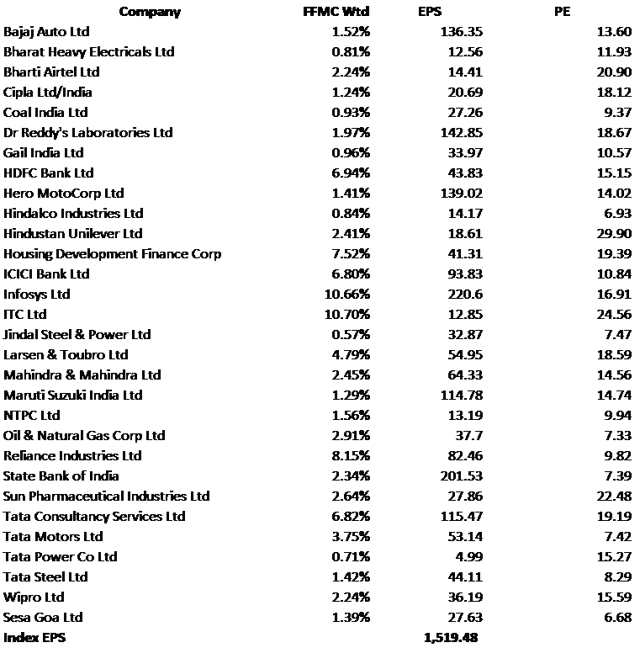 Source: Reuters site for each company and my calculation of PE ratio and Index earnings based on free float market capitalization as at 1/31/2014. To view the consensus analyst estimates, visit Reuters.com, search for a stock quote for each index constituent - you will find consensus estimates displayed on the Financials Tab on the stocks quote page.
31 March 2014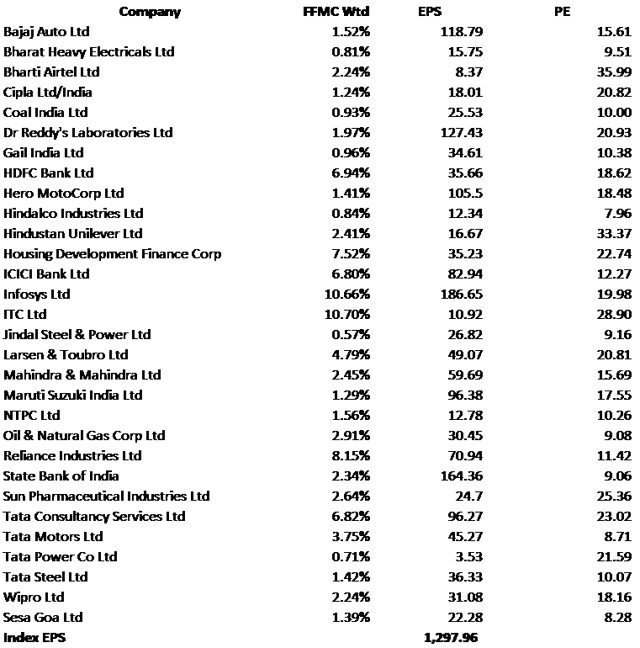 Source: Reuters site for each company and my calculation of PE ratio and Index earnings based on free float market capitalization as at 1/31/2014. You can view analyst consensus estimates by visiting Reuters.com and searching for a stock quote for each index constituent - the consensus analyst estimates are found on the Financials Tab on the stock quote page.
I'll close by saying be cautious and do your homework because risk remains elevated. That is why there is strong reward potential. For a Dollar investor (a person investing in Dollars whose functional currency is not the Rupee is a Dollar investor - such investors investing in Indian markets carry a currency risk not faced by investors who have Rupees as their functional currency), these return estimates carry even more risk because of potential for further Rupee weakness hurting a target exit value. But if the earnings cycle turns, it is likely that the Rupee will strengthen on capital inflows. There is beauty in the ugly Indian economy.
Disclosure: I am long TTM. I wrote this article myself, and it expresses my own opinions. I am not receiving compensation for it (other than from Seeking Alpha). I have no business relationship with any company whose stock is mentioned in this article.
Additional disclosure: I am not long TTM listed in U.S. However, I am long the following stocks (including Tata Motors) listed on the National Stock Exchange in India: ACC Ltd, Ambuja Cements Ltd, Grasim Industries Ltd, UltraTech Cement Ltd, Asian Paints Ltd, Bajaj Auto Ltd, Hero MotoCorp Ltd, Maruti Suzuki India Ltd, Tata Motors Ltd, HDFC Bank Ltd, Housing Development Finance Corp, ICICI Bank Ltd, Indusind Bank Ltd, Kotak Mahindra Bank Ltd, Axis Bank Ltd, Sun Pharmaceutical Industries Ltd, Cipla Ltd/India, Dr Reddy's Laboratories Ltd, Ranbaxy Laboratories Ltd, Lupin Ltd, Tata Consultancy Services Ltd, HCL Technologies Ltd, Infosys Ltd, Wipro Ltd, Hindustan Unilever Ltd, ITC Ltd, Tata Power Co Ltd, Bharti Airtel Ltd, Mahindra & Mahindra Ltd, Reliance Industries Ltd. This list includes several stocks listed on Sensex, an index discussed in this post.