(Editor's Note: This article covers a stock trading at less than $1 per share and/or with less than a $100 million market cap. Please be aware of the risks associated with these stocks.)
Executive summary:
Disappointing Q3 2013 sales led to significant, and excessive, sell-off.
Despite this setback, numerous catalysts remain for potential share price appreciation.
It is greatly anticipated that Q4 2013 (and future quarters) will produce much more favorable financial results.
Technical chart pattern shows stock price is ready to push higher.
_________________________________
Introduction
There's a gamble with some upside out there in Response Genetics, (NASDAQ:RGDX). It is a micro-crap stock trading on the NASDAQ stock exchange currently with a market cap of approximately $50 million. As per the company website, RGDX focuses on the development of diagnostic tests for cancer. I hope to highlight some key aspects relating to RGDX that have me believing it could be a great investment at this point.
The Biotech Approach
The "biotech approach" as I will call it, is to trade companies with upcoming catalysts. This usually results in an appreciation of share price as investors trade in anticipation of such catalysts. For RGDX, the catalyst outlook is the following: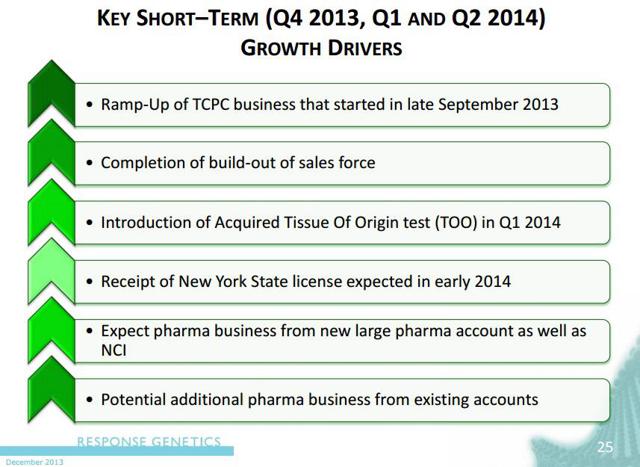 Source: Company website.
From this, we can see RGDX expects a number of new (and renewal of pre-existing) business partnerships. It is no secret that RGDX is set for many catalysts within the coming months.
Several new partnerships have already been announced in recent news, which will be discussed later.
As per the company slide above, implementation of the TCPC service in September 2013 should aid as a revenue builder for this quarter (Q4 2013) and future financial quarters. This is briefly mentioned below in another company slide: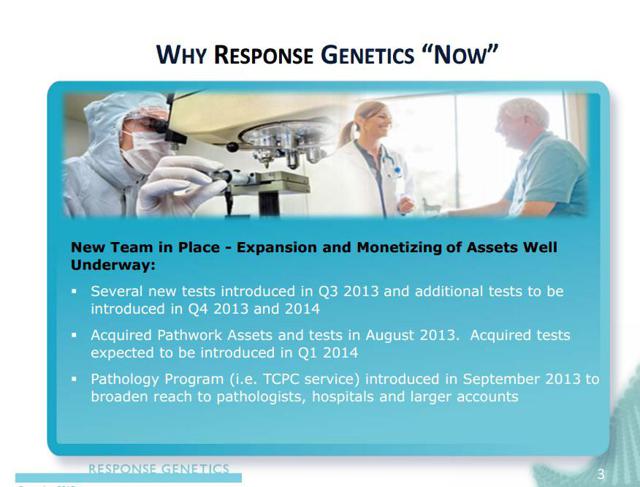 Source: Company website.
From the acquired Pathwork Assets, the most significant piece is the Pathwork Tissue of Origin Test. From a recent study in The American Journal of Surgical Pathology (IF = 4.87), the test proved to be more useful than the "state of the art" in identifying the primary site for metastatic tumors. This specific identification allows for a much more appropriate treatment from attending physicians, and thus is very helpful. The total cost of acquiring this (and other Pathwork Assets) was $1.2 million, and the buy has been described by management as a "once in a lifetime opportunity." One can see why when noting the $6 million in sales that these assets provided in 2012. Sales of these products should continue to expand, considering the fact that it deals with a state of the art diagnostic tool for cancer treatment. This is critical to mention now because sales of these devices are to begin in Q1 2014.
Of course, RGDX is not "flat footed" either. They are constantly expanding their own portfolio to introduce numerous new tests - and expand their potential revenue streams. See below.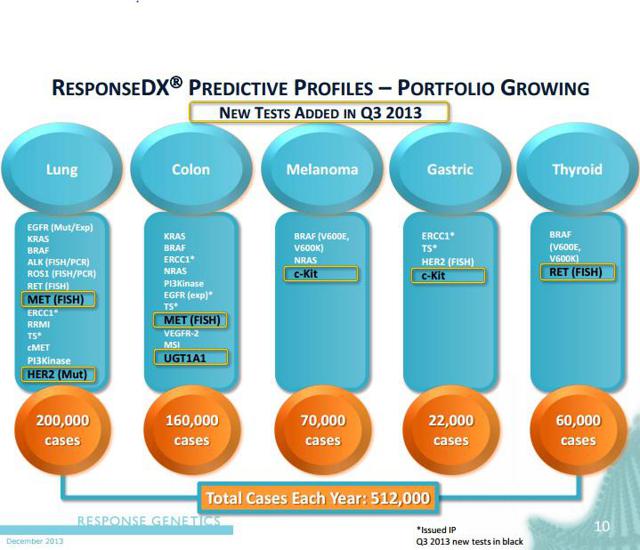 Source: Company website.
The Financial Approach
Perhaps the largest catalyst that can come into play for RGDX is the upcoming earnings announcement, slated for approximately one month from now (March 20, 2014).
The previous earnings dropped RGDX from $2.03 per share to approximately $1.23 per share, as many investors were disappointed with the report.
Largely, the disappointment came from missed revenues as reported by RGDX. Before becoming disheartened now, stick around and listen a little longer.
The company reported a decrease in revenues and owed it to a number of reasons within its conference call, specifically a decrease in sales and an omittance of a one-time payment from GlaxoSmithKline (NYSE:GSK), which had made previous payments in past financial quarters. The decrease in sales is quoted as due to the company focusing primarily on obtaining business with larger contracts. In doing so, a decrease in the amount of money coming from smaller business was seen. This is concerning to us investors - as we do not wish for revenue to be lost. The company has acknowledged this and attributed the loss of small business to be a severe oversight. RGDX is committed to maintaining proper relations with their small business partners, and so should have been better equipped to do so in Q4 2013.
Investors have a few reasons to be optimistic at this point, though, from a financial perspective. First of all, the sell-off has put the price-sales ratio for RGDX at 2.45 - A painstakingly low number, especially for a company with large potential (if you forget where the potential lies, read the first paragraphs again). From this metric alone, we can see that RGDX can be considered undervalued. Of course, one must also remember that many metrics go into a proper valuation - and thus this is no whereclose to a valid model. As a side note, however, I would like to point out that a similar biotech company that deals in the sale of diagnostic tools, Myriad Genetics Inc. (NASDAQ:MYGN) outperformed earnings expectations within its last report. This can very loosely translate to an increase in sales within the sector (with which RGDX also deals).
To add to this further, we can also add a bright outlook on the future earnings for RGDX. Within the conference call linked to earlier, management shows optimism with respect to future sales. They can be quoted as:
However we are optimistic since we believe momentum will build in the fourth quarter of this year... First sessions received for processing in October were the highest we've had in 2013.
This was reported at the beginning of November. Surely, momentum for sales has been seen within recent news releases by RGDX. We can see that RGDX has reported contracts for the most recent quarter on more than just one occasion. During the middle of Q3 2013, a business contract with MultiPlan, Inc. was announced. It is obvious that such contracts are beneficial from a business perspective. An additional contract has been made with Three Providers Network at the end of Q3 2013. There have also been contracts made recently within Q4 2013 with Fortified Provider Network and four (4) Preferred Provider Organization networks (America's Choice Provider Network, FedMed Inc., Galaxy Health Network and Prime Health Services Inc.). Lastly, RGDX has most recently announced a contract with a couple of Blue Cross Blue Shield Plans at the end of Q4 2013. These contracts serve to expand the possible user base for Response Genetics, Inc. It goes without saying that more potential users means more potential revenue.
Management also went on to discuss that despite the one disappointing quarter reported, overall earnings for the year were still up from the year prior. Obviously this is a good indicator and should help to show that the large sell-off was not necessarily warranted. RGDX is still a growing company in terms of sales.
On the opposite side of the financial coin, for many biotech stocks, a company with a good supply of cash is of great benefit. RGDX raised money through a public offering very recently in mid-December 2013. This puts RGDX in an excellent position for cash supply.
Lastly, remember that payment from GlaxoSmithKline, Inc. that inflates the book values for RGDX? A final payment of $500,000 was made in Q1 2014. It never hurts to have a form of partnership with a big pharmaceutical company.
All of this combined together leaves me very bullish on the upcoming earnings for RGDX Q4 2013, and earnings past that. It is clearly looking much more promising than what was reported for Q3 2013. The number of contracts developed by RGDX has great momentum that has carried it through Q4 2013, and as such, we should expect a significant amount of revenue to come into the company. Certainly we can expect results to be no worse than what was reported for Q3 2013. If we believe this, then we can believe that the price per share will not drop below the levels it previously dipped to at $1.23 per share. From the current level of $1.49 per share, this represents approximately a 17.5% loss on a "very bad case" scenario.
The Technical Chart Approach
Many traders need a chart to show promise if they are going to enter a trade, and I can see the logic behind that. If the market is against you, it doesn't really matter how good of a situation it seems, you can still lose.
In the case of RGDX, I would say the market is throwing bullish signals our way. See below.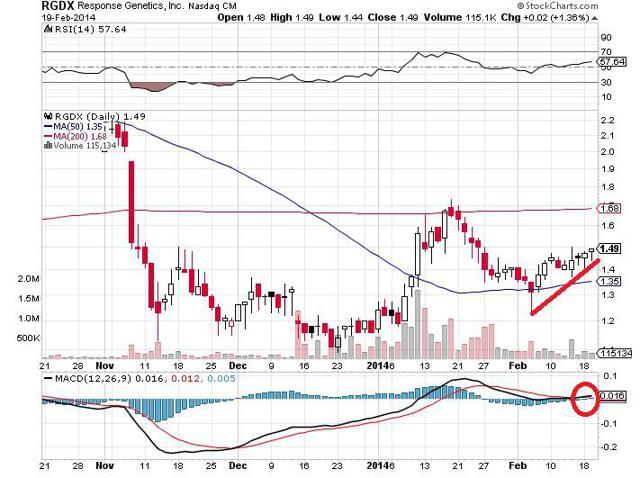 Image from: www.stockcharts.com
From the chart, the price per share of RGDX showed a significant runup post-offering at the beginning of January 2014. It then went on to retrace this gain, up to approximately 66% before finding support. Since that support, the price per share of RGDX has been on a bullish trend once more. It is showing a steady increase of higher highs and higher lows. Alongside this, we can see a MACD reversal/crossover just beginning to occur.
Conclusion
Overall, my bullish stance on RGDX stems from a number of factors. There are numerous proposed catalysts within the biotech field to cause share price appreciation. Furthermore, the future date for Q4 2013 earnings should act as a significant catalyst as traders become bullish on possible revenue numbers. I believe the proof is already in the pudding, as we can see a runup occurring, or starting to occur. We can expect this to continue until just prior to the earnings announcement.
As a trader, there remains a significant potential upside for those looking to hold up to and through earnings. There is also a less significant potential upside for those looking to hold up to earnings but no further. It is of my opinion that the potential downside within the realm of reason is capped due to previous earnings reports.
Disclosure: I am long RGDX. I wrote this article myself, and it expresses my own opinions. I am not receiving compensation for it (other than from Seeking Alpha). I have no business relationship with any company whose stock is mentioned in this article.