Lorillard (NYSE:LO) has just announced its annual dividend increase, with a 12% increase that puts the annual dividend at $2.46 per share. This marks Lorillard's 6th consecutive annual dividend increase since it began trading as an independent company in 2008.
This article was written in February 2013 when Lorillard announced its 2013 dividend increase. With the latest increase in mind, it is time to reevaluate the numbers. Let us get into the details.
New Yield: At the current share price of $48, the new dividend gives Lorillard a yield of 5.10%. This puts Lorillard right in the middle of the pack: with Altria Group (NYSE:MO) and Reynolds American Inc (NYSE:RAI) yielding more and Philip Morris (NYSE:PM) and British American Tobacco (NYSEMKT:BTI) yielding lower than Lorillard.
The yield of 5.10% is a bit lower than the dividend of 5.30% at the time of last year's dividend increase. This is mainly due to Lorillard's great run 2013, unlike some of the tobacco stocks mentioned above.
Payout Ratio: Lorillard's trailing twelve months earnings per share of $3.18 gives it a payout ratio of 77%. This number has remained between 75% and 77% the last 3 years. So, the days of high dividend growth are perhaps over but Lorillard is in a much better shape here than most of the other big tobacco names as can be seen in the table below.

(Source: Yahoo Finance)
Dividend Growth Rate: The 5 year dividend growth rate now stands at 14%. This number was at 12% at the time of last year's article. The table below shows the dividend growth rate for the past 5 years.

(Source: Yahoo Finance)
Extrapolation: The table below shows what the potential yield on cost could look like for investors who buy and hold Lorillard for the long term. The assumed dividend growth rate is 7% per year for the first 5 years and 5% for the next 5 years. And it is easy to see the power of Lorillard's high yield plus reasonable dividend growth rate. The yield on cost could potentially double for the patient investor.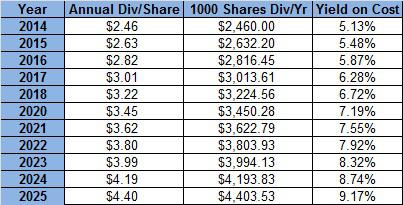 (Source: Current dividend and share price data from Yahoo Finance)
Forward Looking Analysis and Conclusion:
Earnings: Lorillard is expected to grow its earnings at almost 10% per year for the next 5 years, which gives it the lowest PEG (1.27) out of all big name tobacco stocks. Lorillard is also the only tobacco stock expected to grow earnings in double digits.
E-Cigarette: With Altria's decision to market its MarkTen E-Cigarette nationally, it is pretty clear that this division still has lots of potential for growth in U.S. Lorillard still holds the first mover advantage here and has 49% market share according to this article.
Menthol Ban: This cloud is almost always going to exist for Lorillard. Will there be a ban ? Unlikely. Will there be more regulations ? Likely. The tax payments generated to the Government as well as talks about the ban potentially being racist in nature make a ban unlikely. In other words, Newport will continue being the money maker for Lorillard. As a reminder, Newport has played a significant part in Lorillard increasing its marketshare for 11 consecutive years till 2013.
Short Term Trading: If you are looking at trading this stock for short term gains, odds are that it will rebound in the short term. As this article indicates, option traders are betting on it with calls outnumbering puts by 24 to 1.
Conclusion: All of a sudden, it seems like things are going hard for most consumer staples stocks. Questions are being raised about fast foods, sodas, and tobacco companies and their long term prospects. Every stock needs to be monitored closely for earnings and cash flow. The easiest and most tangible way for investors to monitor stocks is dividends as it is next to impossible to fake dividend payments. Lorillard's dividend coverage seems reasonable in terms of payout ratio as well as free cash flow. Its average quarterly free cash of $260 Million covers the current dividend commitment of $226 Million handily.
Disclosure: I am long PM, MO, LO. I wrote this article myself, and it expresses my own opinions. I am not receiving compensation for it (other than from Seeking Alpha). I have no business relationship with any company whose stock is mentioned in this article.