Friday's market threatens to return yet another distressing housing data point, but the promising results of liquefied natural gas producer Cheniere Energy Inc. (NYSEMKT:LNG) are on the way as well.
| | | | |
| --- | --- | --- | --- |
| Security | Thursday | Year-to-Date | Last 12 Mos. |
| SPDR S&P 500 (NYSEARCA:SPY) | +0.6% | -0.3% | +21.6% |
| SPDR Dow Jones (NYSEARCA:DIA) | +0.5% | -2.5% | +16.2% |
| PowerShares QQQ (NASDAQ:QQQ) | +0.5% | +2.6% | +35.7% |
| SPDR Gold Shares (NYSEARCA:GLD) | +1.1% | +9.7% | -16.5% |
| United States Oil (NYSEARCA:USO) | -0.1% | +4.4% | +10.3% |
After another week's worth of distressing housing data, Thursday produced good economic news. Yesterday's reported unexpected growth in Leading Economic Indicators gave energy to stocks, driving the SPDR S&P 500 higher by 0.6%. LEI rose 0.3% in January, above expectations and the prior month's stagnant state.
Even gold rose, with the SPDR Gold Trust up 1.1%, but that was more likely on the mildly reported Consumer Price Index (NYSEARCA:CPI), which showed no signs of inflation. I suppose the market saw this as providing freedom for the Fed to halt tapering if need be. Any such action stops also the strengthening of the dollar and empowers gold. New Fed Chair Janet Yellen has already shown herself to be great for gold in my view.
Existing Home Sales heads the economic news wire Friday (10:00 AM ET). The consensus expectation of economists surveyed by Bloomberg shows a forecast for a slowing annual pace of existing home sales. Economists see a pace of 4.65 million in January, versus 4.87 million in December. Expectations are set low for good reason. Housing data has dived of late, with this week's reporting of Housing Starts and homebuilder sentiment both falling dramatically. Each of those events weighed on stocks this past Tuesday and Wednesday, and so we would expect the same today.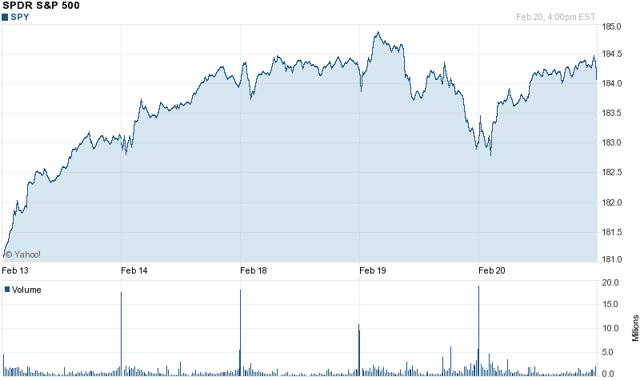 5-Day Chart at Yahoo Finance (Week's Trading Began on 2/18)
One Promising Note
Cheniere Energy reports its fourth quarter earnings results sometime between today and next Friday, with no specific date being provided.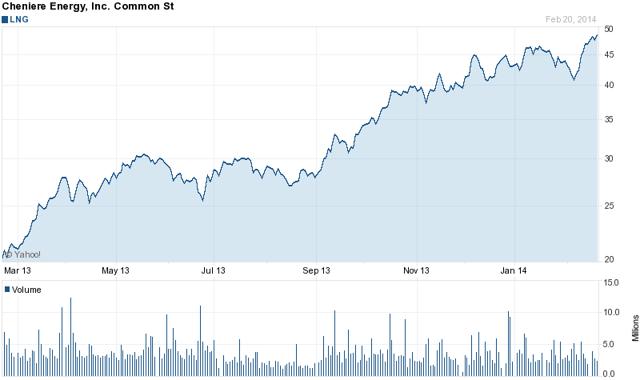 Cheniere offers promise, which is evident in its 1-year chart. The stock is up roughly 140% over the last 12 months and is up 12.7% for the year-to-date period. The company is engaged in LNG relative activities and works intimately with Cheniere Energy Partners, LP (NYSEMKT:CQP).
Relatively new techniques in developing natural gas reserves are likely to spread in their use globally and make natural gas a more viable alternative to oil in a growing number of instances. Cheniere's efforts in LNG production place it in position to advantage from burgeoning natural gas production in North America, which should open more opportunities to exporting of natural gas through LNG.
The company has not produced a profit over the last four quarters, but its loss per share has been improving. It has also consistently done better than Wall Street expectations (Yahoo Finance), which are set for a loss per share of ($0.38) in Q4. Note that the figure has been improving even over the last 90 days, which have taken it from a prior projected loss of $0.50 to where it now stands. This bodes well for the quarterly result in my view. So while the market may sink today on more bad housing data, it may offer opportunity to buy LNG cheaper ahead of its report.
Disclosure: I have no positions in any stocks mentioned, and no plans to initiate any positions within the next 72 hours. I wrote this article myself, and it expresses my own opinions. I am not receiving compensation for it (other than from Seeking Alpha). I have no business relationship with any company whose stock is mentioned in this article.