It was the year 2000.
On March 9th of that year, the Nasdaq (NASDAQ:QQQ) would surpass 5,000, climbing to its highest levels in history. Investors cheered. If you were in the market as of 1995, you saw gains of 500% in only five years! Buying call options? Make that thousands of percent. I remember at the time discussing the market with a recent college graduate - he had made a decision to quit his dot com job because he was making twice as much playing the dot com market! Times were good.
A few months earlier, AOL (NYSE:AOL), which was valued at about $190 billion, would merge with Time Warner (NYSE:TWX). Time Warner, with its substantial portfolio of brands and assets, received a valuation of only about $160 billion. Under the deal, AOL shareholders would receive 55% of the $350 billion newly-established company and Time Warner would receive only 45%, despite Time Warner's enormous portfolio of actual assets versus AOL's paper wealth and a promise of "growth".
A few months after the Nasdaq hit its peak and AOL announced its merger, the Nasdaq would begin its violent decline. Almost one month later, the Nasdaq would close 34% below its inflated peak, and two and a half years later, the Index would plummet and close at 1,114, or 78% below that 2000-high.
The way things are going with tech valuations these days, it's difficult not to notice similarities between the two eras.
Two nights ago, Facebook (NASDAQ:FB) announced plans to acquire an app called WhatsApp for a combined $19 billion. The plan for the social network giant is to use stock and cash to acquire the app, and to dish out an additional $3 billion of restricted stock at a later date if certain conditions are met. Facebook's announcement revealed that the interest was not so much based on profitability or even revenue - rather, it was strictly based on user growth and market opportunity. On the call, Zuckerberg mentioned that the entire SMS text messaging market is currently a $100 billion industry, and WhatsApp has "equaled" the volume of texts handled by the mobile industry worldwide. I will address the WhatsApp deal a little later. First, let's address the bigger issue at hand.
While I've signaled that various stocks have been trading at unusually surprising levels, today I am here to sound the alarm bells.
I do believe the bubble is here. Several telling signs exist.
Index Level
As the chart below shows, Nasdaq traditionally moves in line with the S&P 500. Over the last 20 years, that correlation has broken twice, during the dot com era and today, as you can see. As evident, after being perfectly correlated since about 2001, starting in around 2009, the Nasdaq began trading at a premium to the S&P 500, something that does not agree with historical trends.

In fact, as the chart shows, the last time the Nasdaq traded at bubble levels, it reverted to the exact levels of the S&P 500 (NYSEARCA:SPY). That makes intuitive sense. The S&P 500 traditionally includes larger and more established growth and value corporations that trade at relatively lower multiples than the Nasdaq. These companies are cash-rich, compete through scale, and are likely to capture share of "growth" markets and challenge smaller firms. On the other hand, while Nasdaq does include some of the same large cap firms, traditionally the Index also includes small cap growth corporations, and investors generally assign higher multiples to many of the Nasdaq firms as they expect significant future growth.
This could create upside - if valuations are reasonable and growth is attainable - specifically when times are good. However, unreasonable valuations could create dangerous prospects for the Nasdaq firms if volatility ensues and growth, which is already priced in, isn't realized by these firms. Instead, what you get is a violent reaction to broken promises. This is what happened in 2000. While we're likely nowhere near the risk and valuation levels of 2000, it is fair to say that many of the companies in the Nasdaq Composite are valued at unfairly high valuations while beginning to face serious challenges.
Also, what's most dangerous about the Nasdaq is the risk of industry concentration within the Index.
While the S&P 500 includes some of the same firms in its Index, the S&P constituents are scattered more broadly across industries. For example, a serious challenge within tech in the S&P 500 is naturally hedged with defensives and other industries. The Nasdaq, on the other hand, is concentrated mostly in tech. If some of the large cap tech stocks experience pain, this would immediately translate to a broad Nasdaq pullback because of a strong correlation of its constituents to the same industry.
Valuations
Now let's take a look at some of the larger firms in the Nasdaq that could experience pain and analyze their valuations. Of course, this is a small subset of firms in the Nasdaq - however, these firms are large components of the Index and wield much influence over its direction.
Before we get to that, I'd like to address an important point. While it's true that the Nasdaq includes firms that are currently valued at extremely irrational multiples relative to Nasdaq's average, the Index also includes firms that are valued at multiples that trade well below its average. Below is a table of Nasdaq stocks and its multiples. I've broken them out into 2 groups.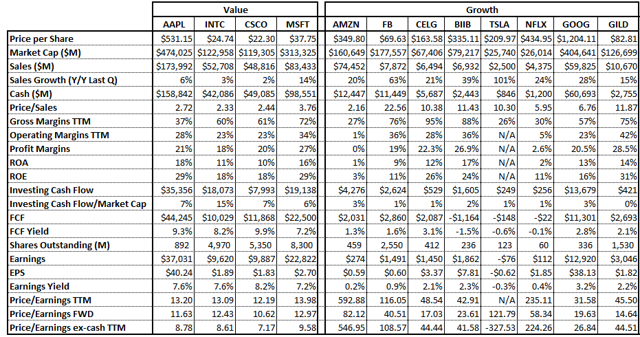 The groups are bucketed into "value" and "growth" stocks. Value stocks are currently trading at a deep discount to the Nasdaq average, which is 30X, and growth stocks are trading well above the Nasdaq average. This is also what differentiates this era from the prior era. These "value" stocks that are trading at a discount are likely pulling down the Index P/E from reaching levels seen during the dot com era and disguising the higher multiples of their peers in the Index. I also recognize that there are different valuation methods. The P/E methodology is, of course, not the only way to measure a stock's value.
Growth stocks include some of the more popular names in tech today, including Google (NASDAQ:GOOG), Facebook, Tesla (NASDAQ:TSLA), and Amazon (NASDAQ:AMZN). Value stocks include Apple (NASDAQ:AAPL), Intel (NASDAQ:INTC), Cisco (NASDAQ:CSCO), and Microsoft (NASDAQ:MSFT).
Let's take a look at some of these growth stocks that could pull back significantly in the future.
Amazon
The Company continues to achieve top line growth; however, razor-thin operating margins continue to plague the Firm. Investors continue to trade in $600 of their hard-earned money for every $1 earned by Amazon. Amazon fans point to the Firm's continued efforts in building up an infrastructure that could eventually pay off; however, it's difficult to predict how Amazon might eventually solve its operating margin problem, especially if revenue slows.
Additionally, if online sales continue to become less concentrated in the industry, Amazon would certainly face headwinds and its rich valuation could be a thing of the past.
Tesla
Tesla is a company I've covered extensively in the past. My views remain as follows:
While I am convinced that Tesla will continue to deliver operational success in the longer term (just take a look at its impressive gross margins if you don't think it's a success story), the Firm's valuation suggests that its success might one day be something out of a fairy tale. The Firm would have to continue capturing a significant amount of the BEV market as the market continues to grow and as it prepares to launch the more affordable Model E by 2016. Investors are betting that scale and Tesla's access to future BEV customers as a quasi-monopolistic player will pay off while they are certainly not discounting for potential road blocks (no pun intended) that could come in the form of competitive, economic, political, supply, beta and other risks. These risks could wipe out much of Tesla's value.
Netflix
I've long admired Netflix from a consumer standpoint, and I do believe the Netflix model has the potential (if it hasn't already) to challenge the traditional cable model. As with Tesla, Netflix trades at unfairly high levels. The Firm is priced at 58X 2015 earnings on 20% revenue growth. One of the biggest threats exists in the form of competitors creating innovative "substitute products" and improving Netflix's model across a larger scale. How so? While this article is not meant to be a piece about innovation, I could certainly see Apple investing heavily into the TV space and disrupting the industry in a major way as its portfolio of existing products mature. The story here is, Netflix is an amazing product, but the Firm's stock at its valuation could certainly face some major challenges in the future.
Facebook
The social network is on fire. Up 27% YTD, or close to $40 billion+, while the S&P 500 is so far down on the year. Facebook also celebrated a year in which its stock saw 146%+ gains, or an additional $100 billion in market cap value. Wow. The social network then did something intelligent with its explosive stock valuation. The Company paid $4 billion in cash and used $12 billion of its newly-minted paper gains from the prior weeks to purchase an app.
This is what I call the Steve Case model. If you know your stock is trading at unusually high levels that you can't explain, use your market value gains to buy something real. In this case, Facebook bought a messenger service with a large and loyal user-base located in regions in which Facebook is trying to grow. At the same time, Viber, a competing service with 200 million users, was sold for a mere $900 million only a week earlier. Was Viber sold at a discount?
In remains to be seen how many of WhatsApp's "active" users will pay the $.99 per year that the app will begin charging next year.
WhatsApp would count me as an "active user". I downloaded the app last year at the request of friends and have reluctantly used it about twice a month as an alternative to text messaging. Will I pay $.99 for the app? I doubt it. And it's possible that a large proportion of others like me won't either. Will there be those who pay up? Of course. The return on your dollar is significant if you actually use the service, even in lower-cost regions where WhatsApp is more widespread. At the same time, many could also switch to competing free services.
More importantly, is Facebook worth $70/share, or $178 billion? Can its top line growth continue to wow investors as competition for mobile ad space explodes?
What's particularly interesting about Facebook is that its daily active users in US & Canada have grown by only 9% Y/Y, yet its advertising revenue from the region has grown by 69% Y/Y. That means Facebook has successfully extracted more value from each North American user over time (ARPU: $3.30 in Q412 and $5.34 in Q413). Are advertisers willing to continue to pay more for Facebook's users? As users continue to switch to mobile phones and as providers compete for advertising revenue, it remains to be seen if Facebook can continue to trade at its current valuation.
After all, at $177 billion, it's currently valued at a market capitalization that resembles its predecessor AOL. In 2000, AOL had about $7 billion in revenue, up 43% Y/Y, and net income of about $1.2 billion. Facebook has $7.8 billion in revenue, up 63% Y/Y, and earnings of $1.5 billion. Interestingly enough, AOL was forced to exit its subscriptions business. Facebook is now entering a subscriptions business.
Conclusion
Investors continue to bid up prices of growth companies. The eight growth companies described in the table above are collectively valued at $1.1 trillion, while annual earnings for all eight are only 57% of Apple's entire annual earnings. The eight firms also collectively have less revenue and less cash than Apple. These are risky levels, and any sell signal in these companies could naturally pave the way for a Nasdaq crash.
At the same time, the value companies I described above are already trading at a discount. They are cash-rich, and any pain could pave the way for accelerated buybacks at even more attractive prices. As investors process the recent 5-year 200% Nasdaq gain, they should consider the similarities between these levels and those seen in 2000.
Disclosure: I am long AAPL. I wrote this article myself, and it expresses my own opinions. I am not receiving compensation for it (other than from Seeking Alpha). I have no business relationship with any company whose stock is mentioned in this article.
Additional disclosure: This article represents my views only and not the views of any company that I am affiliated with. This article is intended for informational and educational purposes only and shall not be construed to constitute investment advice. Nothing contained herein shall constitute a solicitation, recommendation, or endorsement to buy or sell any security or private fund.