The SEC-enforced quiet period on underwriter research on Continental Building Products Inc (NYSE:CBPX) will come to an end on March 1, 25 days after the company's February 4 IPO.
The expiration of the quiet period will likely cause a brief jump in the price of CBPX in response to the IPO underwriters' positive research reports on the drywall manufacturing firm. CBPX priced below its expected range of $16-$17 per share-at $14 per share-but quickly recovered into that range and has hovered between $16 and $18 per share since. The stock closed at $17.50 per share on February 20.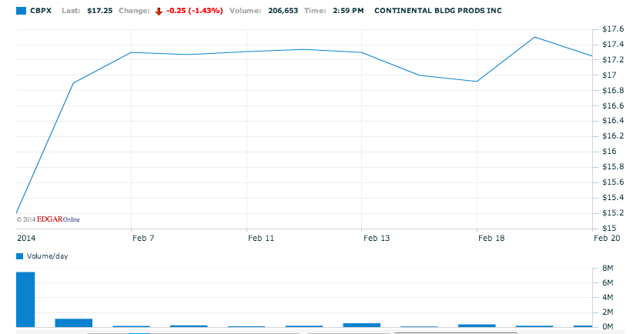 Source: Nasdaq.com
CBPX's underwriters, including Citigroup Global Markets, Barclays Capital Inc, Credit Suisse Securities, BB&T Capital Markets, Stephens Inc, Deutsche Bank Securities Inc, RBC Capital Markets LLC, SunTrust Robinson Humphrey Inc, and Zelman Partners LLC, will attempt to energize the stock with a series of positive reports once the quiet period expires on the first.
Our recent research, as well as data from recent academic studies, have led to empirical evidence of the correlation between the visibility and number of an IPO's underwriters and a related rise in the price of shares at the end of the quiet period.
This rise will usually become apparent multiple days ahead of the quiet period expiration as investors buy up shares in order to take advantage of the upcoming positive underwriter research. These buys create a perception of rising demand for the stock, pushing prices upward before the underwriter reports see the light of day.
Business Summary
CBPX manufactures and markets gypsum wallboard (drywall) and related building and design products. The firm focuses on cost-efficient production, locating its manufacturing facilities near its sources of synthetic gypsum, as well as the major metropolitan areas that account for most of its demand.
CBPX's use of synthetic gypsum decreases production costs and allows the firm to create more consistent finished products, including LiftLite, an easily-installed, lightweight product; Mold Defense, which resists mold and mildew; and Weather Defense, which protects against both mold and moisture. CBPX's "green" building products also allow some customers to meet LEED-certified construction requirements.
Drywall manufacturing competition varies between localities, in large part as a result of high transportation costs. CBPX's major competitors include National Gypsum, Georgia-Pacific Gypsum, USG Corporation (NYSE:USG), and PABCO Gypsum.
Management
President and CEO Isaac Preston has served in his current roles since August 2013. He previously worked in senior management positions for Lafarge. Despite Mr. Preston's over 25 total years of experience in building materials, we believe that his total compensation of $1,287,974 for calendar 2012 was excessive, given the company's continued losses.
Conclusion
We expect the quiet period expiration to boost the stock's fortunes and consider the expiration a short term buying opportunity for aggressive investors.
The ongoing recovery of the housing market should also give this new public company added positive exposure.
Disclosure: I am long CBPX. I wrote this article myself, and it expresses my own opinions. I am not receiving compensation for it (other than from Seeking Alpha). I have no business relationship with any company whose stock is mentioned in this article.