It's interesting - I just wrote an article days ago talking about how I've gone from Microsoft (NASDAQ:MSFT) hater to full-blown bull, but it doesn't make me any less of an Apple (NASDAQ:AAPL) bull than I've been for the past couple of years.
Ben Reitzes from Barclay's Capital cut his rating on Apple yesterday (Thursday). He cited that investors might be locked into a "trading range" for the next 6 months to a year. He claimed that smart watches or TVs weren't reason enough to "move the needle" like new products had done for Apple in the past. He claimed that Apple is going to follow the same trajectory as Microsoft.
And, simply put, Microsoft has basically done nothing but follow in the footsteps of Apple for the last couple of years, so I'm not quite sure how that's possible.
And frankly, I think he's just plain wrong - and I think the thing that's going to jar Apple loose from this line of thinking are the products that it has coming down the line this year. For a year now, Tim Cook has been alluding to new products coming in 2014. If something like a TV or watch can do for Apple what the iPhone did without cannibalizing on its own products, Apple still has a massive amount of room to grow.
With the exception of Xbox and Office, Microsoft has yet to do something first and get a lead on Apple. This is proud tradition that leads all the way back to the original Mac (which Apple basically ripped off from Xerox), for all you computer history buffs.
Of course, you always have the chance that Apple is going to come out with something completely new that no one saw coming. Granted, this isn't really like the "new" Apple, but I still think Tim Cook has some tricks up his sleeve. The "new" Apple is supposed to be past the years of full-blown surprises, sandbagging guidance, and leaving beer cans and pizza boxes strewn about. The "new" Apple is supposed to be cool, calm and collected under the professional demeanor of Tim Cook.
But, there's a bit of a cheeky side to Cook, as we've seen over the years, so I think anything is still possible. I think Apple is a company that can still surprise. Time will tell the tale here.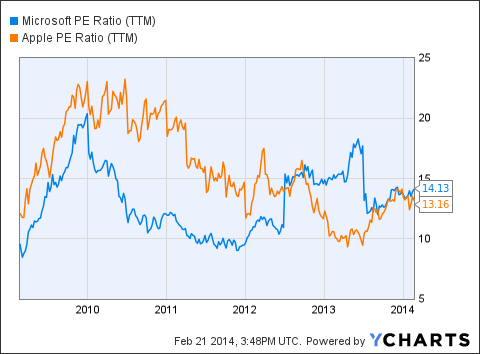 MSFT PE Ratio (TTM) data by YCharts
Additionally, the same analyst claims that valuation isn't a good argument for Apple. I have to simply disagree with him. Apple is the most fundamentally sound company on the face of the Earth. What do you need to pay to be a part of a dividend paying company that has tons of market share to grow in PC and a mountain of cash that's like a warm security blanket every night? A forward P/E of just 12.7. That's akin to a P/E you would see with a major consumer staple or oil company, not a technology company that has provided as much innovation as Apple has in the past couple of years.
Even if Apple were to be like Microsoft, it wouldn't be that bad. Microsoft's fundamentals are still outstanding, the company still has tons of cash, and it just reported a great quarter of earnings.
Even though both companies had similar pressure on dividends and buybacks a while ago, Apple still has the firepower to raise either with little or no effect to its balance sheet. This isn't some overloaded company that's bleeding cash - it's a healthy, lean, juggernaut that continues to stockpile cash quarter after quarter.
But, last time I checked, Microsoft is still taking its cues from Apple: implementing the electronic ecosystem, coming up with the Windows phone, half-heartedly getting into tablets late with the original Surface, opening retail stores that look suspiciously like Apple stores.
Microsoft is in no way the tail wagging the dog here.
Moving forward, I'm not only expecting new products from Apple that will continue to keep the company innovative (I have a feeling they're going to blow Samsung's watch out of the stratosphere), but we have other items like iOS in vehicles to keep an eye out for. Also, let's not forget potential monetization of things like iTunes Radio, which continue to grow in the background. Additionally, whether you're a Mac or PC user, Apple's iTunes store continues to be the number one growing destination for music and movie purchases - this is an area where Microsoft doesn't even show up.
Did I mention that Mac, which has a ton of market share still to capture, continues to perform well in the midst of a poor PC market that is now looking like it's bottomed?
Interestingly enough, as Apple continues to lead the way and Microsoft perfects its carbon copying procedures, while at the same time mopping up the Windows 8 mess, I'd argue it's a great time to be long both of these companies - but Apple is definitely not the next Microsoft.
Disclosure: I have no positions in any stocks mentioned, and no plans to initiate any positions within the next 72 hours. I wrote this article myself, and it expresses my own opinions. I am not receiving compensation for it (other than from Seeking Alpha). I have no business relationship with any company whose stock is mentioned in this article.