On February 13, the real estate investment trust (REIT) that has a 45-year track record of providing dependable monthly income from real estate reported solid operating results for the fourth quarter of 2013. The "Monthly Dividend Company" has paid an impressive 522 dividends and registered an enviable 74 total dividend increases since 1994. Though we note that the past is only as important as it informs the future, we think the future remains bright for Realty Income (NYSE:O).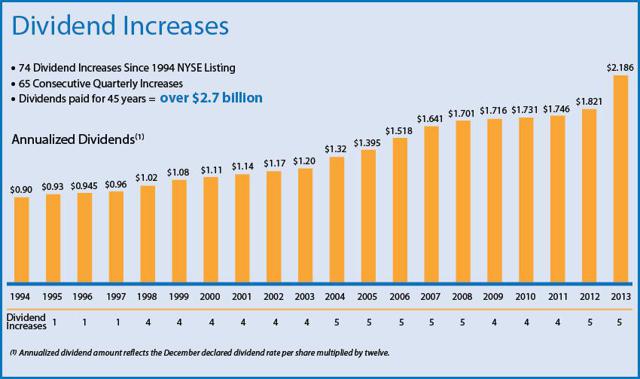 Image Source: Realty Income
The Dividend Growth portfolio holding's revenue and adjusted funds from operations (AFFO) were both impacted by acquisitive activity (its purchase of American Realty Capital Trust in January 2013), advancing significantly from the same period a year ago. We were highly encouraged that the pace of same store sales rents (pricing) continues to advance at a decent pace (1.8%) and that portfolio occupancy leapt to 98.2% from 97.2%. AFFO for the period jumped 72% to $125.7 million ($0.62 per share) as compared to $72.9 million ($0.55 per share). Cash dividends during the period were $0.546, so the REIT continues to do a fantastic job covering dividends on a quarterly basis. AFFO in excess of distributions paid to common stockholders jumped to $15 million (the bottom line in image below), advancing both sequentially (from $11 million) and on a year-over-year basis ($12.3 million). We like the trajectory of distribution coverage.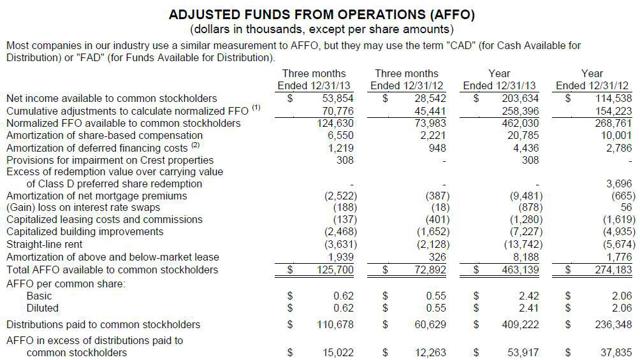 Image Source: Realty Income
Looking ahead, Realty Income expects AFFO per share for 2014 to range from $2.53-$2.58 (no change from previously-issued guidance), an increase of 5%-7% over the 2013 AFFO per diluted share of $2.41. The annualized dividend amount, as of December 2013, was approximately $2.186 per share, indicating substantial potential for future dividend expansion based on forward AFFO coverage. We may see multiple dividend increases through the course of 2014 and continue to believe that investors will be quite pleased with Realty Income this year.
Valuentum's Take
The biggest risk to Realty Income investors is the firm's portfolio composition, which remains heavily tilted to retail (77.4% of the portfolio). The REIT continues to diversify, however, and its largest tenants remain on solid ground (top tenants listed in image below). AFFO per share has historically tended to be fairly stable and predictable, and while we acknowledge the portfolio concentration risk, we don't think it is material to warrant a change in the position in the Dividend Growth portfolio at this juncture. We continue to like how things are progressing at Realty Income, and the entity remains our favorite REIT idea.

Image Source: Realty Income
Disclosure: I have no positions in any stocks mentioned, and no plans to initiate any positions within the next 72 hours. I wrote this article myself, and it expresses my own opinions. I am not receiving compensation for it (other than from Seeking Alpha). I have no business relationship with any company whose stock is mentioned in this article. O is included in the portfolio of our Dividend Growth Newsletter.