Executive summary:
With the economic recovery in place, booms are back in vogue (booms in stock prices and the equipment that United Rentals rents to its customers).
Catalysts for the company include strong oil and gas production and strength in residential and non-residential construction.
United Rentals has strong growth and an attractive valuation, which should drive the stock higher over at least the next two years.
_________________________________
United Rentals (NYSE:URI) is the world's largest equipment rental company with a fleet of about 410,000 units and a market share of 12%. The company rents a wide variety of equipment to construction and industrial companies, homeowners, municipalities and government entities. United Rental's products include: forklifts, backhoes, earthmoving equipment, boom lifts, scissor lifts, pressure washers, power tools, power and HVAC equipment, and trench safety equipment. The company should see strong growth in the next few years due to the improving housing and nonresidential construction markets and also from the booming oil and gas markets. Catalysts should also come from the company's strategy of investing in organic and inorganic growth.
Solid Growth Combined with Cost Cutting Should Drive the Stock Higher
United Rentals has a plan for growth while simultaneously cutting costs. This should result in strong profitability for the future. Organic growth should come from increased rental business from strong oil and gas production in North America. Crude oil production is expected to increase to 9.6 million barrels per day (MMbbl/d). This is up from production of 6.5 MMbbl/d in 2012. Natural gas production is expected to increase steadily at 56% between 2012 and 2040. This boom in production should continue to increase demand for United Rentals' equipment used in the oil and gas industry such as: compressors, lifts, towers and loaders. The improvements in the residential and non-residential construction markets should also allow United Rentals to grow organically. The non-residential market is expected to perform well in 2014 and 2015. Some of the same equipment that is used in the oil and gas industry is also used in these construction projects.
The company also has a strategy of growing inorganically. United Rentals has its eye out for the right acquisitions to expand its business. United's 2012 acquisition of RSC Holdings allowed the company to add 440 rental locations to its business which is worth over $1.5 billion in annual revenue. Another acquisition could allow United Rentals to buy a competitor to further increase its market share and add to its annual revenue. By acquiring competitors similar to RSC, United Rentals will reduce its competitive risk, thus increasing its presence in the marketplace.
United Rentals is focused on continuous improvement under its Operation United 2 program. This program is a form of lean management which has goals of: reducing cycle time for renting equipment, improving invoice accuracy and service quality, reducing the time for equipment pick-up and delivery, and improving the efficiency of its repair and maintenance operations. The efficiencies gained from this program should help to reduce costs and thus lead to an increase in gross margin.
The company has increased its gross margin from under 25% to over 40% in the past five years. This will allow United to grow earnings at an above average pace in the foreseeable future. This should drive the stock to outperform the market in the next few years.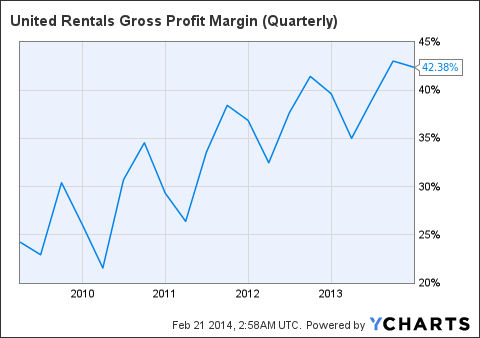 URI Gross Profit Margin (Quarterly) data by YCharts
Valuation
United Rentals has many small competitors which own a small number of rental offices. Since there are many small competitors, United has the advantage of benefiting from large economies of scale. This includes large purchasing power, which allows United to obtain favorable pricing, warranties, etc. from its vendors. One of its primary large competitors is Hertz Global Holdings (NYSE:HTZ). Although Hertz is well-known for its car rentals, the company also competes with United on similar earth moving equipment, compressors, etc. Here's a comparison of its key valuation metrics:
| | | |
| --- | --- | --- |
| | United Rentals | Hertz |
| Trailing PE | 24 | 39 |
| Forward PE | 11.5 | 13 |
| PEG | 0.45 | 0.62 |
| EV/EBITDA | 10.9 | 15 |
United Rentals is trading at a lower valuation than Hertz. I think that United Rentals is the better deal at these levels. Hertz is a solid company that also has above average growth ahead, but United has a more attractive valuation, a higher return on equity, higher gross margin, and higher earnings growth than Hertz.
| | | |
| --- | --- | --- |
| | United Rentals | Hertz |
| Return on Equity | 22% | 11.9% |
| Gross Margin | 40% | 25% |
| 5-Yr. Expected Annual Earnings Growth | 31% | 24.5% |
Both companies have above average growth, but United Rentals stands out with its lower valuation and higher expected earnings growth. United's gross margin advantage should allow its earnings and stock price to outperform Hertz. This speaks to United's laser focus on operating efficiencies, which drives down costs.
The Risks
The company is cyclical in nature, which unfortunately causes the stock to perform worse than average during times of economic downturns. For example, United's stock fell from the $30s down to the low single digits during the 2008 financial crisis. However, the company will perform better than average during upturns like we're experiencing right now. To mitigate the downside risk based on the business cycle, investors can sell the stock after the Federal Reserve raises rates for the 3rd time. This will allow investors to exit the stock at a profit before the next recession. The Fed hasn't raised rates once yet in the current economic recovery, so there should be more good years of growth ahead for the stock.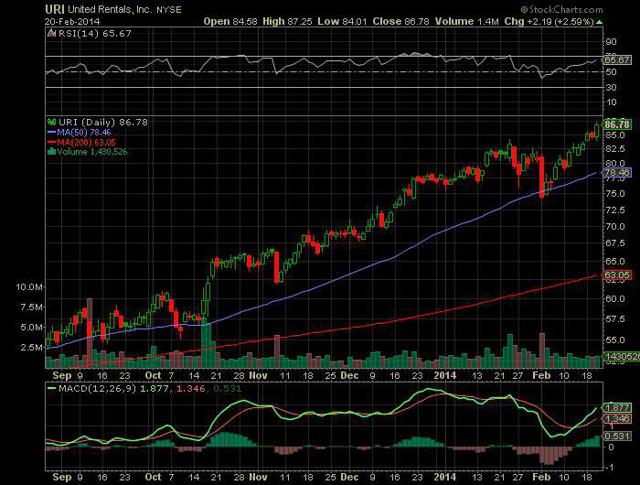 Conclusion
United Rentals has an attractive valuation, strong operational performance and above average expected earnings growth. The current recovery in residential and non-residential construction and the boom in the oil and gas industry should provide a catalyst for the company and its stock. The stock should be able to rise like the boom lifts that the company rents.
The company should achieve revenue growth of 8% annually over the next two years. It should also see an improvement of about 15% to 17% in gross margin annually based on operational efficiencies. Based on valuation and earnings growth, I think that the current stock price of $86 can reasonably break $100 by the end of this year and break $130 by the end of next year.
Disclosure: I have no positions in any stocks mentioned, and no plans to initiate any positions within the next 72 hours. I wrote this article myself, and it expresses my own opinions. I am not receiving compensation for it (other than from Seeking Alpha). I have no business relationship with any company whose stock is mentioned in this article.