All of the 13F filings are in for the top Hedge Funds and Money Managers around the country. I have looked through all of the funds that I consider to be the top tier value investors in the world and I have come up with my recommendations of which new fund additions are most interesting Value Long ideas.
The funds included in my list of Elite Value Investors are as follows: Baupost Group (Seth Klarman), Greenlight Capital (David Einhorn), Appaloosa Management (David Tepper), FPA Capital (Bob Rodriquez), Yacktman Funds (Donald Yacktman), Southeastern Asset Management (Mason Hawkins), Ariel Investments (John Rogers), Omega Advisors (Leon Cooperman), Duquesne Family Fund (Stan Drunkenmeyer), Fairholme Fund (Bruce Berkowitz), Brave Warrior Advisors (Glen Greenburg), Dalal Street LLC (Mohnish Pabrai) and Glenview Capital Management (Larry Robbins). Although there are other Value investors that have great ideas like GMO Capital (Jeremy Grantham) and Gotham Capital (Joel Greenblatt), but they often invest in a large number of securities so pulling out the best idea from them is often more difficult.
So here are the top Elite Value Investor Ideas from the February 2014 13-F filings:
Sunedison (SUNE)
Investor: Greenlight Capital (David Einhorn), Omega Advisors (Leon Cooperman)
Sunedison currently operates two businesses, a Semiconductor business and a Solar Power Energy Systems business. The Semiconductor business is a commodity business that has been negative from a net income perspective for the last two years. The Solar Power Energy Systems business operates in both the Solar Components production segment and in the downstream installation segment.
The company announced on August 22nd of last year that it will be IPOing its net income losing Semiconductor business, in an effort to raise capital.
Sunedision will also shift from its traditional Solar Power installation and development business. Previously Sunedision would develop Solar Projects and then sell them to Private Investors that would collect the future revenue streams on those projects through Power Purchase Agreements (PPAs). Going forward Sunedision will retain the Solar Projects Pipeline on its balance sheet in conjunction with creating a yield generating IPO referred to as "YieldCo". Both of these transactions are meant to raise capital for Sunedision in order to reinvest in its own Solar Projects.
Valuation of Sunedision is difficult at this point, because the business will change significantly over the next year. Sunedision is shifting its business model largely due to the investor response that SolarCity (NASDAQ:SCTY) and SunPower (NASDAQ:SPWR) have seen, which both retain some of their solar projects on their balance sheets. All three companies are slightly different, due to differing business segments, so it is important to break down the company's businesses individually and value them as a Sum of Parts. Based on this analysis I found that Sunedision has a strong Solar Projects Pipeline (153 MW in 2013) similar to the size of SolarCity's (268 MW in 2013), but the valuation of that part of the business differs widely to SolarCity. Possible catalyst could include a revaluation of Sunedision's project pipeline and the future Financial Engineering provided by both of the upcoming IPOs.
Alon USA Partners, LP (NYSE:ALDW)
Investor: Baupost Group (Seth Klarman)
Alon USA Partners, LP is a publicly traded master limited partnership (NYSE:MLP) that operates an Oil refinery located in Big Spring Texas and an integrated wholesale fuels marketing business. The refinery has a total capacity of 70,000 barrels per day and has a nelson complexity of 10.5. The refinery is located in the middle of the Permian Basin, which is one of the three largest producing onshore oil and gas basins in the US. This provides the Big Spring Refinery with the ability to source price advantaged crudes verses East Texas and Gulf Coast refineries.
From a valuation standpoint Alon USA Partners, LP trades at an extremely low valuation from any metric. The Current PE is 5.66, forward PE is 7.62, P/Free cash flow is 3.06, and EV/EBITDA is 3.6. You can tell that Alon is extremely cheap, and the main reason is it has limited growth opportunities, similar to other MLPs. The real question you need to answer before you invest is Alon is what will the dividend yield be going forward? The trailing 12 Month Dividend yield is 16.40%, but the consensus forward Annual dividend yield is 4.9%. That is a large falloff in dividend yield. I believe a majority of that dividend drop is related to the change in the overall margin environment in Refining that is expected in 2014. I think the margin environment in the US will not get as bad as many analysts are projecting in 2014 and 2015, and if you agree with me Alon is a great investment at these levels.
Atwood Oceanics (NYSE:ATW)
Investor: FPA Capital (Bob Rodriquez)
Atwood Oceanics is a medium sized high specification offshore driller similar to Transocean (NYSE:RIG) or Seadrill (NYSE:SDRL), but smaller in market capitalization and fleet size. It has a great outlook for 2014 as they will deliver 2 new High Specification Ultra Deepwater Drillships in the calendar year that will transform their fleet and the company into a cash flow generator. Recent news about pricing pressures on Drillers contract values will have little effect on the company in 2014 as they have contracts in place for both new UDW drillships. You should take into account some pricing pressure for 2015 contracts, but at the current price the stock still looks cheap. Here is more on ATW.
FormFactor (NASDAQ:FORM)
Investor: Ariel Investments (John Rogers)
FormFactor is a semiconductor manufacturer that specializes on manufacturing Probe Cards used in the testing of semiconductors. Wafer probe cards are used in the front end portion of the semiconductor manufacturing process to perform sorts and tests on integrated circuits (NYSE:ICS). The company has been net income negative in the last four years, but it seems they may soon be able to become net income positive. Gross margin and Profit margin are trending up over the last two years, driven in part by the revenue expansion the company has seen (+29.9% y-o-y). 2013 revenue growth was in part due to an acquisition of anther Semiconductor Probe Card company in October of 2012, MicroProbe. MicroProbe operates in the SoC wafer probe cards design and manufacturer, which is an adjacent market to FormFactors base Probe Cards business. This acquisition has allowed a combined company to focus on margins and diversify its business.
From a valuation standpoint FormFactor trades at a Forward P/E of 12.47, which implies a profit margin of around 9-11% assuming growth will remain around 25-30% for 2014. If the company can become profitable in 2014, it could tremendous margin expansion as its growth will likely remain high.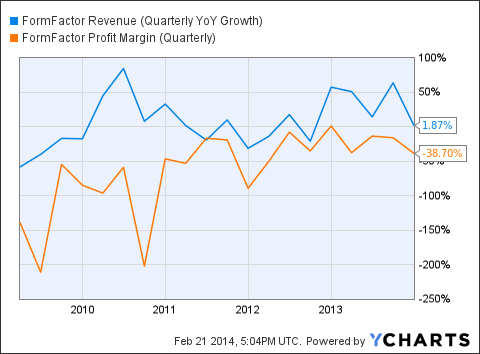 FORM Revenue (Quarterly YoY Growth) data by YCharts
Cameron International (NYSE:CAM)
Investor: Omega Advisors (Leon Cooperman)
Cameron is speciality value, piping, and instruments maker that services the Oil and Gas industry. Cameron was apart of BP Macondo Oil spill, as it was originally thought that their Blowout Preventer failed of which Cameron was the manufacturer. It was later determined in US court that Cameron was not liable for the explosion. Cameron has been able to grow their Revenue at a healthy 11% per year over the last 5 years, even in the mist of the company's reputation in question over the gulf oil spill.
Cameron is interesting from a value perspective as its business seem to be turning around from a margin standpoint, while revenues continue to steadily grow. From a Forward P/E standpoint there are much cheaper companies that operate in the Oil & Gas Services segment of the market, but Cameron is different in that they do have some moat compared to National Oilwell Varco (NYSE:NOV) or Halliburton (NYSE:HAL). Cameron has some differentiation from other Oil & Gas Services companies through their product listings (some have very few competitors) and the fact they derive a majority of revenues from real capital goods compared to services. Cameron is worth a look for any Value investor.
| | | | | | | | | | |
| --- | --- | --- | --- | --- | --- | --- | --- | --- | --- |
| Ticker | Market Cap | P/E | Forward P/E | PEG | P/Cash | P/Free Cash Flow | EPS growth past 5 years | EPS growth next 5 years | Sales growth past 5 years |
| ALDW | 905.03 | 5.66 | 7.62 | | 14.96 | 3.05 | 0.00% | | 7.50% |
| ATW | 3000.44 | 8.51 | 6.06 | 0.39 | 22.68 | | 9.80% | 22.10% | 15.10% |
| CAM | 14360.55 | 21.5 | 13.05 | 1.2 | 7.75 | 45.19 | 2.50% | 17.96% | 11.00% |
| FORM | 364.24 | | 12.47 | | 2.41 | | 8.50% | 12.00% | 1.90% |
| SUNE | 3878.05 | | 32.67 | | 6.06 | | -16.90% | 15.00% | 5.70% |
Disclosure: I am long ATW, SUNE. I wrote this article myself, and it expresses my own opinions. I am not receiving compensation for it (other than from Seeking Alpha). I have no business relationship with any company whose stock is mentioned in this article.