Executive summary:
Some companies are dividend champions, some are returning to that distinction.
Investing in the future dividend champions is a "ground floor" opportunity.
A dividend growth investor will have a more secure financial future.
_________________________________
Everyone who has read any of my articles in the past should know by now where I stand as far as creating a portfolio of dividend income producing stocks. While not all of the stocks I personally own are actual dividend champions, they all pay me to own shares.
What I do keep my eye out for are the stocks that seem to be headed for that long term status of dividend champs. It is difficult to know what the future holds, but sometimes the stocks and the companies are just right there staring us in the face.
I believe several of the future dividend champions will be Apple (NASDAQ:AAPL), General Motors (NYSE:GM) and Ford (NYSE:F). I will be adding these 3 stocks to our newest portfolio, BTDP.
Expanding Our New Portfolio With 3 Must Own Stocks
We recently launched our newest portfolio, "Buy The Dip Portfolio", or BTDP for short. The BTDP consists of just these stocks for now: AT&T (NYSE:T), Exxon Mobil (NYSE:XOM), Johnson & Johnson (NYSE:JNJ), Coca-Cola (NYSE:KO), Procter & Gamble (NYSE:PG), General Electric (NYSE:GE), McDonald's (NYSE:MCD), and Chevron (NYSE:CVX).
The tie that binds each of these stocks are the dividends shareholders get paid by simply owning shares. For an investor who is seeking income to live on during retirement, or to have a more secure financial future, if a company does not have a dividend, then I will pass, thank you very much.
I also will not own many of those amazing high yielders that have the potential to lose total value while paying me something back. That is a long term losing game. I will, however, take advantage of some high yielders for a period of time when the stock is undervalued and has a sound record of paying something.
As far as I am concerned, adding AAPL, GM, and F, are just about ground floor opportunities in the world of dividend champions, and should be added to any dividend income seeking portfolio. The sooner the better.
Why Will These Stocks Become Dividend Champions?
I do not have a crystal ball or inside information, but I do have a nose that can sniff out the potential future dividend champs. The 3 I have listed are actually not that tough to figure. Let's take a look at what I see in them, one at a time.
Apple
The second largest company on the planet with an enterprise value of $461 billion.
Operating margins over 28% in a highly competitive business.
Institutional ownership of 62%.
Current dividend yield of 2.25%.
A payout ratio of 29%.
Everyone knows about Apple of course but what might not be realized as of now is that the company has turned the corner of being a great growth company, to becoming a wonderful value company. Returning shareholder value with enormous stock buybacks and increasing dividends over the last few years, gives me the clear indication that Apple will be a great source of income for decades to come.
Even if Apple returns to huge growth, we could have the best of both worlds; growth and income.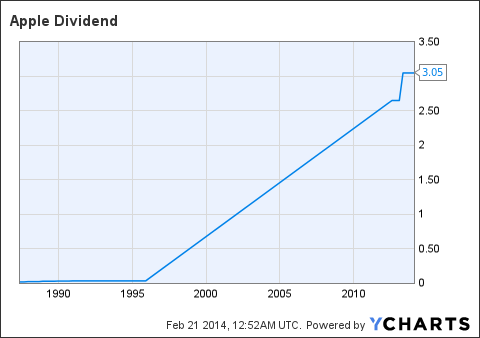 This is quite a trajectory for dividends, which really kicked in around 2010. Don't let the yield fool you. Just because the yield is 2.25%, keep in mind that the company has increased dividends by 7-8% and reinstated its dividend just about 18 months ago. I envision much more to come.
I want this stock in my dividend portfolio.
General Motors
A huge $65 billion company.
Revenues of $155 billion.
A current dividend yield of 3.30%.
This company, by default, has been deemed too big to fail.
Yes, taxpayers had to bail this company out and the government owned more shares than anyone. It saved the company, and basically the industry. Now, GM is paying shareholders once again, to own shares of the stock. With a very attractive yield of 3.30%, just now starting its journey to dividend champion status, I want to be on the ground floor of this one.
Some might say that the business is too cyclical, some would say it is just out of the mess it was in. While that may be true, I feel that since GM was a solid dividend payer prior to 2008 (actually prior to 2006), it will once again achieve that status.
Not only that, but it is just now beginning its comeback. At $36.50/share, it is NOT in the middle of the 52 week low ($26), and 52 week high ($42). However, I think it is cheap with a forward PE of just 7.48 and a price to sales ratio of just .37.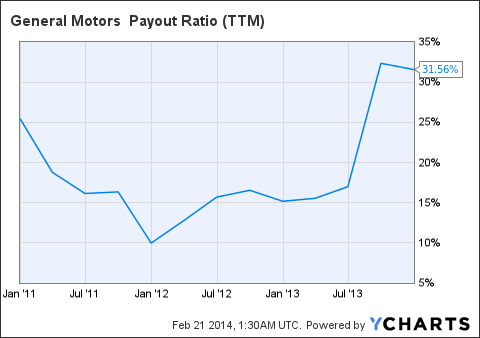 With the new dividend, the payout ratio is just 31.56%, plenty of room for growth from here.
Ford
An enterprise value of $145 billion.
The company did NOT take taxpayer money.
Forward PE of just 7.95.
A current dividend yield of 3.20%.
A payout ratio of just 25%.
Some have called the comeback of Ford an amazing success story and in many ways it was. Of course it was a good thing the government bailed out GM because that could have spelled the end of Ford just by default. The company has survived and has had a remarkable turnaround. Paying shareholders once again, was a no brainer for Ford.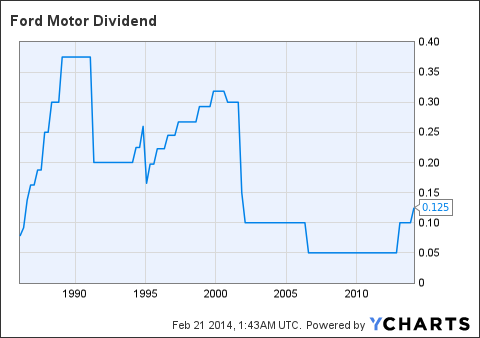 As you can see, the dividend were increased basically every year during the automotive heydays. Back in the late 1970s early 1980s, right into 1992, F was a dividend champion, and then as you can see, hit the stumbling blocks several times. I am of the opinion that the trajectory of those dividends will once again be in the rarefied air of dividend champions.
By the way, it is currently selling at just about halfway between its 52 week high ($18.02) and its 52 week low ($12.10). At $15.27/share, it is a bargain as far as I am concerned.
The Bottom Line
Dividend income investors want a core portfolio that they can rely on for regular income. Keeping an eye open for dividend growth companies of the future, not just of the present, will make for a more secure financial future.
As of the next trading day, I will add these 3 stocks to the BTDP.
Keep the cash flowing in!
Disclaimer: The opinions of this author are not recommendations to either buy or sell any security. Please remember to do your own research prior to making any investment decisions.
Disclosure: I am long AAPL, CVX, F, GE, GM, JNJ, KO, MCD, T, XOM. I wrote this article myself, and it expresses my own opinions. I am not receiving compensation for it (other than from Seeking Alpha). I have no business relationship with any company whose stock is mentioned in this article.