David Geller would be proud of me this week, if he was still with us he'd take me out for a beer right about now, and pat himself on the back for teaching me well. For those of you who don't know, I cut my chops at a hedge fund in White Plains, NY called Geller Capital. I had the opportunity of riding shotgun to David, an excellent market operator who taught me most of what I know. David's passing was unfortunate and sudden, leaving me without a mentor, forcing me to strike out on my own and open my own firm.
David passed on an enormous amount of information to me in the time I worked by his side. I can still remember my first day at the fund when he asked me to put together a box, you know a cardboard box to ship something in. I fumbled around with it for what seemed like an eternity until he finally said stop, walked over and told me good job. I had no clue why he was giving me praise for failing to put a box together, I was completely confused, but he said to just move on and not to worry about it. Months later he told me that he had given me a box that was purposely designed so that you could not properly construct it. It was a test to see how I would react trying to solve a problem that wasn't solvable, if I would give up, get frustrated, or just keep on trying different ways.
David never played another head game with me again, not that I know of at least. About a month in to working for him he sat me down and literally read me the rules of trading / investing as he saw them. I don't remember the whole list in order, I remember most of what was on the list, but I do remember very well the first four.
Don't lose money
See rule number one.
The market is never wrong, if your P&L is moving against you, you're wrong.
Always know your risk.
Although it wasn't one of the short and sweet lessons on the list, one very important guideline of David's philosophy has always stuck with me, and I have repeated it here often. When you are a momentum / trend trader, your alpha will always be made on the downside by stepping out of the way when the market isn't healthy. This week, as I racked up an egregious amount of alpha on the downside, David would be proud.
By the close last Friday I was 80% cash, by Monday afternoon I was just about all cash, the market was flashing big bright warning signs saying that something was very wrong underneath the hood. Several days of heavy distribution by institutional investors closing the market on the lows, a head and shoulders pattern, major issues in Europe, market leaders falling off the wagon and losing their trends one by one, it was all out in the open for everyone to see. And then we broke support, broke the neckline, broke the 50 day moving average, and experienced 10 minutes or so where the market was completely illiquid with no bids in sight. I can't sit here and say I saw this coming, that I knew there would be this type of cascading sell off, no one can, but was it obvious we were going to pull back, for sure. By the end of this week we found the S&P 500 bouncing off the 200 day moving average which now represents the last line in the sand for me between the market having a chance to rebound, and the cyclical bull market being over (click to enlarge).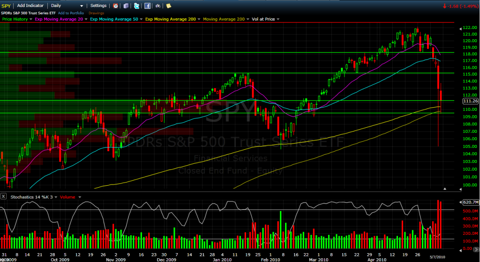 Friday's low becomes a hugely important level. I can't tell you what happens next, but I can tell you this, no matter how good the values out there look, it makes little sense to buy this market here. I will not step back into this market until the volatility diminishes and I see an number of good setups, not just for short term bounces, but intermediate term trends. The volume over the last two days says everything you need to know, and in the back of my mind is the notion that this was the end to the bull market of 09-10.
For the week the momentum book lost 135 basis points due to my very small position in gasoline. But the portfolio picked up 570 basis points of alpha, now ahead of the market by 4.2% for the 2nd quarter. The market lost a total of 6.35% this week.
I did attempt to make one purchase this week of Incyte (NASDAQ:INCY) which was quickly stopped out for a 4.7% loss which attributes along with my small position in gasoline UGA to the 135 basis point loss in the portfolio. I also sold Apache (NYSE:APA), Williams Partners (NYSE:WPZ), and True Religion (NASDAQ:TRLG).
Cash is king now, don't try to be a hero, I'll have more words on what took place this past week later.
Nothing that I say or show on this blog should ever be considered investment advice or a recommendation to buy or sell any security. The performance numbers that I post in the momentum book should never be regarded as representative of any specific client account managed by Surfview Capital, it is there solely for educational purposes and should be treated as such.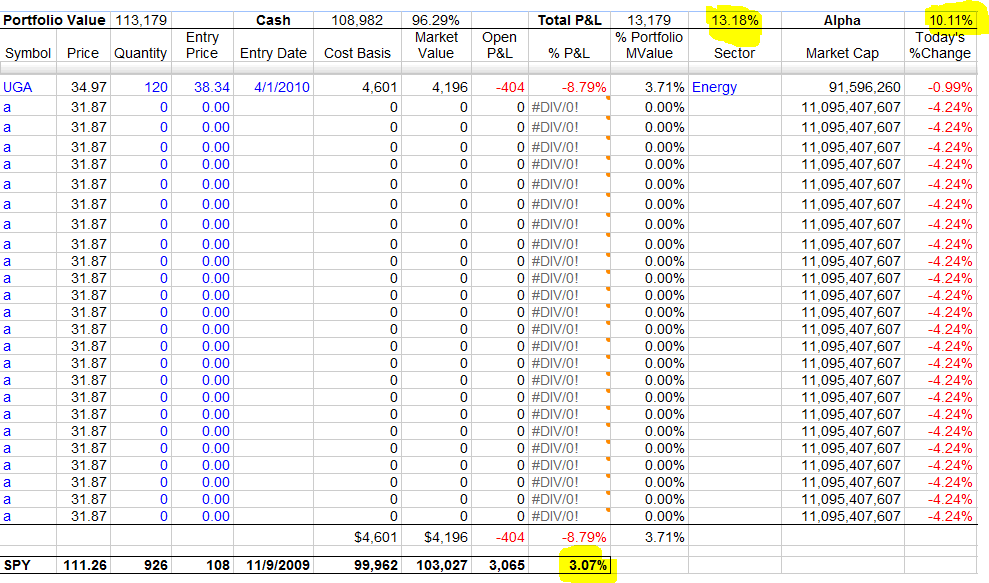 click on charts to enlarge