About five months ago, I wrote an article about EdR (formerly known as Education Realty Trust) in which I stated:
Bottom Line: While the P/FFO is lofty (mild understatement), the growth rate of FFO will bring the multiple back in line in a relative sense. Education Realty Trust sits at the head of the class in student housing and, in my opinion, has the right growth plan to stay there. With their financial stability and growth prospects in mind, I believe that Education Realty Trust is worthy of inclusion in an investor's portfolio.
I made this statement after comparing this REIT to its peers American Campus Communities (NYSE:ACC) and Campus Crest Communities (NYSE:CCG). How have returns been since then? Take a look:

Ouch. Not the report card I wanted to bring to the readers and investors. Let's revisit this REIT and see if anything is wrong with the investment thesis.
EdR (NYSE:EDR) is one of America's largest owners, developers and managers of collegiate housing. EdR is a self-administered and self-managed real estate investment trust that owns or manages 71 communities in 24 states with nearly 40,000 beds.
Overview
Edr's portfolio is mainly in the Eastern half of the United States, but it is well diversified geographically (company presentation).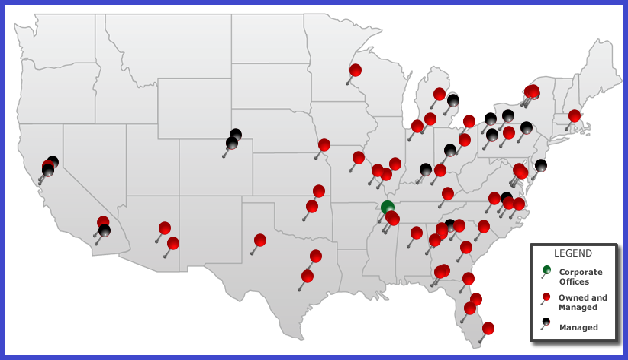 As they say in real estate, "It is location, location, location". The distance from campus is a strong selling point - the closer you are to campus, the larger the pool of potential renters and the more a landlord can charge. EdR has a strong "distance factor":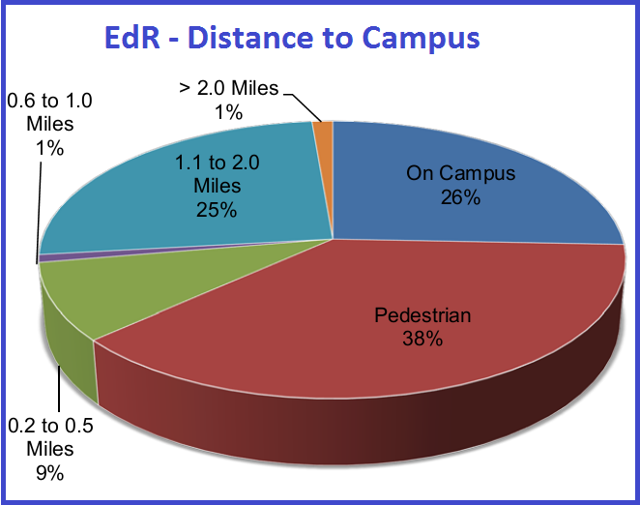 63% of EdRs communities are located within a half mile from campus, which compares with 72% for American Campus (Campus Crest doesn't disclose this metric). While EdR's "distance factor" is not as high as American Campus', the "distance factor" is strong.
Financial
The financial strength of a REIT is paramount. In order to thrive, succeed and survive, a REIT must have a solid financial foundation. EdR's financial foundation is strong and getting stronger.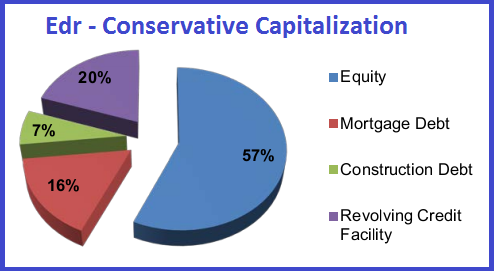 Other metrics to consider:
Debt/Gross Assets = 43% (conservative).
Net Debt to EBITDA = 6.3x (healthy).
Interest Coverage = 4.6x (well covered).
55% of assets are unencumbered (financial flexibility).
EdR has a strong financial foundation from which to grow and, importantly, reward stakeholders (yes, all investors in the company regardless of capital structure location).
Peer Comparison
As there are different REITs to choose from, a comparison to EdR's peers is in order. For this, student housing peers American Campus and Campus Crest were chosen as well as other "niche" players such as Equity Lifestyle Properties (NYSE:ELS), UMH Properties (NYSEMKT:UMH), Post Properties (NYSE:PPS) and UDR (NYSE:UDR).

The chart above essentially tells me the same thing it did five months ago: EdR has a lofty valuation in terms of current P/FFO (20x), but their forward FFO is approximately 15x, and more reasonable. The REIT is still marginally over-levered, but they have been making strides to further reduce their leverage and unencumber assets. Their payout ratio is decent and should drop as FFO grows, allowing the REIT to continue to grow their dividend.
The financial flexibility and growth of FFO has allowed EdR to go to the head of the class in dividend increases over the last few years: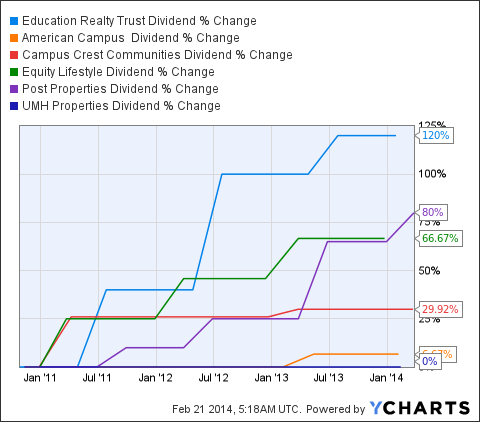 EDR Dividend data by YCharts
The fundamental thesis of strength and diversification has not changed since I first wrote about EdR and the REIT has continued to perform. This performance is evidenced by their recent earnings. Here is a quick summary of those earnings (culled from their earnings release):
Fourth Quarter Earnings:
Reported:
Q4 core FFO 20c-shr, est. 20c
Same community NOI was up 4.2% to $17.8m. Same-community revenue was up 4.9% from the prior year, with a 2.7% increase in rental rates and a 2.5% improvement in occupancy offset by a 0.3% decline from other income.
Core funds from operations increased 25% to $0.20 per share/unit for the fourth quarter and grew 17% to $0.55 per share/unit for the full year.
The Company's debt to gross assets was 42.8%, its net debt to EBITDA - adjusted was 6.3x, and its interest coverage ratio was 4.6x.
Forward Guidance:
Sees 2014 core FFO 62c-68c/shr - an increase of 18% (at the midpoint) over 2013. Estimates are currently 65c.
Sees an increase in 2014 same-community NOI of 4%-5% on a 3% to 5% growth in revenue and a 3% to 4% increase in operating expenses.
Same-community portfolio is projected to open the 2014-2015 lease term with an increase in revenue ranging from 3% to 4%, comprised of a 1% to 2% increase in occupancy and an approximate 2% increase in net rate.
I like the forward guidance and the preleasing strength the REIT is showing. The student housing market remains attractive and should help keep NOI growth in the 4-5% trajectory, fuelling double digit FFO growth.
Bottom Line: I like Edr and believe it should be considered for an income focused portfolio due to the growth rate it has been realizing, the diversification benefits it provides and the healthy dividend. While the REIT is close to fairly valued currently, there is upside as the REIT has the room to increase its dividend and drive growth through capital recycling and their development pipeline. While EdR has underperformed peers since I first wrote about it, I believe it will show itself to be a best in class REIT.
Disclosure: I have no positions in any stocks mentioned, and no plans to initiate any positions within the next 72 hours. I wrote this article myself, and it expresses my own opinions. I am not receiving compensation for it (other than from Seeking Alpha). I have no business relationship with any company whose stock is mentioned in this article.
Additional disclosure: This article is for informational purposes only, it is not a recommendation to buy or sell any security and is strictly the opinion of Rubicon Associates LLC. Every investor is strongly encouraged to do their own research prior to investing.