We saw further encouraging signs in the quarter that our efforts to turn the company around are taking hold. There was revenue growth in our personal systems and enterprise group segments and at the total company level, on a constant currency basis, we achieved revenue growth for the first time since the second quarter of 2011. As I said in past, turnarounds are not linear and we have a lot of work ahead of us. While I would certainly not declare victory based on these results, they represent real progress.

- Meg Whitman, CEO, HP
(you can view HP's entire conference call here)
Meg Whitman was named the CEO of sinking ship Hewlett-Packard (NYSE:HPQ) in September 2011. Since then, she's definitely had her work cut out for her. I feel as if the market hasn't given her the benefit of the doubt as a CEO once in the last three years, but she seems to be continuing to steadfastly move HP forward as a company.
HP has traded really well over the last 12 months - the market clearly thinks that HP's turnaround is the real deal at this point. The company is up 79% in the last year alone, 22.3% in the last three months, and has bucked an uncertain start to 2014 by trading up 9.3% this year alone.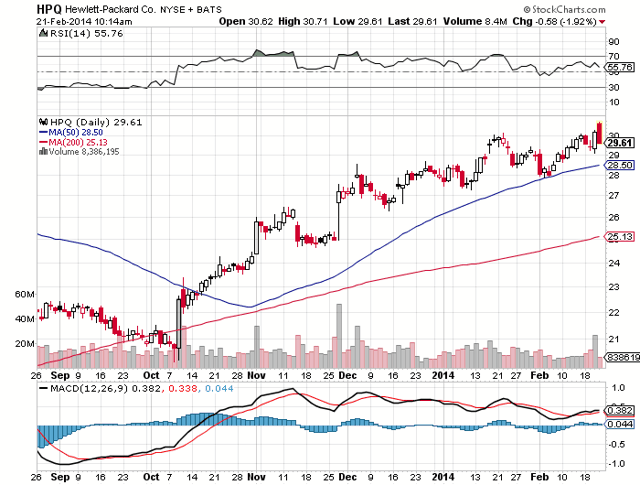 Click to enlarge
The stock is up nearly 10% since I recommended it as a buy based on the job that Meg Whitman was doing bludgeoning her way through the doubters and into the new year.
HP reported earnings on Thursday of this week. HP, in the midst of a massive corporate overhaul, reported earnings of $0.90/share ex-items vs. expectations of $0.84/share with $28.2 billion in sales compared to the $27.19 estimates from Thomson Reuters. The company also increased its 2014 guidance to $3.60-$3.75/share.
One of the nice surprises for those invested not only in HP, but anywhere in the PC business, is that falling PC sales didn't have much of an effect on sales. HP avoided reporting ten quarters of year-over-year declines in revenue. HP saw its PC group revenues rise 4% YOY, while printing was down 2%, and enterprise is up 1%.
Whitman cited the XP refresh during the conference call, and claiming that people are starting to understand that "in this world of big data and analytics" that they are going to need PC computing power as well as tablets/mobile. Whitman commented on CNBC this morning that it's about finding a synergy between innovation and growth with some of the old profit centers that the company is known for (i.e. printing).
There wasn't much color offered about 3D printing, which is another opportunity that analysts have speculated about for HP over the last year.
On the call, Whitman said that it's going to take one or two more years to continue HP's turnaround. She claimed that "two years of turnaround work is setting us up for an exciting future."
I never wound up buying HPQ after writing my previous article, although it was certainly a name that I considered, with its low P/E ratio and turnaround potential. I did, however, buy Intel (NASDAQ:INTC) to start 2014 - so, naturally, I like what Meg Whitman had to say with regards to the PC market. Her comments no doubt perked up the ears of those in the PC market.
HP's computers feature Intel processors from laptops to PC to its servers.
Anyone that's following Intel right now knows that they're mired by two specific issues: catching up in mobile and tablet, and the PC market turning around.
If Whitman's foreshadowing in her comments regarding PCs isn't enough, we have supplemental evidence like the GPU market bouncing and emerging markets like India also turning around. If this is a true nod to a market turnaround, Intel stands to benefit.
So, Intel investors should feel good about the potential that the PC market could have finally bottomed - something that I had been poking around saying for the last couple of months. We were getting some signs, like overseas PC growth beginning again, but this is the first real news of substance that the market could be taking a real step in the right direction.
Whitman is no doubt doing a great job steadying the HP ship, and with the PC market starting to rebound, it is my opinion that it's a good time to be long both HPQ and INTC.
Best of luck to all investors.
Disclosure: I am long INTC. I wrote this article myself, and it expresses my own opinions. I am not receiving compensation for it (other than from Seeking Alpha). I have no business relationship with any company whose stock is mentioned in this article.