Tesla (NASDAQ:TSLA) put up some pretty impressive results for 2013 and set the stage for another great year in 2014 with forecast unit sales to rise 55% for the year and an exit production rate equal to 1,000 vehicles a week.
The breakthrough in sales volume suggest Tesla will be quite profitable in 2014. Using an average vehicle selling price ("ASP") of $90,000 and a 25% margin rate, I estimate Tesla could earn about $70 million in 2014 after bumping R&D and SG&A expenses from $518 million in 2013 to an even $700 million in 2014.
PROJECTED 2014 RESULTS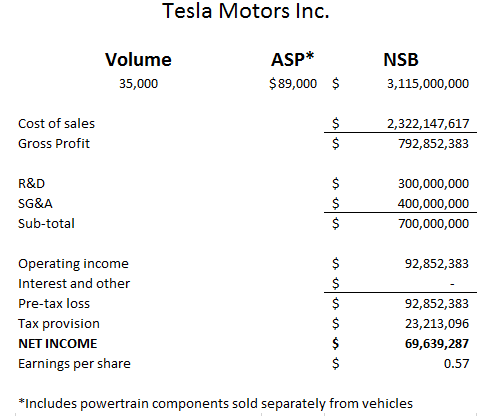 Source: Michael Blair analysis
The real action is likely to be in 2015 when Tesla will start the year with an expected production rate of 1,000 vehicles a week. By that time the Model X will be in the market and I expect it will make up 12,000 of the 52,000 vehicles I am modeling for 2015 sales.
The Model X is a beautiful design and likely to be popular for families with its utility and ease of entry.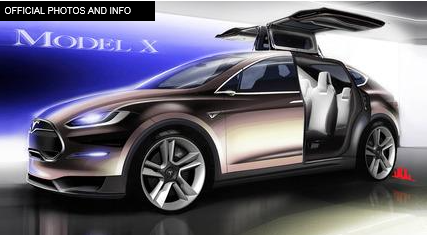 Photo: Car and Driver
Tesla has not yet set a price but some expect the base version to sell for $49,900 with higher prices for an extended range version or a higher performance package. I think most buyers will want the extended range and the ASP to run quite a bit above $50,000.
If I am anywhere close, 2015 should see Tesla reach well over $4 billion in annual sales and profits to surpass $200 million.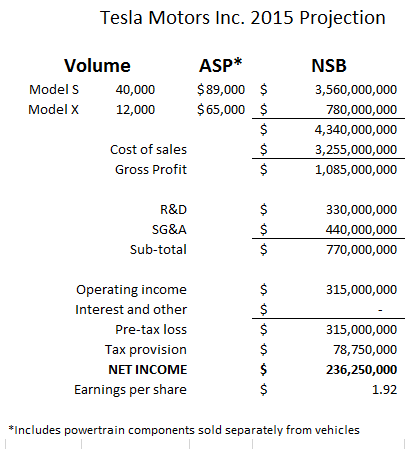 At a recent price of $210 a share Tesla looks very expensive. Analysts' estimates reported on Yahoo.com Finance are a bit rich in my judgment, perhaps underestimating the increases in costs that accompany fast growth in a somewhat capital intensive business. Or, perhaps they just see it more clearly than I do.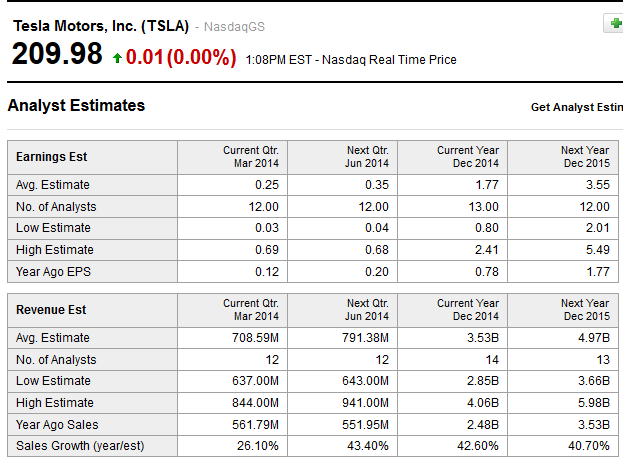 Risks are many and not limited to battery technology (both in terms of supply and fire safety) and competition, but my opinion is that Tesla will continue to grow. Having acknowledged the risks, Tesla is on a track to become a very large company pioneering the growth of electric cars worldwide. A single automobile assembly plant running on 3 shifts can quite readily get to somewhere around 300,000 vehicles a year (65 jobs per hour, 21 productive hours a day and 230 production days year) and at that rate Tesla would be a $25 to $30 billion company with net income on the order of $2 billion.
The world market is big enough that a technology leader like Tesla can reasonably hope to reach 1 million vehicles a year within a decade. A bet on Tesla is a bet that they will come somewhere close to that size in about that time frame. If so, the current stock price is more or less justified.
I have traded in and out of Tesla but have no current holding. I would be a buyer at $150 and will add in any market sell off. The long term prospects are robust and the very high expectations for short term profits suggest that I will have my opportunity to buy in on any quarter that falls short.
Disclosure: I have no positions in any stocks mentioned, but may initiate a long position in TSLA over the next 72 hours. I wrote this article myself, and it expresses my own opinions. I am not receiving compensation for it (other than from Seeking Alpha). I have no business relationship with any company whose stock is mentioned in this article.