Apollo Investment (NASDAQ:AINV) is currently part of my suggested 'underdog' portfolio and recently reported favorable results beating EPS estimates for a third quarter in a row along with large net asset value ("NAV") growth, driving its price to new 52-week highs. AINV has resided in the bottom half of my rankings since I began coverage but recently was upgraded from a 'Sell' due to its continued progression to realign its portfolio to maximize its risk vs. return to shareholders. I have recently upgraded its risk profile (to less risky), pricing and rankings in my "AINV: February 2014 Report" and for the reasons discussed in this article.
Recent NAV Per Share Growth
The following table shows NAV per share growth over the last six months with updated results for the 10 BDCs that have reported this quarter. The average growth is around 1% which is expected for companies that are required to pay out earnings and gains to shareholders. I have also highlighted the BDCs with regular dividends over 9% and most of them have lower NAV growth (also expected) with the exception of AINV and PennantPark Investment (NASDAQ:PNNT).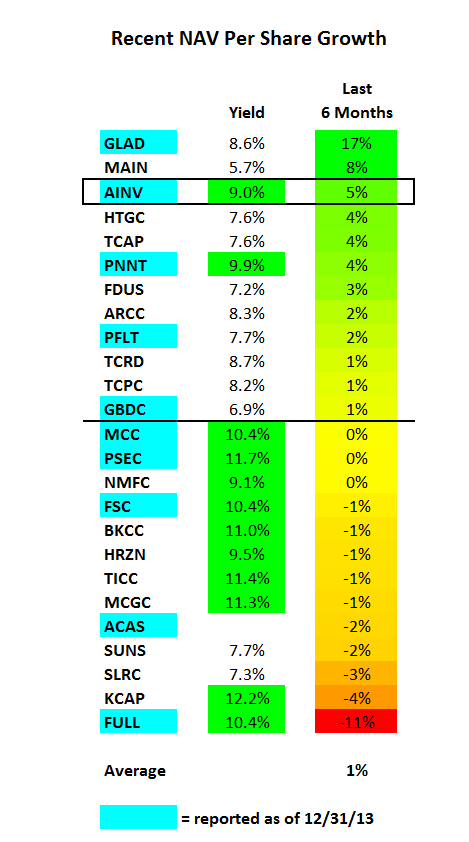 Total Return
The following table shows BDCs grouped by higher or lower NAV per share growth over the last six months as well as averages for dividend yield, pricing multiples of NAV and stock price appreciation since August 2013.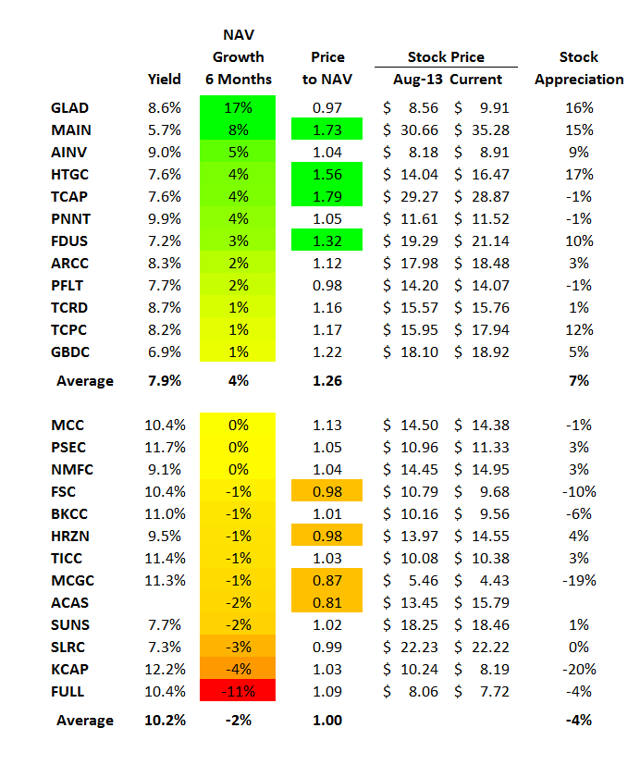 Of course there are a few outliers such as American Capital (NASDAQ:ACAS) that uses its earnings to buy back shares instead of dividends (increasing the stock price) so I have not included it in the dividend or price appreciation averages. The first thing to notice is the difference in yields from 8% to 10%. Many BDC investors are focused on higher yields such as Prospect Capital (NASDAQ:PSEC) and Fifth Street Finance (NYSE:FSC). The next thing to be aware of is the prices investors pay for higher growth BDCs that seems to be 26% higher for this analysis. Then of course is stock performance that many people consider to be the correct measure of total return (along with dividends).
Over the last six to seven months an investor would make 4% dividends plus 7% price appreciation on the higher growth BDCs vs. 5% less 4% for stock declines on the lower growth BDCs. Even if you adjust for some of the larger losing BDCs such as MCG Capital (NASDAQ:MCGC) and KCAP Financial (NASDAQ:KCAP) the average loss is still 1% implying that an investor would only net 4% over the last six months compared to 11% for higher growth BDCs. However PSEC paid 6% in dividends plus 3% in appreciation giving investors decent returns. This also does not take into account special dividends paid out by Ares Capital (NASDAQ:ARCC), TCP Capital (NASDAQ:TCPC), THL Credit (NASDAQ:TCRD), New Mountain Finance (NYSE:NMFC), Fidus Investment (NASDAQ:FDUS) that paid out $0.42 or an extra 2% and Main Street Capital (NYSE:MAIN) paid out $0.45, all of which except for NMFC are also in the higher growth group.
The other thing to point out is that many of the BDCs with recent higher NAV growth have also historically had higher growth but AINV and Gladstone Capital (NASDAQ:GLAD) are relatively new to this group and I have started to reconsider their rankings and potential for return.
Another important consideration for AINV is its recent focus on investing in secured debt that management believes offers the most attractive risk-adjusted returns. Accordingly, 63% of investments made during the recent quarter were secured debt. At the end of December, secured debt accounted for 51% of the portfolio, up from 32% when it started to reposition the portfolio in early 2012. I believe this is the right move and have adjusted my risk rankings to reflect these continued changes.
For more information on AINV regarding potential risk and returns, revised rankings and pricing, dividend sustainability, interest rate sensitivity analysis, potential for equity offerings, projected earnings and total return please see my "AINV: February 2014 Report". Investors should only use this information as a starting point for due diligence. See the following for more information:
Disclosure: I am long FSC, MAIN, TCPC, ARCC, FDUS, TCRD, PSEC, NMFC. I wrote this article myself, and it expresses my own opinions. I am not receiving compensation for it (other than from Seeking Alpha). I have no business relationship with any company whose stock is mentioned in this article.