Like many of the stocks in our articles, this week's focus stock has an attractive dividend yield and option yields. However, even though this stock is a major player in the Asset Management industry, it isn't heavily covered by SA authors. Why? Probably because sorting out its complex business and its earnings is a bit like herding cats.
Profile: The Blackstone Group, LP, (NYSE:BX) is the world's largest independent alternative asset manager, serving the investment needs of leading public pension funds, academic and charitable institutions and other investors for more than 25 years. Its funds include private equity funds, real estate funds, customized hedge fund solution funds, credit-oriented funds and publicly traded closed-end mutual funds. BX also provides investment advice and management services to institutional investors through a variety of separately managed accounts. (Source: BX website)
BX has five major segments in its business, which have further divisions within themselves. Its Real Estate business had big earnings in 2013, when it did IPOs of its holdings Hilton Worldwide, Extended Stay America and Brixmor Property Group. Here's a basic breakdown of revenue and Economic Income by segment for 2013: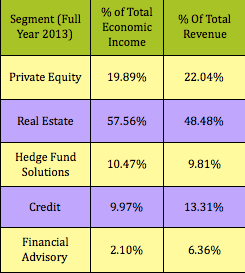 Earnings: Blackstone use a different metric - Economic Net Income "ENI" - to represent its earnings, instead of the traditional earnings/share. BX defines Economic Income as: "GAAP income before provision for taxes plus IPO and acquisition-related charges, minus impact of consolidated funds."
Indeed, the earnings numbers for BX that are listed on many of the financial websites use BX's ENI/share number instead of EPS. However, we tracked BX's actual EPS over the past four quarters, and it also had very strong growth, as did revenue and distributable earnings:

We then plugged in BX's ENI figures, which is what analysts are using for their estimates to determine BX's PEG value. Analysts' average estimate for 2014 is for ENI/share of $3.07, (flat vs. 2013), but the average estimate for 2015 is $3.55, 15.64% growth. It appears that BX is undervalued on a 2015 PEG basis.
Indeed, a recent Barron's article quoted Charlie DyReyes, analyst for Brandywine Global Investment Management, as being bullish on alternative asset management firms, and on BX in particular. "They're trading around 15 times forward earnings, while Blackstone and their peers are around 10 times or less, even though alternative managers have stronger growth potential."
"DyReyes, who calls Blackstone one of his firm's favorite holdings, says Brandywine has been adding to its position in anticipation of the stock closing some of that gap. "If Blackstone traded at 15 times, it would be $45. I think there's 50% upside to the stock over the next 12-18 months." (Source: Barrons 2/19/14)

One of the big reasons that analysts are still bullish on Blackstone is the untapped potential, the massive amount of capital BX has, that is not yet earning performance, and management fees. In short, BX has a lot of "dry powder" available to employ that will drive future earnings: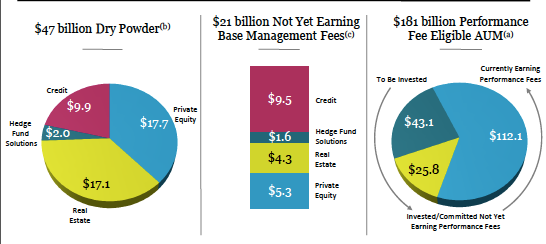 (Source: BX website)
This chart from NASDAQ also supports the undervalued thesis for BX, vs. industry averages: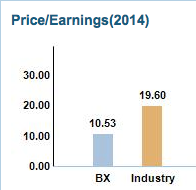 Dividends: We've listed BX in the Financials section of our High Dividend Stocks By Sector Tables. The table below uses BX's trailing 12-month dividend payout to compute its current dividend yield - instead of its most recent $.58 Q1 2014 payout. Why? Because BX usually makes its biggest quarterly dividend payment in the first quarter.

However, given BX's growth in Distributable Earnings and Distributions, it seems reasonable that you'll see continued dividend growth in the future.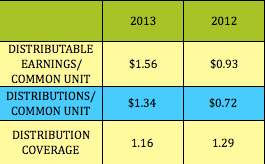 Blackstone offered this chart in its recent Q4 2013 earnings release as further illustration of its strong growth over the past few years: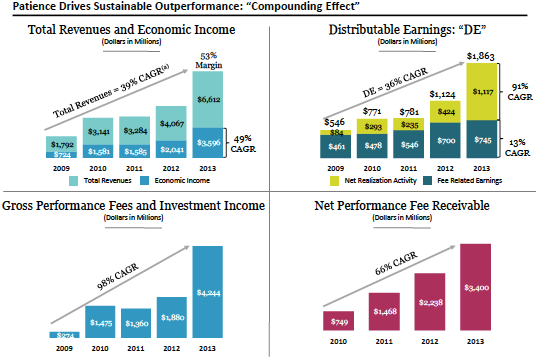 Options: If you're more interested in shorter term immediate income, this trade, from our Covered Calls Table, expires in September 2014, and offers a $2.16 call premium, and is far enough out of the money that you'd still get $1.05 in price gains, even if your BX shares were called/sold prior to the 2 ex-dividend dates:

Click to enlarge
Covered Call Income Scenarios:

Selling Puts: Since BX has had a big run over the past year, you may want to consider selling cash secured puts below its price/share, which offers a bit more protection in case of a market pullback. This September 2014 trade, from our Cash Secured Puts Table, offers you a $2.61 put premium on a $31.00 strike price, which would give you a breakeven that's about 11% below BX's price/share.

Click to enlarge
Performance:

Disclosure: Author was short BX puts at the time of this writing.
Disclaimer: This article was written for informational purposes only.
Disclosure: I am long BX. I wrote this article myself, and it expresses my own opinions. I am not receiving compensation for it (other than from Seeking Alpha). I have no business relationship with any company whose stock is mentioned in this article.
Additional disclosure: I'm short BX put options