February 24th will conclude the 25-day SEC-enforced underwriter research quiet period, following the January 28 IPO of North Atlantic Drilling Ltd (NYSE:NADL), which will allow the firm's IPO underwriters to publish research reports on the offshore drilling rig operator. The resulting surge of positive information on the firm will likely cause at least a brief increase in the price of NADL shares.
After pricing at the midpoint of its expected range at $9.25 per share, NADL suffered a small first day loss and has yet to regain its IPO price. The stock has bounced between $8.39 and $9.10 per share since its IPO, closing at $8.86 per share on February 20. See chart below.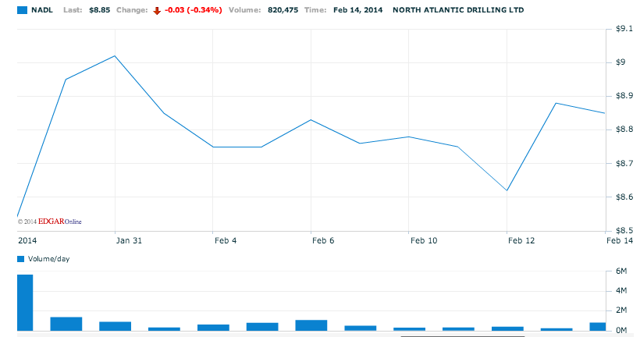 Click to enlarge
Source: Nasdaq.com
The IPO underwriters, including Morgan Stanley, Barclays, Goldman Sachs, RS Platou Markets, DnB Markets, and Scotiabank/Howard Weil, will seek to breathe life into the stock with the distribution of positive research information on Monday.
Both the results of our past two years' research and the results of recent academic studies have empirically evidenced the correlation between the number and visibility of IPO underwriters and an increase in the price of shares at the conclusion of the quiet period.
This price increase typically begins several days in advance of the quiet period expiration, as experienced investors purchase shares in order to capitalize on the upcoming underwriter releases. These investors understand that the information released will be exclusively positive, since the underwriters have no incentive to negatively comment on recently-underwritten firms. These early buys create a perception of increasing demand, leading to rising prices before the quiet period has officially expired.
Business Summary
NADL is an offshore drilling subsidiary of Seadrill Limited (NYSE:SDRL), which owns about 70% of NADL. The firm operates its fleet of nine harsh environment offshore rigs in the North Atlantic Region; the fleet consists of four semi-submersibles, one ultra-deepwater drillship, two jack-up rigs, contracts for the construction of another semi-submersible, and another jack-up rig. NADL's rigs were under contracts for an average remaining term of 2.5 years as of September 30, 2013, with oil firms including Shell, ExxonMobil (NYSE:XOM), and ConocoPhillips (NYSE:COP). The firm hopes to use its relationship with Seadrill to assist in securing contracts for its existing rigs and finding opportunities to expand its fleet.
Management
CEO Alf Ragnar Løvdal has served in his current position since January 2013. Mr. Løvdal previously served as Senior Vice President for Seadrill in the Asia Pacific region and as the Chief Executive Manager of Archer. Mr. Løvdal has nearly 30 years of total experience in the oil and gas industry; prior to his employment with Seadrill, Mr. Løvdal held various positions in different oil service companies, including five years of offshore field experience with Schlumberger. He holds a degree in mechanical engineering from Horten Engineering Academy in Norway.
Conclusion
Given the market's lukewarm response to NADL thus far, we view the upcoming quiet period expiration as a short opportunity for aggressive investors.
Disclosure: I am long NADL. I wrote this article myself, and it expresses my own opinions. I am not receiving compensation for it (other than from Seeking Alpha). I have no business relationship with any company whose stock is mentioned in this article.