Through fad diets and recessions, Weight Watchers International (NYSE:WTW) has grown despite a business model that required customers to attend meetings and talk about their least-favorite topic: their weight.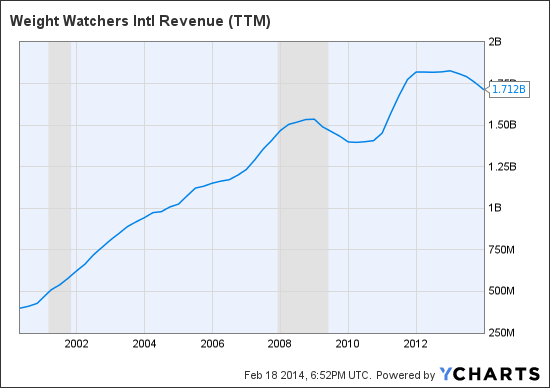 WTW Revenue (TTM) data by YCharts
It's an impressive record, and one that reflects the company's ability to make substantial adjustments over time to remain relevant to consumers. Perhaps it made management overconfident, as some huge stock buybacks and levering up of the balance sheet in recent years now leave Weight Watchers more vulnerable than it might have been, at a time when its business is under assault from mobile diet apps and wearable activity devices.
WTW Total Long Term Debt (Quarterly) data by YCharts
Above we see a balance sheet of a company apparently under the belief that its goodwill with consumers is more important that a bulletproof financial statement. (Speaking of goodwill, the kind accountants are interested in: it and other intangible assets stand at nearly $1 billion. It's early yet, but in a deteriorating business, some of those assets could end up being challenged over time.) The dividend at Weight Watchers, formerly 17.5 cents a share on a quarterly basis, was suspended altogether in October. And now, in hindsight, those aggressive stock buybacks must be the source of regret.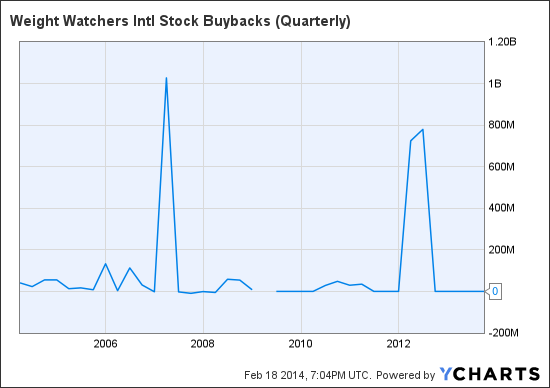 WTW Stock Buybacks (Quarterly) data by YCharts
Relative to the size of the company, the buybacks were enormous and resulted in a dramatic reduction in shares outstanding. A great strategy, perhaps, if you've got a stable long-term earnings base.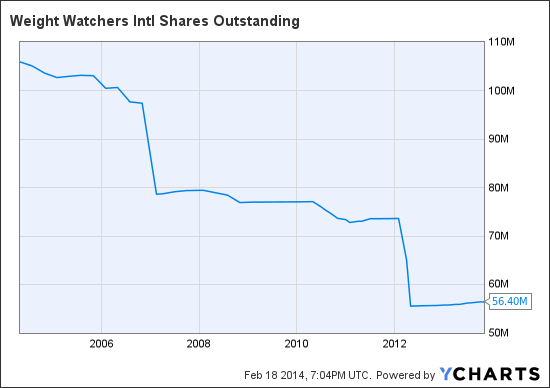 WTW Shares Outstanding data by YCharts
Now, Weight Watchers is offering guidance of 2014 EPS of $1.30 to $1.60 a share. That's against 2013 EPS of $3.63 and 2012 of $4.23. The wide range of management's 2014 forecast, along with the steep decline it represents and the unfolding transformation of the competition landscape, suggest it's at best a smart guess. Further adjustments as the year goes on wouldn't be surprising.
Fourth-quarter revenues were down 11%. Looking at some peculiar Weight Watchers metrics: total paid weeks (one attends a meeting weekly; or these days, logs on and registers weight and such online weekly) fell 8.5%. That figure splits the difference between a 10.9% decline in paid meetings and a 6.5% decline in online attendance. If even the online Weight Watchers is slipping, that's worrisome. Cash on hand is at a tad below $200 million.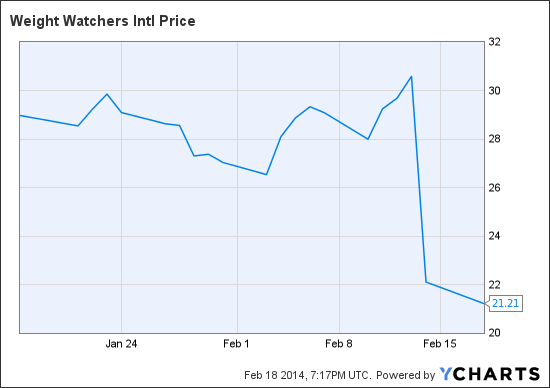 WTW data by YCharts
For moments in 2011 and 2012, Weight Watchers traded above $80 a share. Even after the recent plunge, brought on by the 2014 earnings projection, it has become a hard stock to value. It's one of the gloomier earnings season stories; but some will see a cheap stock in all this.
Jeff Bailey, The Editor of YCharts, is a former reporter, editor and columnist at the Wall Street Journal and New York Times.

Disclosure: None