Since my last article on Advanced Micro Devices (NYSE:AMD), we have had a couple of bits of news, some leaks and a major product launch by its direct competitor in computing graphics, NVidia (NASDAQ:NVDA). I wanted to go over each of them to give investors the heads-up on what it all means for the stock price in the short-to-medium term.
Shuffling Debt Chairs…?
First up is the news that AMD announced a private offering of $600 million of senior notes set to mature in July of 2019. Per the press release from the company, the proceeds will go to retiring of up to $425 million in 6.0% senior notes set to expire in 2015. The rest is earmarked to retiring up to $200 million in higher interest debt (8.125%) maturing in 2017. None of this capital will be used for operations. This is purely an offering designed to restructure the company's current debt, by replacing a mix of 6.00% and 8.125% debt with 6.75% maturing farther out in time.
A quick, back-of-the-envelope calculation of this new scheme will save the firm approximately $1.25 million a year in free cash flow, while not impacting its current liquidity position.
One of the specters hanging over AMD's stock price is the worry over liquidity. 2013 was the year in which the company brought its finances back in line with its business, and the cash flow situation is now both stable and growing. Even so, there are a number of analysts and investors worried about the company's ability to service the debt maturing next year in the face of declining PC sales and falling notebook market share.
This offering seeks to alleviate that worry. So does AMD's shuffling of $50 million of the 2015 debt to its $500 million credit line in Q4. Revenues and margins are increasing from its console wins and providing rising free cash flow at this point. The long-term product cycles associated with these wins create the backdrop to be able to service this debt over the life of the contracts. Given Sony's (NYSE:SNE) announcement of 5.3 million PS/4 sales so far, it would seem AMD will have little problem rolling this 2015 debt forward.
The company is entering a critical phase of its turnaround plan, and will need a strong cash position in 2015 to properly execute its major product launches in all three main areas of its business: APUs, discrete GPUs and server chips.
28nm Carrizo?
The big leak for this week is that AMD's next big-core platform, codenamed Carrizo, due to ship in 2015, looks like it will still be produced on a 28nm bulk process at GlobalFoundries, according to Extremetech. It is being parroted around the tech press. But I'm putting a lot of stock in this because of this article from The Register last month covering the launch of Kaveri:
"What we found was with the CPU with planar transistors, when we went from 28 to 22, we actually started to slow down," he said, "because the pitch of the transistor had to become much finer, and basically we couldn't get as much oomph through the transistor."

The problem, he said, was that "our IDsat was unpleasant" at 22nm, referring to gate drain saturation current*. In addition, the chip's metal system needed to be scaled down to fit within the 22nm process, which increased resistance.

"So what we saw was the frequency just fall off the cliff," he said. "This is why it's so important to get to FinFET."

-- Joe Macri, Product CTO at AMD
So with that in mind, it makes sense that Carrizo will be baked on a similar process node. The process itself may be different than the 28nmSHP process used for Kaveri, but any hope of a massive die shrink creating 20+ compute unit APUs for next year is dying quickly. Does that mean that Carrizo is uncompetitive? We don't know.
What we do know is that AMD is targeting 65W TDP as the limit for the chip. That gives us an idea of what we can expect if its goals are to further performance/watt/dollar over Kaveri. I would expect to see similar results to what we have with Kaveri, lower clocks but high instructions per clock yielding marginal CPU performance gains in shipping chips. Where Carrizo could shine, however, is what we're likely to see with low TDP Kaveri, and that is much higher GPU clock speeds at low thermal envelopes, i.e., greater GPU performance in a smaller form factor.
AMD's roadmaps, as well, note that Carrizo will support DDR4, at least on the server version known as Toronto, so the possibility of a new socket and quad channel memory is possible as well, though doubtful on the desktop 1 year after the introduction of FM2+. Mobile Carrizo, however, would not have that restriction, since that is ultimately where AMD wants to gain share.
Frankly, it will have to compete with 14nm Broadwell from Intel (NASDAQ:INTC) and 20nm mobile Maxwell chips from NVidia.
Maxwell Smart Money?
NVidia released its first cards based on its new Maxwell GPU architecture, and while performance of the two mid-range cards is nothing to write about, the cards' power usage is. I think it's obvious from early benchmarks that AMD can compete with Maxwell on performance per dollar but not, at this time, in performance per watt. This bodes well for mobile adoptions for NVidia in the next round of notebooks.
But here's the wrinkle. Intel will miss the back-to-school product refreshes with Broadwell. This is not rumor, this is simple math. Charlie at SemiAccurate went over it in detail this week. Broadwell is not technically late by Intel marketing standards, but it is from a product launch window one. Mobile versions of Kaveri and Beema are due in Q2, not as paper launches, but as live product launches. AMD is on record saying that OEMs have the chips and have been testing them since the end of 2013.
Translation: AMD has a great opportunity to gain back lost notebook share simply by being on time and on spec in low-power environments, because Intel will still be selling, effectively, last year's parts with iGPUs that couldn't stand up to Trinity, no less Richland or Kaveri. This is where the APU value strategy for AMD may finally pull together.
Throw in Mantle support for more games by Q3 - which also is a point in Carrizo's favor - and the value proposition for AMD's solutions could change the trends in mobile computing.
So, while Maxwell may be very good, and it looks to be, for this upcoming product cycle there should be concerns of just how well it could dominate given Intel's failure to execute. Of course, this does mean that for Intel solutions to be truly competitive from a performance perspective, Maxwell will be OEMs' only choice.
Stock Holding Strong
This week's trading in AMD has been an exercise in watching paint dry. The stock has hovered near overhead resistance at $3.75 all week. With options expiring, I am not surprised that there have been no fireworks. The lack of market moving news did not help matters, either. It will take a daily close above $3.75 for the stock to move higher, having carved out a very tight trading range just below the post-earnings gap down.
I am situated, personally, with July calls looking for a gap-filling rally in the near term. After that, the long-term picture for the stock is it is still range-bound in the volatile range between $3.30 and $4.65. A monthly close above $4.00 would be a psychological victory for bulls, since the stock has not closed above that level in nearly a year. But it will take a sustained move above $4.65 to say for sure that investor sentiment has changed. Shoring up the balance sheet and liquidity position of the firm will help that.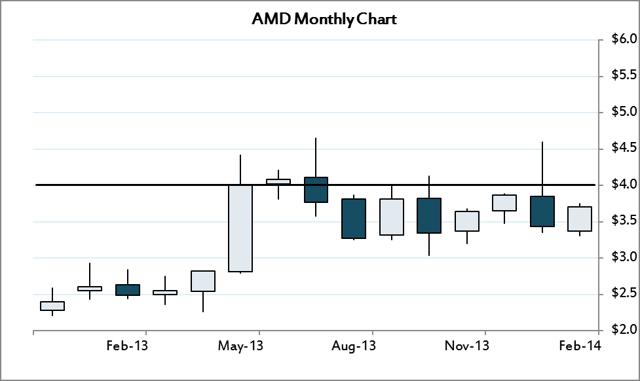 Disclosure: I am long AMD. I wrote this article myself, and it expresses my own opinions. I am not receiving compensation for it (other than from Seeking Alpha). I have no business relationship with any company whose stock is mentioned in this article.