By Jeff Bailey
Goodness, it seems so dire: articles by those who cover the commodity markets reporting that Arabica coffee prices "soared" this year due to fears about a weak Brazilian crop. Could trouble be far behind for Starbucks (SBUX), which buys, roasts and brews mountains of coffee beans every year?
A close review of Starbucks' financial statements and other materials – and a look at longer-term trends in coffee prices – suggests this is nothing to worry about for now. And the review reinforces our admiration for Starbucks stock, and the management of the company under Howard Schultz.
First off, Starbucks isn't going to run out of coffee. As of September 29, 2013, the end of its fiscal year, the company had in inventory unroasted (or green) beans it valued at $493.0 million and roasted beans it valued at $235.4 million. Starbucks doesn't state those inventories in pounds, but recently told Bloomberg Businessweek that it buys annually more than 500 million pounds of green coffee beans. The inventory numbers suggest the better part of a year's needs on hand.

Coffee costs represent just 8% to 10% of café operating expenses at Starbucks, The Wall Street Journal reported. So it takes a big coffee-price jump to significantly impact overall profit margins.
True, coffee prices are higher this year, but over the last five years we see the recent surge (the most recent prices not included, but they're just north of $1.50 a pound) is mild.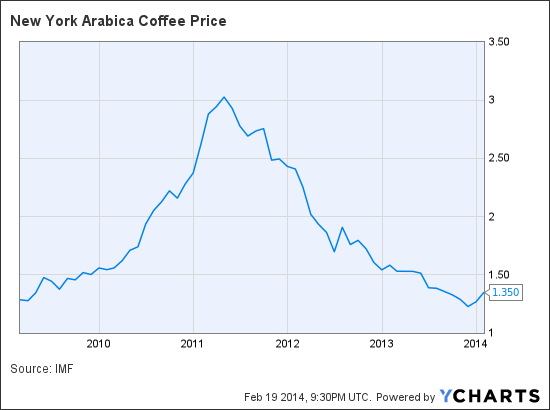 New York Arabica Coffee Price data by YCharts
Most importantly, Starbucks protects itself price-wise and interruption-of-supply wise by locking up coffee ahead of time. As of last September 29, it had fixed-price purchase agreements totaling $588 million and unfixed-price commitments valued at $294 million. Starbucks buys from more than 300,000 growers, Businessweek reported, a logistical challenge but no single grower is crucial to supply or has significant price leverage.
Buying ahead means today's financial results are benefitting from last year's low coffee prices. Or, as Starbucks said in a presentation to investors last November, "Coffee Price Tailwind Continues." Starbucks coffee costs aren't as volatile as those reflected on futures exchanges. For fiscal 2014, ending next September, the company expects its commitments to yield a $110 million-to-$120 million assist to profits, or what it calls a net coffee benefit of 9 cents-to-10 cents a share.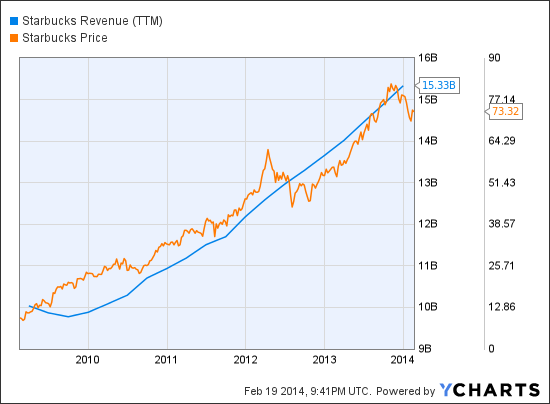 SBUX Revenue (TTM) data by YCharts
Starbucks said in January, while reporting fiscal first-quarter profits, that it expects fiscal 2014 EPS of $2.59 to $2.67. YCharts Pro's Starbucks Rating includes a strong 9 for fundamentals.
Disclosure: None