Immersion (NASDAQ:IMMR) reported 1Q 2010 results on May 6 (see company's press release and conference call transcript on Seeking Alpha).
Let's go through some of the highlights:
Revenues were $9.7 million, an increase of 29% compared to revenues of $7.5 million for the 1Q of 2009 and an increase of 41% compared to $6.9 million in the 4Q 2009;
Net loss for the first quarter, was $(2.7) million, or $(0.09) per share - however, this result was impacted by about $1,6 million of costs related to the recent investigation/restatement;
T

he company ended the quarter with $ 64,6 million of cash and cash equivalents, a slight increase on the $ 63,7 million available at year's end (as a reminder, Immersion has no debt);

Immersion completed the build-out of its senior management team with the appointment of a new CFO, Shum Mukherjee;
The annual target of revenues of $25 million to $30 million was reaffirmed, with revenues in the 2Q to be expected in the range of $6.2 million to $6.7 million (more on this later on).
As some of you may remember, Immersion had given guidance for the 1Q during its last conference call:
While we don't expect to provide quarterly guidance regularly, given that we are at March 30, it seems prudent to give you a little color on expected Q1 results. We anticipate total revenues of approximately $8 million with royalty and license revenues comprising approximately $6 million.
Given the fact that guidance was given so much into the 1Q, the actual numbers came as a surprise. During the Q&A session, this was the subject of a specific question by Mark Argento (emphasis added):
Mark Argento – Craig-Hallum

And I apologize should I hopped on the call a little late, but you guys reported almost close to 10 million, what was the delta given the fact that you guys gave guidance late in the quarter that ended up driving that an extra almost $2 million in upside of the revenues?

Victor Viegas

I think we said we were somewhere in the $7 million to $8 million range was our guidance. And at the time that was about estimates that I had, we ended up the quarter at $9.7 million as you stated. When we announced that we're transitioning out of the medical product line business there was some concern that the orders for that that market area would dry up or change significantly. At the time we didn't have all the royalty reports in hand, we hadn't yet done full analysis of all the contract revenue, and there's always late in the quarter, contractual commitments, whether it's delivering a product, or achieving a milestone, and those are sometimes that risk.

And so, again, when I gave the guidance it was my best estimate at the time it turns out this quarter, there're obviously quite a few things that occurred late such as the product fitments for our medical and deliverables and contract signing. So, very happy to be pleased to report on a positive in the upside of that estimate.

Mark Argento – Craig-Hallum

I just want to make sure was it like a one-time event that came in or it was just the business outperformance; it sounds like that's the case.

Victor Viegas

It was not any one-time event, it was solid results across the board, and again, if revenue comes in from royalty reports, contracts, service agreements, NRE agreements and product shipments, and so I think you'll see a lot of hard work from a lot of people resulted in a good quarter, but not a one-time event.
If we have a look at the historical numbers, this looks definitely like a break out quarter (click to enlarge images):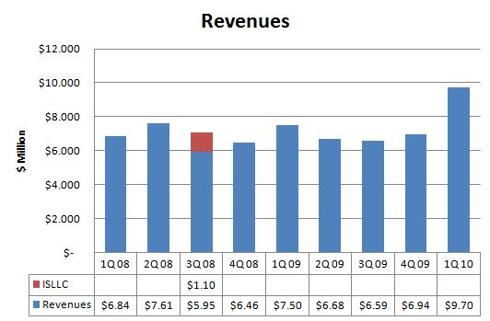 As we know, Immersion is transitioning toward a licensing model only, so it may be appropriate to focus on royalties and license revenues only: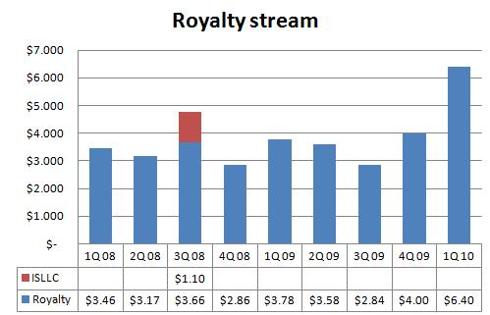 If we go through the 10Q, we learn that this result was due to an increase in sales in most segments (pg.31):
Royalty and license revenues increased by $2.5 million mainly due to increases in royalty and license revenue from mobility, gaming, touchscreen, integrated circuit, and automotive licensees. We expect royalty revenue to be a significant component of our revenue as our technology continues to be included in more products along all lines of our Touch business.
The effect of seasonality in these numbers must not be forgotten (the year end holiday period has a positive effect on sales of a few verticals like gaming and mobile phones, whose royalties are recognized in the 1Q), still we see it as a positive that even internal company expectations were beaten when the actual sales results came in.
A few words about the medical segment. As we know, Immersion sold the Endoscopy, Endovascular, and Laparoscopy medical simulation product line to CAE Healthcare on March 30. The selling price is about $ 1,6 million, and the agreement also provides for the transfer of approximately 35 employees to CAE as well as distribution agreements and customer relationships.
As a result of this shift to a license and royalty model, Immersion is expected to reduce expenses of about $ 1 million a quarter:
Aaron Husock – Lanexa Global Management

Okay. So was the medical related OpEx only a $l million in the quarter, it's roughly a third of the workforce, right?

Victor Viegas

You've got some of the people are in the cost of goods sold, so, it's a different mix and I don't have a precise set of numbers, we don't' really disclose that that closely. So it's in that $1 million range is what I'm using to arrive at $8 million in total touch expenses.
Another side effect of the sale of the medical segment to CAE is that Immersion will not be receiving royalties in the 2Q related to this segment (10Q, pg. 15):
The company will receive quarterly payments under the license arrangement starting July 1, 2010.
While this may sound logical (CAE royalties, like for all other licensees, will be recognized in the subsequent quarter), it will effect, short term, Immersion's results in the 2Q, as the company will receive no royalties but will lose a business segment that contributed about $ 2 million in sales in the 1Q 2010. This might, together with seasonality, partially explain the guidance issued by the company.
Aaron Husock – Lanexa Global Management

Okay. Looking at the guidance, would you say that $7.7 million is kind of the right number for us to compare your guidance to, $7.7 million in revenue in Q1, is that kind of the steady state number that we should be comparing the $6.2 million to $6.7 million?

Victor Viegas

Yes, I think that's the right comparison. I think the $7.7 million you arrive at that as a $9.7 million minus the products revenue from the products that we transition to CAE. So I think $7.7 million compared to $6.2 million to $6.7 million for Q2 that's an apples-to-apples comparison.
During the conference call, a new licensee was revealed:
Also during the quarter Alcatel-Lucent (ALU) became a new licensee in the office product sector and they recently showed of their OmniTouch 8082 IP phone featuring Immersion haptic technology. The user interface features a 7-inch wide capacity of Touchscreen that is LED backlit and includes context-aware, sensory feedback with Immersion's TouchSense technology.
The product is very interesting, and opens a new market to Immersion - here is how Alcatel-Lucent describes this new category of Smart Phones:
ORLANDO, March 23, 2010 – Alcatel-Lucent announced today an innovative new class of "Smart DeskPhones" that transforms a desk phone into a rich communication experience beyond what mobile smartphones provide. The new phone brings together enterprise reliability, fast, convenient access to multimedia communications capabilities and web applications to create personalized mashups or industry-tailored applications.

The Alcatel-Lucent OmniTouch™ 8082 My IC Phone ushers in a new era of software access and sophistication never before seen in a desktop phone, and redefines what users can do from their desk. Unlike traditional desk phones, the new device offers an open platform and an entirely new user interface based on a large multi-touch display. Powered by pioneering new software and an open interface, it has a seven-inch wide capacitive touch screen that is LED backlit and includes context aware sensory feedback, as well as connectivity to Bluetooth and USB devices.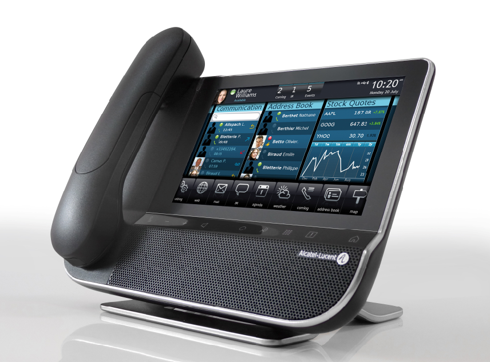 It must be noted that the product will start shipping in late 2010 – a remaining issue with Immersion is the long selling cycle from product development to the time royalties are recognized, as also described for the semiconductor partners in this section of the Q&A:
Aaron Husock – Lanexa Global Management

Okay. Just one more, if you look at your partnerships with the different semiconductor vendors, Atmel, Cypress, IDT, and now Renesas , was there any revenue from those partnerships in the March quarter and if not when do you think you will start to see some level of revenue there?

Victor Viegas

I don't know if I have a number for you or if there was any revenue in the quarter I can tell you Renesas has been shipping chips, they have a product in the market and there're consumer products. I know there is a P&D [ph] product in the market, so we've been generating revenue from Renesas here for a bit. In terms of Cypress and Atmel, I think those two products are expected to come later this year.
Even the newly announced "HD haptics" solutions, which should bring higher per unit royalties, will mainly have an effect on revenues later in the year:
Our latest haptic solutions are being very well received by our current and prospective OEMs, with TouchSense 4000 currently available and shipping in our partners' products. And TouchSense 5000 expected to ship in commercial mobile handsets in the second half of this year.
As the company isn't exactly on many investors' radar screen, Immersion will also be soon presenting at several conferences, like the JMP Securities 9th Annual Research Conference, the MDB Bright Lights IP Conference and the TechAmerica Growth Cap Financial Conference.
As a last side note, a new candidate for the BoD has been nominated:
the company's candidate for the Board seat to be vacated by Rob is Dave Sugishita. David currently serves as Chairman of the Board of Atmel, where he chairs the Audit and Corporate Governance and Nominating Committee and is a Director and Chairman of the Audit Committee for Ditech Networks.
It is not clear if Ramius was involved in this decision – as a reminder this fund took a large position a few months ago, and has recently been selling a few shares, slightly reducing its position in the company.
Disclosure: No positions