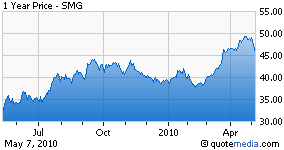 Scotts Miracle Gro (NYSE:SMG) is a company which dominates its industry probably more than any other firm that I can think of. I don't post much about the stock, which makes up a very small percentage of my portfolio, but its recent earnings report is worth noting and it came with a special bonus.

Scotts reported EPS of $1.80 compared with the street's expectation of C$1.46 and last year's C$1.25. It also raised full year guidance to C$3.25+ from previous guidance of C$3.00-$3.10. The special bonus was that the company stated on a call with analysts that it has a bias toward a share repurchase program and a dividend increase later in the year. This is great news for shareholders as Scotts' dividend has been at the same level since it introduced it in 2005. The stock only yields 1% currently.

The company seems to be on a roll recently as a major competitor left the market and North Americans have prioritized their lawns and gardens in the last year as money has become tight. I see gardening as a long term trend that will only become more popular as demographics change. Scotts Miracle Gro's strength lies in its savvy marketing, category domination, and decisive management.