Author's Note: This article discusses a microcap stock. Please be advised of the risks associated with microcap stocks. Lazarus has no position in Cbeyond and received no compensation from Cbeyond for this article.
Introduction
Cbeyond (NASDAQ:CBEY) has some challenges, but it's too cheap to ignore. This telecom services company has had trouble growing and differentiating its technology, but still offers nearly half a billion dollars in revenue, a clean balance sheet, and an attractive customer base. It is also free cash flow positive and rather cheap, with a multiple of 2.9x EV/EBITDA. In November 2013 the company announced that it was forming a committee to explore strategic alternatives, which may include "a business combination or sale of the Company." We wouldn't be surprised if someone bit.
Cbeyond was an early mover in bundling voice, data, mobile, hosting and other applications for small to mid-sized businesses that did not have the expertise or manpower to manage their expanding technology requirements. By targeting firms with basic "communications-centric needs," as management dubs it, Cbeyond experienced a period of sustained revenue and subscriber growth. Between 2003 and 2012, revenue growth averaged 25% [CAGR]. What once was leading technology eventually drifted towards commoditization, and the company now faces the challenge of competing against much larger industry competitors. The slowdown is evidenced by full-year 2012 sales rising only $3 million, to $488 million, and 2013 guidance below that, $471 million at the high end.
What's bothering Cbeyond?
One month ahead of reporting full-year 2013 results, Cbeyond sits on the precipice of a rapidly changing marketplace that it had previously helped define. Lackluster Q3 revenue of $114 million represented a 6.4% drop from Q3 2012 and a sequential 3.8% dip from Q2 2013. Similarly, adjusted EBITDA of $18 million fared poorly in YoY and QoQ comparisons, falling 28.5% and 18% respectively.
Since an early December rise, shares have traded in a narrow range between $6.50 and $7.30. The lack of price movement may reflect investors taking a wait-and-see approach in advance of Q4. Investors could also be waiting for greater insight into management's ability to execute on a strategy of moving towards more complex, value-added and cloud-based services catering to a newly-defined and more lucrative target market.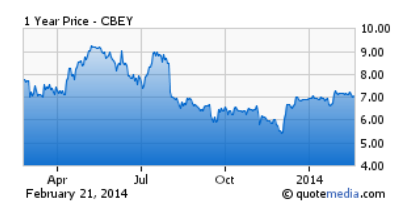 Broadly speaking, the slowdown in growth is a consequence of a highly competitive marketplace where Cbeyond's services have rapidly become commoditized. Management has attributed decreasing sales and average revenue per user [ARPU] compression ($700 in 2010 to $649 in 2012) to lower-end clients leaving for competing services at the end of their contracts. Also, the company felt it necessary to offer deep discounts to maintain clients and compete against generous packages offered by national carriers such as AT&T (NYSE:T), Verizon (NYSE:VZ), and Sprint (NYSE:S).
Shifting towards more attractive customers
Aware of the challenges to its legacy business, Cbeyond management embarked on a course to shift from less technologically sophisticated customers (1.0) to targeting tech-dependent firms, which often require cloud-based solutions to their business needs (2.0). Such services include hosted MS Exchanges, virtual and dedicated servers, web hosting, security and cloud PBX. Cbeyond estimates that companies' IT spend for such services exceeds $2,000 per month, compared to less than $700 for legacy offerings.
Another premise of this transition is that not only are these services higher margin, but cloud-based accounts are also stickier as compared to lower-tiered customers. For the most recent quarter, churn for cloud customers was under 1% versus 1.7% for the entire customer base.
Other metrics have been favorable as well. Revenue from 2.0 services rose 87% to $17.8 million, albeit from a low base. These sales accounted for 16.5% of total revenue despite 2.0 accounts being only 8.4% of total customers.
In order to transition to this new target market, management invested heavily in capital expenditures during 2010 and 2011. These investments include a transition to the company's own fiber (versus leased fiber) and procuring the equipment to handle the higher speeds necessary for cloud-based services. At present Cbeyond has a footprint in 14 cities with lit fiber extended to 387 buildings. Through cooperation agreements it can offer many of its services nationwide. With the bulk of the investment behind it, the firm was able to return to positive free cash flow in 2012 and is on pace to do so again in 2013.
Bumps in the road
As evidenced by Q3 ARPU dipping 1.4% to $653 vs. Q2, the transition has not been seamless. Pressure on revenues not only filtered down into the quarter's 18% drop in adjusted EBITDA, but also a more ominous 56% dip in free cash flow. Part of the problem has been the churn of the lower-margin 1.0 customers. While shedding such accounts may have the silver lining of paving the way for a base of the more attractive 2.0 clients, the legacy 1.0 customers are a cash cow for the firm. It is true that the sought-after 2.0 segment saw revenues climb by 87%, but they represent less than 10% of the base - not enough to offset the weakness incurred with legacy customers.
Also proving to be a challenge is the difficulty in attracting the 2.0 customer. Not only are many existing 1.0 customers not tech-dependent (thus limiting the possibility of migration to 2.0), but the broader market for complex services is already highly competitive. Cbeyond finds itself going up against national carriers such as Verizon, AT&T, and CenturyLink (NYSE:CTL) in courting the small business market. These firms enjoy name recognition, often already provide services to targeted customers, and perhaps most importantly, have the scale to execute a low-cost pricing strategy - something where Cbeyond is disadvantaged. A price war would undermine the central premise of the 2.0 transition, which is higher margins.
Also lurking are cable providers who already have a suite of products geared towards small businesses. All of the attention on the sector means there is the risk that this space also eventually becomes commoditized, much like the VOIP/Data/Mobile/Web services of the 1.0 offering. In order to compete, Cbeyond will have to retool its salesforce to cater to more sophisticated clients, something management has purportedly already begun to address. Build-out of its own fiber (presently at 387 buildings), a necessary step to offer the high bandwidth for cloud services, is still well short of the 2014 target of 1,000.
An enticing valuation
Should Cbeyond manage to carve a niche in the lucrative cloud-based market, patient investors may be rewarded for sticking around. The risk seems mitigated by how cheap the firm is valued not only compared to peers, but also to its own past. With a price/sales ratio of 0.44, the firm trades at a fifth of the industry average of 2.2, and below its own 5-year average of 0.7. Similarly, the price/book ratio of 1.3 is half the industry average. The EV/EBITDA multiple of 2.9 is also attractive, especially when considering that this metric often catches the eyes of acquisitive firms.
For that low price, investors (or suitors) get positive EBITDA and free cash flow, and very little debt, which may be useful in financing a leveraged transaction. The company has also attracted a desirable base of 60,000 customers, focused on small businesses, of which there are 1.5 million in the US. For a company looking to grow in this segment of the market, it could be much easier to buy Cbeyond for this customer base vs. recreating it organically.
The telecom space during 2013 dramatically lagged the strong gains registered in the S&P 500 and Russell 2000, so adding exposure to an out-of-favor sector - via a cash-flow positive, low debt constituent at that - may be an attractive proposition for investors looking to discover overlooked opportunities.
Conclusion
There's a chance that Cbeyond will execute on its shift towards the 2.0 customer and regain its position towards the front of the telecom pack and be valued by the market for the recurring revenue business that it is. Reports of recent layoffs at the company, however, only further the case that the current path is not sufficient. Perhaps the strategic alternatives committee will come up with a fresh idea - maybe even Cbeyond acquiring a company that can reinvigorate its growth.
But our guess is that the company will be sold. Cbeyond simply has features that strategic and financial acquirers look for and the Board is actively exploring a sale. Cbeyond recognizes that it would be helpful to be part of a larger entity to compete effectively. Rumors were spread early this year that California-based MegaPath was taking a hard look at Cbeyond. Such a transaction would also give MegaPath a route to a public listing. At 4-5x EBITDA an acquirer would still pay a low price, and shareholders get to see Cbeyond climb from $7 today into the low double digits - a threshold the stock hasn't hit since 2011.
Disclosure: The author has no positions in any stocks mentioned, and no plans to initiate any positions within the next 72 hours. The author wrote this article themselves, and it expresses their own opinions. The author is not receiving compensation for it (other than from Seeking Alpha). The author has no business relationship with any company whose stock is mentioned in this article.
Additional disclosure: This article and the interview herein may contain historical information and forward-looking statements within the meaning of applicable securities laws with respect to the business, financial conditions, and operational results of the interviewed company (the "Company"). Such statements reflect the current beliefs, views, assumptions, and expectations of the Company with respect to future events and are subject to uncertainties and risks. Many factors could cause the actual results, performance, or achievements of the Company to be materially different from those expressed or implied by such forward-looking statements. Some of these factors may include changes in the markets in which the Company operates and in the general business environment and economic conditions, the loss or gain of customers, unpredictable sales cycles, competitive pressures, market acceptance of new products, inability to meet efficiency and cost reduction objectives, changes in business strategy, and various other factors, both referenced and not referenced in this article. In addition, various risks and uncertainties, including but not limited to those described in reports filed by the Company with the Securities and Exchange Commission or other regulatory organizations, as applicable, may affect the Company's operational results. No obligation is assumed to update any forward-looking statements.