A few days ago I wrote a Seeking Alpha article (Could 2014 Be The Year For The Mid-Cap REITs?) in which I suggested a likely trend from REITs to consolidate. My argument was based more on a recent comment (on Bloomberg TV) by Sam Zell that the REIT sector should see "more and more consolidation as the industry continues to grow."
I concluded that if Zell is right, and a wave of consolidation is coming, "we need to examine some potential opportunities." One of those (opportunities), referenced in my article, is Healthcare Trust of America (NYSE:HTA). (The same article was also mentioned in a Barrons.com article).
I wrote my first article on HTA in June 2012 when the company listed as a REIT (on the NYSE) converting from a non-traded REIT to a "full liquidity" platform. Over the months I have researched the "pure play" medical office building (or MOB) REIT and have watched the shares rise from $10.00 to a high of $13.34 (May 8, 2013) and a recent closing price of $10.83.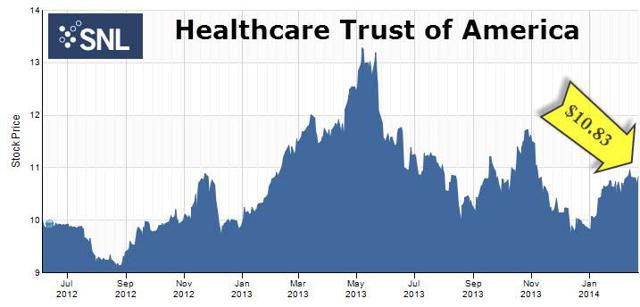 My initial BUY recommendation last year was primarily due to the Scottsdale-based REIT's durably attractive operating fundamentals - a strong capital base and a growing and well-balanced revenue stream. Although HTA does not offer the highest paying dividend in the Health Care sector, I was more focused on the reliability (safety) and the conservative underwriting. As I often explain, risk management is a critical ingredient and always look closely at the "people behind the property" and I try to evaluate whether or not management interests are aligned with investor interests.

On Tuesday, February 18th, HTA reported their 4th quarter and full year 2013 results. These results were highlighted by a 6% growth in Normalized Funds From Operations (or FFO) per share, a 15% expansion in investments during the year, and a recent credit rating upgrade by Moody's. Following the earnings, I had a chance to talk with HTA's Chairman and CEO, Scott Peters. The exclusive Q&A is captured below.
HTA is the leading, dedicated owners of Medical Office Buildings (or MOBs) in the country. MOBs are known for their ability to produce steady, dependable income. However, the sector is also expected to benefit greatly from significant growth in healthcare expenditures caused by the implementation of the Affordable Care Act and the aging of the U.S. population. This combination of stable income and long-term growth makes HTA a top pick in my SALSA portfolio today.
Thomas: Scott, Thanks for talking with me today. I'd first like to congratulate you on another strong, steady quarter from HTA. Can you provide my readers with some of the highlights from the quarter?
Peters: Brad, I appreciate the opportunity to talk with you today about HTA and what we think was a good year and very strong 4th quarter. We executed very well on just about all aspects of our business.
First, our asset management team was able to generate 3% of same store growth from our existing portfolio. This is the fifth straight quarter our portfolio has grown 3% or greater - very solid growth from a cash flow perspective and performance aspect given that MOBs historically offer investors a low level of risk based on occupancy and retention trends.
Second, we were able to acquire $156 million of high quality, on-campus MOBs in great markets - Texas and Florida. That brought our full year acquisition total to almost $400 million, or an expansion approximately 15% for the year.
Most important for investors, we were able to accomplish this while maintaining a very strong balance sheet and even lowered our debt ratio from 2013 moving into 2014. This fact was recognized by Moody's who upgraded our investment grade credit rating to Baa2 in December. This is important as it will lower our interest expense in 2014 by over $2.5 million and lowers our overall cost of capital.
Thomas: 2013 marked your first full as a publicly traded company. Talk about this transition for HTA.
Peters: When I founded HTA in 2006, the goal was to always become a Public Company. Over the last 8 years, we were able to survive and grow substantially during the economic downturn -which as a cash buyer for MOBs was a truly great time to invest.
As you know, we bought over 1.8B in 2008-2010 which really set the basis of our 3B in assets today. 2013 allowed us to finally unlock all our shares for original investors, increase our float by 50 percent, return over an annualized 8.5% return to investors from 2007-November 2013 - which compares favorably to the total returns of the MSCI US REIT Index during the same period, acquire wall street research, and substantially complete our in-house asset management platform at 85 percent.
Most importantly though, we ended our first full year as a publicly traded company better off than we began - with a better portfolio that is generating good growth and has the ability to grow shareholder value.
Thomas: One of the areas that you have focused on during your earnings call is the performance of your asset management and leasing platform. How does this platform benefit HTA?
Peters: Our internal property management and leasing platform is one of the main reasons we have been able to generate such consistent same store growth over the last year-and-a-half.
Real estate is a local business. This is especially true when you are dealing with a high touch sector like healthcare. Utilizing our own platform puts us in direct contact with our properties and tenants. It lets us focus on improving the efficiency of our buildings and generating the strategic relationships that are important in our business. We must focus on attaining high levels of tenant satisfaction and retention. This is good for the long-term value and cash flows of our properties.
Thomas: That's a good transition. With 2013 behind us now, talk about your plans for 2014. What should investors expect from HTA?
Peters: As I mentioned on our earnings call, our team is really focused on 3 or 4 things for 2014. We plan to continue to manage our portfolio to generate same store growth of 2.5% to 3.5% for the year. With our asset management platform now managing over 85% of our portfolio, we think this is certainly achievable.
We also expect to continue to expanding through high quality acquisitions that will improve in value over time. In 2014, we will start recycling some of our non-core or low growth assets into other assets that are in our key markets with better opportunities for growth. Consistent with our overall philosophy, we plan to do this while preserving our high quality balance sheet.
Thomas: Great - turning to that balance sheet, Moody's recently upgraded your investment grade credit rating to Baa2, a strong vote of confidence in your long-term plans. Why did Moody's decide to upgrade HTA now?
Peters: We were certainly pleased when Moody's decided to upgrade our credit rating. I think their rationale came down to a couple of things. First, we invest in a great asset class that produces steady and predictable returns and should benefit from the expansion of healthcare demand in our country.
Second, we have been committed to a strong balance sheet ever since we were founded. This philosophy has resulted in some of the strongest credit metrics in our sector. Finally, Moody's recognized the way we have executed our plans over the last 18 months as a public company. We have accessed new pools of capital, including public debt and equity, and we have invested prudently. The upgrade was great validation for HTA in the public markets - and importantly will enable us to lower our cost of capital in 2014 and beyond.
Thomas: Sounds like an exciting end of the year for HTA. It sounds like you have positioned HTA well for a very solid 2014. Thanks for your time today.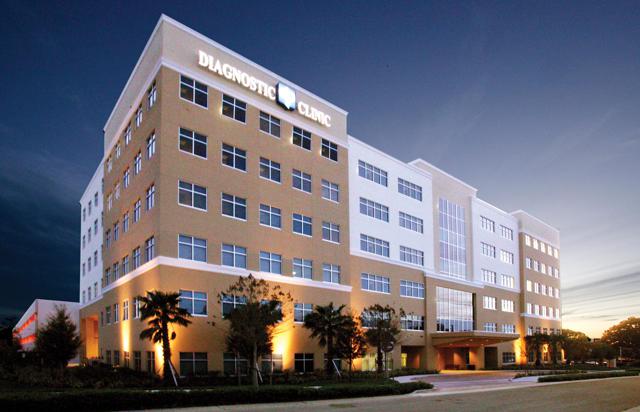 More REIT News and People Behind the Property: This coming week I plan to publish exclusive CEO interviews on Seeking Alpha for Ventas, Inc. (NYSE:VTR), Omega Healthcare Investors (NYSE:OHI), and Medical Properties Trust (NYSE:MPW).
My REIT Newsletter: Only $99 a year. Subscribe HERE.
Source: SNL Financial.
Other REITs referenced: (NYSE:NHI), (NASDAQ:SBRA), (NYSE:HR), (NYSE:HCP), (NYSE:LTC), (NYSE:HCN), (NYSE:UHT), (NYSE:AVIV), (NYSE:DOC), and (NYSE:SNH).
Disclaimer: This article is intended to provide information to interested parties. As I have no knowledge of individual investor circumstances, goals, and/or portfolio concentration or diversification, readers are expected to complete their own due diligence before purchasing any stocks mentioned or recommended.
Disclosure: I am long O, DLR, VTR, HTA, STAG, UMH, CSG, GPT, ARCP, ROIC, MPW, HCN, OHI, LXP, KIM. I wrote this article myself, and it expresses my own opinions. I am not receiving compensation for it (other than from Seeking Alpha). I have no business relationship with any company whose stock is mentioned in this article.