The LTE market has always been a forte of Qualcomm (QCOM), which commanded 95% revenue share in the overall LTE baseband market in the third quarter of 2013. Qualcomm was the first to integrate LTE modems into its System on Chip (SoC). Over the past four years, Qualcomm has spent around $14 billion on R&D, which has helped in gaining leadership in the LTE market. With the LTE market maturing, Qualcomm will face higher competition than ever before as more chip makers target the lucrative LTE market.
Apart from Intel (INTC), which launched its first multi-mode LTE modem last year, Broadcom (BRCM) is another promising player in the LTE market that can provide a threat to Qualcomm. Broadcom has already started shipments of its dual-core LTE SoC to handset makers in sample quantities, and is on track to sample its quad-core LTE SoC in the first half of this year. This will be followed by sampling of Cat 6 LTE advanced thin modem by the middle of the year.
These products will position Broadcom in the LTE market, while handset manufacturers will have a much wider choice in choosing LTE products suppliers. Unlike the connectivity chip market, Broadcom has low presence in baseband and application processor. Therefore, successful execution of LTE strategy will play an important role in gaining presence in the baseband and application processor market.
Broadcom recently announced its fifth-generation turnkey LTE platform, targeting the sub $300 smartphone market. This turnkey platform supports Android KitKat and uses Broadcom's dual-core LTE Soc (M320) or the upcoming quad-core LTE SoC (M340), which will get sampled in the first half of this year. Both systems are pin-to-pin compatible, which allows OEMs to use similar chip designs across different devices. Thus, using a similar reference design enables OEMs to develop multiple devices, while lowering engineering costs and accelerating time to market.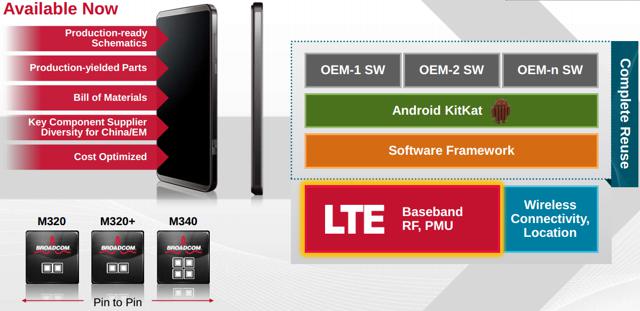 Click to enlarge
Source: Broadcom's 2013 Analyst Day
Broadcom's earlier turnkey product for entry-level smartphones covered 3G technology, with design wins from Chinese manufacturers K-Touch and G Five. Now with the addition of LTE technology in turnkey design, the company can win more designs especially from emerging countries.
Broadcom's strategy to target sub-$300 smartphones positions the company in the mid-tier segment of the market. Despite missing out on the low-tier of the smartphone market, Broadcom's platform provides premium features like 150 Mbps Cat 4 LTE speed along with 802.11ac connectivity chip (5G Wi-Fi), which works three times faster than the current standard (802.11n) for the most common devices. Broadcom LTE supports both frequency-division duplexing (FDD), and time-division duplexing (TDD) (the one used in China) technologies, and with China being the torch bearer of smartphone market growth, the company will look to replicate the good performance in the 3G network in 4G LTE market. At least 44 engagements with Broadcom's reference designs in China were witnessed last year, and with the addition of 4G LTE capabilities, the company is set to get more designs this year.
Despite late entry into LTE market, Broadcom has a strong product pipeline for this year, which will help the company in gaining traction in the market. Broadcom's LTE road will not be easy as Qualcomm has built a strong relationship with handset manufacturers, so gaining market share will be difficult.
Network and Infrastructure powers Broadcom's fourth-quarter result
Although mobile and wireless segment, which involves connectivity and processor chips, contributed 47% of the company's total revenue in fiscal 2013, the network and infrastructure segment was the main revenue driver last year. Broadcom's infrastructure business grew 24% year over year in the fourth quarter of 2013, and a solid 12% year over year in fiscal-year 2013. Strong sales in the service provider and enterprise markets, along with robust demand from data centers, resulted in strong quarterly results. In networking, the company has a strong customer base, including Alcatel-Lucent (ALU), Huawei, ZTE (OTCPK:OTCPK:ZTCOY), and Ericsson (ERIC), and strong growth in 4G wireless infrastructure spending from these customers will benefit Broadcom.
Recently, the company announced the signing of a definitive agreement with QLogic (QLGC), which will acquire Broadcom's certain 10/40/100Gb Ethernet controller-related assets, and non-exclusive licenses to use certain intellectual property of the company. The deal is pegged at $147 million, and along with the asset acquisition, both companies have entered into a long-term supply agreement whereby Broadcom will become an ASIC supplier to QLogic in support of the NetXtreme II product line. This deal is a win-win situation for both companies, with QLogic becoming the number-two player in the server Ethernet connectivity market, while for Broadcom, this deal establishes a long-term ASIC supply relationship in support of its NetXtreme II Ethernet controllers. This deal will be slightly accretive to Broadcom's bottom line in 2014, while the company will reduce headcount by 170 employees, thus improving its operating margin.
After being the torch bearer of Broadcom's top-line growth in 2013, the network and infrastructure business remains an important growth driver for the company. Broadcom will leverage its strong market presence to capitalize on the market demand thereby sustaining growth in future.
Conclusion
Broadcom's growth prospects for 2014 look strong, with the company looking to gain traction in the processor market through its LTE strategy. While in the connectivity chip market, increased adoption of Broadcom's 5G WiFi products will act as an average selling price (ASP) tailwind, thereby boosting the company's revenue and margin. In addition, Broadcom's strong presence in networking and infrastructure along with strong market demand will help in sustaining revenue growth in 2014. I recommend buying this stock.
Disclosure: I have no positions in any stocks mentioned, and no plans to initiate any positions within the next 72 hours.
Business relationship disclosure: Fusion Research is a team of equity analysts. This article was written by Rohit Gupta, one of our research analysts. We did not receive compensation for this article (other than from Seeking Alpha), and we have no business relationship with any company whose stock is mentioned in this article